Andrea Leadsom voices disgust at 'motherhood' interview report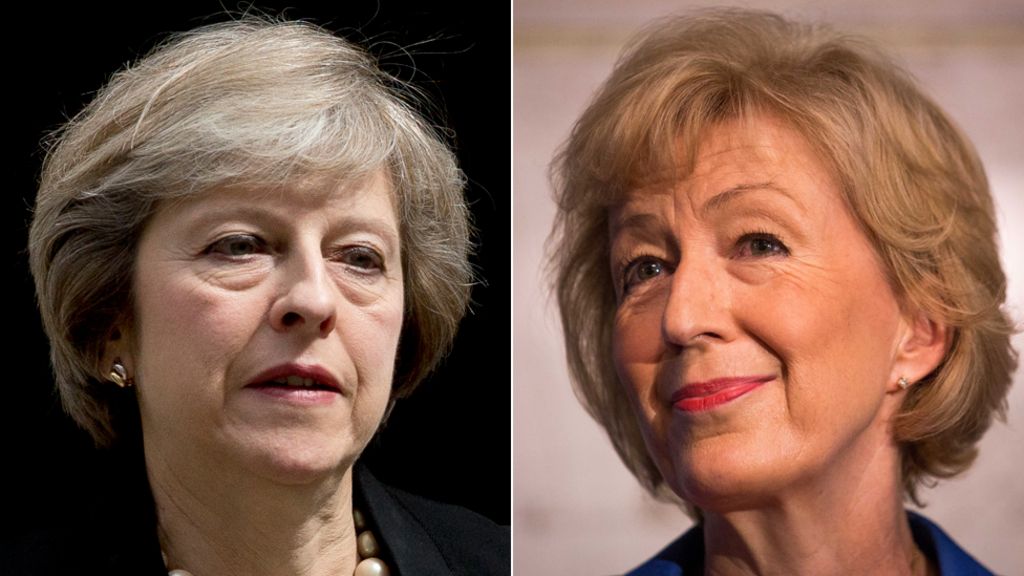 Andrea Leadsom says she is "disgusted" by a newspaper article saying she suggested being a mother gave her an advantage over Conservative leadership rival Theresa May.
The Times quoted Mrs Leadsom as saying having children gives "a very real stake in the future of our country".
But the mother of three tweeted that the way the interview was reported was "the exact opposite of what I said".
Earlier Mrs May, who has no children, called for a "clean campaign" pledge.
The paper headlined its front-page lead story "Being a mother gives me edge on May – Leadsom."
It quoted the energy minister as saying Mrs May "possibly has nieces, nephews, lots of people. But I have children who are going to have children who will directly be part of what happens next".
According to the Times, Mrs Leadsom also said: "I am sure Theresa will be really sad she doesn't have children so I don't want this to be 'Andrea has children, Theresa hasn't'. because I think that would be really horrible."
In a later statement Mrs Leadsom said she was "beyond anger and disgust" at the newspaper's front page.
"The reporting of what I said is beneath contempt," she said.
"In front of the Times correspondent and photographer, I made clear repeatedly that nothing I said should be used in any way to suggest that Theresa May not having children had any bearing whatever on the leadership election.
"I expect the Times to retract the article and the accompanying headline."
The Times has not officially responded to Mrs Leadsom, but the newspaper's deputy editor, Emma Tucker, tweeted what she said was a transcript from a section of the interview
Mrs May's campaign team declined to comment on the story.
However, Treasury minister David Gauke – who supports Mrs May – said "an apology is due".
He tweeted: "I'd like to think this is a case of verbal clumsiness, not calculation. If the latter, yuk."
But former Conservative MP Ann Widdecombe said Mrs Leadsom's words were probably misconstrued.
She told BBC Radio 5 Live: "Even the most experienced politicians, even prime ministers themselves can be misquoted, misinterpreted, misunderstood, make some careless phraseology. It happens all the time."
'Clean campaign pledge'
It comes after Ms May challenged her rival in the race to Downing Street to sign up to a "clean campaign pledge".
Mrs May said both candidates should ensure the campaign stays within "the acceptable limits of political debate".
She said the public was tired of "people acting like politics is a game" and vowed to put forward a "positive vision for the future", saying the two of them should also agree not to work with other political parties or their donors.
Mrs Leadsom – who backed a vote to leave the EU – has received endorsements from ex-UKIP leader Nigel Farage and pro-Brexit campaign Leave.EU, led by UKIP donor Arron Banks.
Mrs Leadsom has said she has "no allegiance" to UKIP.
She told The Times: "I'm no UKIP sympathiser. They don't advise me, I don't know them, I've never even met Arron Banks.
"My big hope in this campaign is that when we leave the EU UKIP will be a thing of the past.
Mrs Leadsom and Mrs May will battle it out to become the next leader of the Conservative Party, after two rounds of voting by Tory MPs reduced the number of contenders to two.
After the second MPs' ballot, Home Secretary Mrs May finished with 199 votes and Energy Minister Mrs Leadsom 84.
Conservative party members across the country will now decide the winning candidate, with the result due on 9 September.
---
Conservative leadership election
Ballot papers sent out mid-August
Ballot closes at noon on Friday 9 September. Votes will be counted electronically.
Conservative Party members can vote by postal ballot or online.
"Qualifying party members" of more than three months' standing can vote. In practice, anyone who joined the party by 9 June.
The spending limit set by the Conservative 1922 Committee is £135,000.
Hustings to be organised across the UK.
---