Aretha Franklin funeral: Stars and fans gather to say goodbye
Musicians, politicians, friends and fans are saying goodbye to Aretha Franklin at her funeral in Detroit.
The gospel-infused service has featured performances from Ariana Grande and Faith Hill, with Stevie Wonder, Chaka Khan and others still to follow.
US president Bill Clinton and Rev. Jesse Jackson are among those paying tribute from the pulpit.
Franklin, known as the Queen of Soul, died earlier this month of pancreatic cancer. She was 76.
"Now one of my longest friends has gone home," said fellow soul legend Smokey Robinson.
He went on to address the star directly, saying: "You're going to be one of the future voices in the choir of angels," before breaking into an a capella rendition of his song Really Gonna Miss You.
Ariana Grande sang one Franklin's signature songs (You Make Me Feel Like) A Natural Woman but elsewhere, the service was like a Who's Who of gospel music with uplifting performances from The Williams Brothers, Vanessa Bell Armstrong and The Clark Sisters.
The five-hour service was due to begin at 14:30 BST but began almost an hour late, as the mourners took their time to filter into the Greater Grace Temple.
The singer's family closed the lid on her coffin for the final time shortly before 16:30 BST, signifying the start of the ceremony.
"It took a little bit of time to get in here, but I believe the queen wouldn't have had it any other way," said Bishop Charles H Ellis, a family friend and pastor, who is hosting the service.
Rev. Al Sharpton paid tribute to Franklin's efforts in the civil rights movement, saying: "She represented the best in our community and she fought for our community until the end.
"She gave us pride and she gave us a regal bar to reach. And that's why we're all here. We don't all agree on everything but we agree on Aretha."
He went on to rebuke President Trump, who previously tribute to Franklin by saying, "she worked for me on numerous occasions".
"No, she used to perform for you," said the pastor. "Aretha never took orders from nobody but God."
At the funeral: Nada Tawfik, BBC North America reporter
Outside of the Greater Grace Temple, there is an outpouring of love for the Queen of Soul.
Aretha Franklin fans lined up hours before sunrise to get one of the 1,000 seats open to the public for her star-studded funeral.
Many said that they never met her, but knew her intimately through her songs.
Her music continues to move this city, people on the street, in their cars and in their homes have been playing and singing her songs loudly.
In her 1985 hit single, "Freeway of Love," Aretha Franklin sang about cruising around in a pink Cadillac.
In her honour, the streets here were filled with more than 140 pink Cadillacs that will be part of the funeral procession.
Dignitaries and legends may be attending her funeral, but it is the overwhelming admiration and gratitude of the public that underlines her impact on America.
Rev. Sharpton also read a tribute from President Barack Obama and his wife Michelle, who were unable to attend the service.
"Through her voice, her own voice, Aretha lifted those of millions empowering and inspiring the vulnerable, the downtrodden, and everyone who may have just needed a little love," read his message.
"Aretha truly was one of a kind, and as you pay tribute, know we'll be saying a little prayer for you, and we'll be thinking of all of Aretha's loved ones, in the days and weeks to come."
Later, Chaka Khan will be singing the gospel hymn Going Up Yonder, originally recorded by Walter Hawkins.
The disco legend admitted she was feeling "nervous as hell" ahead of the performance, but paid said she'd found comfort in the lyrics: "If anybody ask you / Where I'm going / Where I'm going soon / I'm goin' up yonder / To be with my Lord."
"I think it's a positive, beautiful spin on this thing called life," she told TMZ as she arrived in Detroit.
Franklin's body has been lying in state at the Charles H Wright Museum of African American History over recent days, as thousands of fans gathered to pay their respects to the singer.
The star was dressed in a new outfit every day during the public viewing. For her funeral, she is in a sparkling full-length gold dress with sequined heels.
Her body arrived at the Greater Grace Temple on Friday morning, in a white 1940 Cadillac LaSalle hearse.
It was the same vehicle that was used to carry Franklin's father, Rev. CL Franklin in 1984; as well as Temptations singer David Ruffin in 1991 and civil rights activist Rosa Parks in 2005.
Franklin will be buried in a 24-carat, gold-plated casket made of solid bronze.
The interior is finished with champagne velvet, and stitched with her name and her title, "Queen of Soul", in gold metallic thread.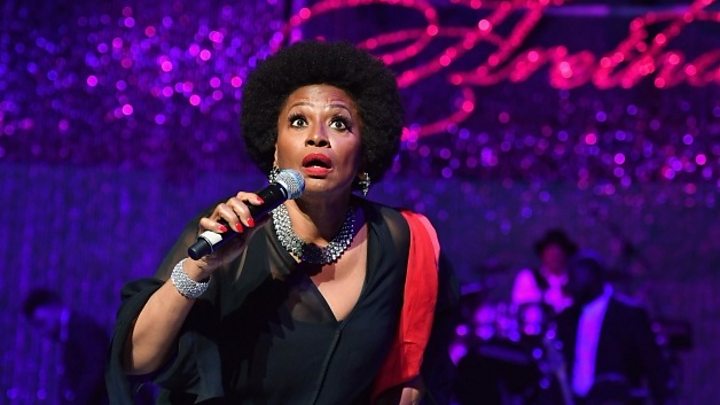 A tribute concert, starring The Four Tops, Angie Stone and Regina Belle was also hosted at Detroit's Chene Park on Thursday evening in her honour.
Speaking during the memorial service, Detroit Mayor Mike Duggan announced the riverside venue would be renamed Aretha Franklin Park, so that "performers from generations to come" would be "reminded they are performing at the home of the Queen of Soul".
Franklin won 18 Grammys, and had 17 Top Ten US chart hits over a music career spanning seven decades.
The star gave her final performance last November at a gala in New York held in aid of the Elton John Aids Foundation.
Follow us on Facebook, on Twitter @BBCNewsEnts, or on Instagram at bbcnewsents. If you have a story suggestion email entertainment.news@bbc.co.uk.