Brett Kavanaugh: Republicans push for US Supreme Court vote
Republicans are pushing to vote on President Donald Trump's nominee for the US Supreme Court on Friday, after hearing dramatic testimony from him and a woman accusing him of sexual assault.
Brett Kavanaugh denied the allegations and said he would never give up.
Christine Blasey Ford said an assault by Mr Kavanaugh 36 years ago had "drastically" affected her life.
The American Bar Association has called for a delay of the vote to allow the FBI to investigate the claims.
Mr Trump has urged the Senate – where Republicans have a majority – to vote his candidate. This is expected next week.
The Supreme Court plays a vital role in US political life – appointed for life, its nine members have the final say on US law.
This includes highly contentious social issues, such as abortion, and challenges to government policy.
Mr Kavanaugh's appointment would tilt the balance in favour of conservatives for years to come.
For this reason, Republicans accuse the Democrats of seeking to delay the confirmation until after the mid-term elections in November when they hope to win enough seats to stop it altogether.
What did Christine Blasey Ford say?
The hearing, which lasted for nine hours, brought an outpouring of support for Dr Ford – a university professor – from the #MeToo movement against sexual harassment and assault.
Prior to Thursday, no-one had heard from 51-year-old publicly since the allegations arose.
After addresses by the leading Republican and Democrat senators, Dr Ford delivered her statement, at times close to tears.
"I am here today not because I want to be," she said. "I am terrified. I am here because I believe it is my civic duty to tell you what happened to me while Brett Kavanaugh and I were in high school."
She alleged Mr Kavanaugh and his friend Mark Judge had locked her in a bedroom during a small gathering at a house in a Washington DC suburb in the summer of 1982, when she was 15 and Mr Kavanaugh was 17.
She said Mr Kavanaugh had tried to remove her clothing, pinned her to a bed and groped her. Both men were "drunkenly laughing", she said.
She added: "Brett's assault on me drastically altered my life. For a very long time, I was too afraid and ashamed to tell anyone the details."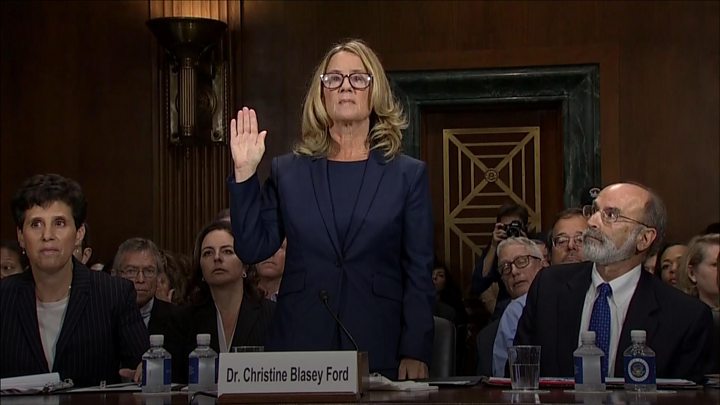 Under questioning by a Democratic senator, she said her most vivid memory was "the laughter between the two and their having fun at my expense… They were laughing with each other – two friends having a really good time with one another".
In an answer to a question from another Democrat about claims of mistaken identity, Dr Ford said she was "100%" certain that Mr Kavanaugh had assaulted her.
Many of the 10 Democrats in the 21-person committee praised Dr Ford for coming forward – and supported her call for an FBI investigation into her allegations.
The 11 Republicans, all men, deferred most of their questions to a lawyer, Phoenix prosecutor Rachel Mitchell.
How did Brett Kavanaugh respond?
The 53-year-old federal judge took a combative approach but occasionally became emotional.
"This confirmation process has become a national disgrace," he told the committee.
"The constitution gives the Senate an important role in the confirmation process, but you have replaced advice and consent with search and destroy.
"Since my nomination in July there has been a frenzy on the left to come up with something, anything to block my confirmation."
He insisted he would not be "intimidated" into withdrawing from the process.
"You may defeat me in the final vote but you'll never get me to quit. Never."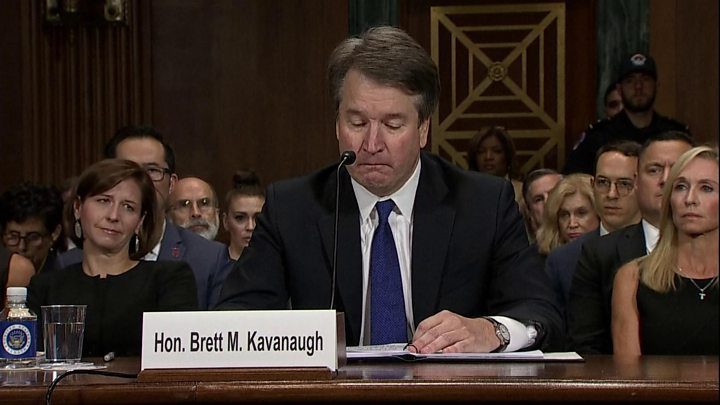 Mr Kavanaugh said he did not doubt that Dr Ford had been assaulted, but insisted: "I've never sexually assaulted Dr Ford – or anyone."
He admitted he had drunk beer while at high school and under-age, but said he had never got so drunk as to forget events.
He added that his calendars for 1982 – which he had kept – showed he had not attended a party at the location Dr Ford had described.
What has been the reaction?
The Democratic senators on the committee have called on President Trump to "immediately withdraw" Mr Kavanaugh's nomination.
Moments after the hearing ended, however, President Trump stood by his nominee and said he found Mr Kavanaugh's testimony "powerful, honest and riveting".
Mr Trump has repeatedly defended the judge's character, saying he is "one of the highest quality people" he has ever met.
Thousands of protesters against the nomination took to the streets on Thursday and 59 people were arrested near the Supreme Court in Washington, DC.
Are there other allegations against Mr Kavanaugh?
Yes, and new ones appeared as the hearing loomed. At present they are:
Mr Kavanaugh denies these allegations, and on Thursday called Ms Swetnick's allegation "a joke" and "a farce".
What happens next?
The Senate Judiciary Committee must vote on Mr Kavanaugh's confirmation. The vote could result in a recommendation that the candidate should be confirmed or rejected, or in no recommendation at all. This is expected to happen on Friday.
After this, the full Senate debates the nomination and votes on it. This might happen in the middle of next week.
Republicans want their nominee in place before mid-term elections next month, when they could lose their 51-49 control of the Senate. A simple majority of those present is needed for the confirmation. If there is a tie, the vice-president, who presides over the Senate, casts the deciding vote.
However, in a letter after Thursday's hearing, Robert Carlson, head of the American Bar Association – the body gathering US lawyers and students of law – urged a delay of the vote to enable the FBI to check the allegations against Mr Kavanaugh.
The association has previously supported Mr Kavanaugh for the role.
Dr Ford has also called for an FBI investigation. Under hostile questioning from Democratic senators on Thursday, Mr Kavanaugh said he did not see the need for such an investigation.