Brexit: PM bids to break deadlock with two-year deal offer
Theresa May will tell EU leaders there is a shared responsibility to make Brexit work "smoothly" as she attempts to break the deadlock in negotiations.
In a speech in Florence, the UK prime minister will say history will judge Brexit on the vision showed, not differences faced.
The BBC understands she will propose a two-year transitional deal, after March 2019, ahead of a permanent trade deal.
It could include payments worth 20bn euros (about £18bn) over the two years.
BBC assistant political editor Norman Smith said Mrs May was expected to put an offer on the table to try to get Brexit negotiations – due to resume on Monday – moving.
It is understood Mrs May will make what has been described as an "open and generous" offer, potentially worth 20bn euros over the two years – which could plug a black hole in the current EU budget, which runs to 2020 created by the UK's departure in 2019.
---
Analysis
By Laura Kuenssberg, BBC political editor
Do expect Theresa May's first admission that the UK will ask the EU for as long as two years to make our complete exit.
Two years during which we might pay billions to keep our existing ties with the single market. Two years, after 2019, that could give business breathing space.
But this could frustrate some voters who chose to leave, who may see departure now only in the distance.
Don't expect chapter and verse on the future relationship. There is not yet a clear agreement in cabinet on its shape and style, even if the prime minister herself had a fully fleshed-out vision.
But there is hope in government circles that the offer could unblock the Brexit negotiations.
There are also expected to be additional guarantees for EU citizens that could help, before the two sides are due to sit down again for official talks next week.
---
Mrs May is not expected to spell out exactly how much the UK will pay or suggest that it is only being given in return for continued access to the single market.
According to pre-released excerpts, she will say that a successful final agreement is in everyone's interests.
"If we can do that, then when this chapter of our European history is written, it will be remembered not for the differences we faced, but for the vision we showed; not for the challenges we endured but for the creativity we used to overcome them; not for a relationship that ended but a new partnership that began."
She is expected to say, if the UK and EU can be "imaginative and creative" about establishing a new relationship, both sides can be "optimistic about the future".
Mrs May will argue that it is "in all of our interests for our negotiations to succeed… so I believe we share a profound sense of responsibility to make this change work smoothly and sensibly, not just for people today but for the next generation who will inherit the world we leave them".
The 20bn euro offer is meant to ensure no EU countries are left out of pocket by Britain's departure.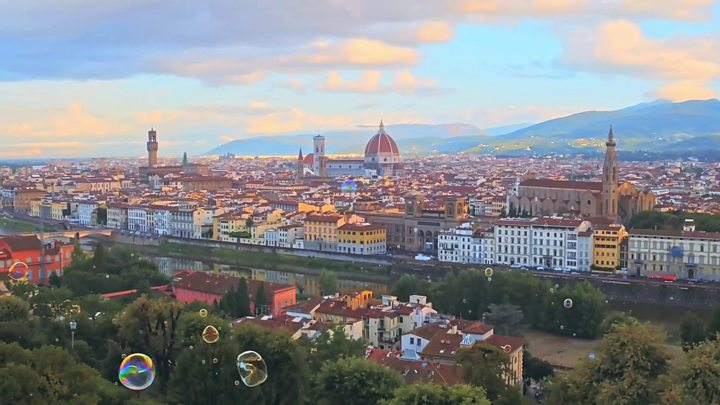 But it is not part of the "divorce bill" covering the UK's outstanding debts and liabilities to the EU, which will still have to be agreed with EU negotiators, meaning the final bill for Brexit could be far higher.
The prime minister is also expected to say something about the rights of EU citizens living in the UK – the EU wants them to be continue to be protected by the European Court of Justice, but the UK wants them to be subject to UK law only – something that has proved a major sticking point in the talks.
The EU's chief Brexit negotiator Michel Barnier said on Thursday he was awaiting "clear commitments" from the UK on the citizens' rights issue, the divorce bill and the Northern Ireland border.
'Cold water'
Without those issues being resolved in a withdrawal agreement, there would be no transition deal, he said. Mr Barnier is expected to release a written statement on Mrs May's speech later.
Eurosceptic Conservative backbencher Bernard Jenkin told the BBC: "I don't think the prime minister is going to be greeted with open arms by our European partners because they are still very cross that we are leaving … they are going to pour lots of cold water on this speech and it's going to look as though little progress is being made.
"But just remember that France, Germany, Italy, these countries do not want the disruption that might arise if we leave without a deal. And we are making it clear that sufficient progress has been made … that they can now move to the substantial negotiations about what kind of relationship the EU wants with the United Kingdom. So far they've refused to talk about that."