Brexit referendum: EU must not fall into 'depression'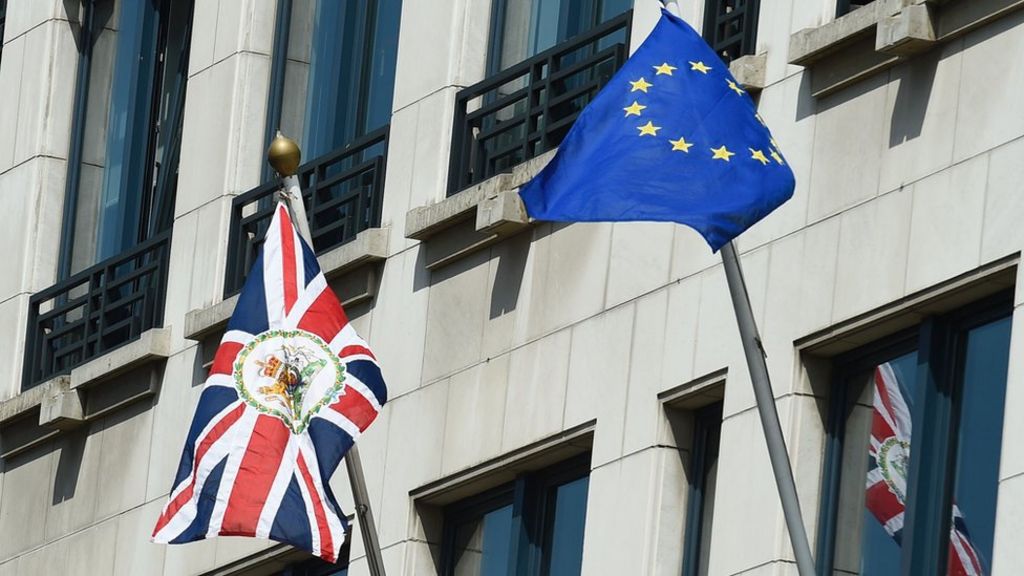 German Foreign Minister Frank-Walter Steinmeier says the EU must not fall into "depression and paralysis" after the UK voted to leave the bloc.
He made the comments arriving for an urgent meeting of the six EU founder members to discuss the decision.
They will consider the process and speed of Britain's exit, and are also likely to discuss how to dissuade others from doing the same.
Britain's Prime Minister David Cameron has said he will step down by October.
The six countries attending the talks in Berlin – Germany, France, Italy, Belgium, Luxembourg and the Netherlands – first joined forces in the 1950s and still form the core of the EU.
"We cannot rush headlong into hectic action, pretending we have all the answers, but after the British decision we also cannot fall into depression and paralysis," Mr Steinmeier said.
EU 'taken hostage'
The first summit of EU leaders with no British representation will be held on Wednesday, a day after Mr Cameron holds talks with members.
Global stock markets fell heavily on the news of the so-called "Brexit", where the UK voted by 52% to 48% to leave the EU. The value of the pound has also fallen dramatically.
Credit rating agency Moody's downgraded the UK's outlook to "negative" after the poll.
The UK must now invoke Article 50 of the EU Lisbon Treaty, which then allows for two years for withdrawal to be negotiated.
However, Mr Cameron said he preferred to leave negotiations to his successor.
European Commission head Jean-Claude Juncker said the EU-UK split was "not an amicable divorce", but nor had they had a "deep love affair". He said exit negotiations should begin immediately.
"Britons decided yesterday [Thursday] that they want to leave the European Union, so it doesn't make any sense to wait until October to try to negotiate the terms of their departure," Mr Juncker said in an interview with Germany's ARD television network.
In another interview, with Bild newspaper, he said it was "first and foremost" a matter for Britain's EU commissioner Lord Jonathan Hill to decide whether to stay in his role, in charge of EU financial services.
Also on Friday, European Parliament President Martin Schulz said the EU "as a whole was taken as a hostage" by infighting among Mr Cameron's Conservative party.
---
Germany wakes up to Brexit, by Jenny Hill, BBC News, Berlin
"OUTsch!," "Well done little Britain," "Completely detached."
Germany's press reflects the widespread shock at the British decision to leave the EU. At the highest level of government no-one really expected this. And they are scrambling to defend German and European interests.
The German position is focused on two major, and delicate, decisions.
Firstly, whether to use Brexit as an opportunity to deepen European integration, or to view it as a "wake-up call" and create more flexibility within the union.
And, secondly, how to deal with Britain – an important trading partner – as a 'third country.'
Senior economists and business leaders warn against barriers to free trade.
But politicians are talking tough. Concessions, they say, might encourage other member states to leave. For this reason one senior MP told me "there must be consequences for Britain".
---
How European powers reacted
German Chancellor Angela Merkel expressed "great regret" at the British decision, saying: "This is a blow to Europe and to the European unification process"
French President Francois Hollande said the vote "seriously puts Europe to the test" but called for the EU to push on with reform and investment
Italian PM Matteo Renzi, who will meet Mr Hollande on Saturday, said: "Europe is our house," adding that "the house needs to be renovated, perhaps freshened up"
Russian President Vladimir Putin said the decision showed the UK's unhappiness with migration and security
Greek PM Alexis Tsipras said the vote was "either a wake-up call or the beginning of a dangerous path", adding: "We urgently need a new vision and beginning for a united Europe"
Other leaders, including Polish President Andrzej Duda, said it was crucial that work be done to prevent other countries leaving the EU.
Turkey's President Recep Tayyip Erdogan said it was inevitable more countries would leave the EU soon if it did not change its path.
Leaders of Eurosceptic parties in France, the Netherlands and Italy quickly demanded referendums in their own countries.
Reacting to the vote, UK Independence Party leader Nigel Farage said "the EU is dying".
But European Council President Donald Tusk said this was "not a moment for hysterical reactions".
How did Europe's markets react?
London's FTSE 100 index fell 7% in early trading, but ended the day 3.15% lower.
European markets were hit harder, with the Dax in Frankfurt suffering its worst day since 2008.
The European Central Bank also said it was closely monitoring financial markets and was in close contact with other central banks.
Sterling also plunged, falling more than 8% against the dollar and 6% against the euro.
Read more: Stock markets tumble after Leave vote
What comes next?
What is Article 50 of the EU Treaty?
In force since 2009 but never tested
Allows governments to notify intent to leave. Talks then begin on a range of issues between the leaving nation and other EU members
If no deal is reached, membership will automatically cease two years after notification
The article is only a basic template for leaving, settling the date and some other matters. It does not automatically include issues such as movement of people or trade. The latter could take years to conclude