Commuters face Southern strike chaos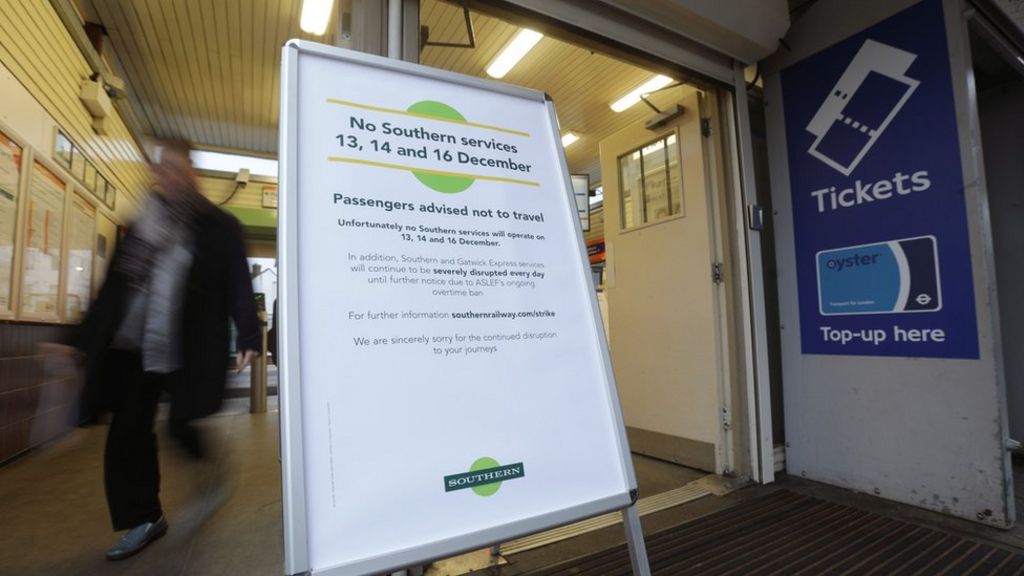 Rail passengers are facing travel chaos as striking train drivers bring the Southern network to a halt.
Members of the Aslef union walked out for 48 hours at midnight. A further 24-hour strike is set for Friday.
About 300,000 passengers usually travel on 2,242 Southern services every weekday. There will be no trains on any route and people are being warned not to travel.
The government said it may consider banning strikes on the railways.
Transport secretary Chris Grayling dubbed the action as a "deliberate act of militancy" and said he would examine possible changes in legislation "very carefully."
Aslef and the Rail, Maritime and Transport (RMT) union said ministers had prevented Southern from negotiating properly.
Southern strikes: Latest live updates
How bad have Southern rail services got?
---
Analysis by Chris Mason, BBC Political Correspondent
Ministers say they have no legal power to halt this dispute but are pointedly publicly entertaining the idea of changing the law, albeit without offering any detail about how they might do this.
Chris Grayling told the BBC he would look at all the options when this strike was over, and while he wasn't "ruling anything in" he wasn't "ruling anything out" either.
The general secretary of the Aslef trade union, Mick Whelan, said the strike wasn't politically motivated – but a response to what he called "ill conceived" changes "fraught with danger".
---
Passengers have suffered months of disruption in the dispute, which is about whose job it should be to open and close the train doors, but this is the first strike by Aslef drivers.
It has closed most Southern routes although there is a limited Gatwick Express service to and from London Victoria.
London Mayor Sadiq Khan said Southern rail passengers had been "abandoned by the government".
He tweeted: "You deserve a better service".
Simon Wells, Aslef's assistant general secretary, said: "This isn't just about safety, it's about having a decent service.
"What they are looking to do is replace the existing guards in the future with zero-hour contracts and agency staff. There is no guarantee there will be a second person on the train."
"We want to see driver-only operation ended across the whole country."
On Monday, the Court of Appeal rejected an attempt by Southern's parent company Govia Thameslink Rail (GTR) to halt the action.
Passenger services manager, Angie Doll, said: "The strike today is totally unjustified and totally unnecessary considering the small changes we want to make.
"We need the unions to work with us to modernise the railways. "
'Palpable nonsense'
The RMT has staged strikes since April over changes to the role of conductors and is also planning further stoppages either side of Christmas.
There have also been staff shortages, staff sickness, an overtime ban and other problems such as signal failures.
Mr Grayling said he did not have the lawful power to intervene in the dispute.
"There is no safety issue. What the union is saying is palpable nonsense," he said.
"The unions are deliberately trying to bring [the railway] to its knees."
Paul Plummer, chief executive of the Rail Delivery Group which represents train operators, said rail companies were trying to modernise services.
"Trains where drivers close the doors are safe.
"The truth is that these strikes are not about safety, not about jobs and not about customer service."
---
Analysis by Richard Westcott, BBC Transport Correspondent
In a nutshell, the strike is about about safety, jobs and politics.
On safety, Southern wants to bring in something called driver-only-operated (DOO) trains where the driver, rather than the conductor, opens and closes the doors.
Unions say the on-board conductor/guard has a much better view of the doors and can stop people getting trapped.
Southern has guaranteed that no-one will lose their job, or take a pay cut. The second person will now be free to help passengers, they say.
Then there's the politics.
Ministers are paying Southern's parent company, GTR, to run services, while the government collects the fare money.
So the cost of all the strikes and disruption is picked up by the government, not the train firm.
Whatever happens here will be reflected in future franchises as they take delivery of new, driver-only-operated trains.
Right now, I really can't see how this dispute will end. No-one's budging on the critical issue. No-one's even talking.
What's the Southern Rail strike about?
---
Commuters have taken to social media to vent their frustration over the latest strike action.
Mike Overill tweeted: "@ASLEFunion @RMTunion thanks to your standard petty squabbling I'm going to have an 11 hour commute over the next 2 days #southernstrike."
Ash posted: "#SouthernStrike day 1 and we were told not to Travel. I've ignored that, am using Thameslink/GW, and had a stress free journey as a result."
Sara Jayne Townsend wrote on Twitter: "Left house at 6 am for the long slog to work today with no trains. Still en route to Morden. #southernstrike
How does commuting affect wellbeing?
Mr Grayling accused the union of pursuing a "political agenda" and said Aslef warned him they would mount a decade of strike action.
"This has nothing to do with new ways of working on Southern. This is about the unions fighting against modernisation.
"We are up against a group of unions that are mounting a politically motivated strike.
"I met Aslef back in September and the first thing the general secretary said to me was 'I'm going to give you 10 years of industrial action'."
Aslef's general secretary Mick Whelan said: "The strikes this week are not, whatever Mr Grayling tries to suggest, politically motivated.
"We have a trade dispute with GTR Southern, and only a poor government would seek to spin it any other way.
"We were willing to go to ACAS last week but GTR Southern refused because they wanted to go to court."
GTR chief executive Chris Haughton said the rail company would be asking Acas to convene "urgent and immediate" talks.
He said: "Our aim is to find a resolution to their dispute so we can bring an end to the misery being suffered by the travelling public."
---
Southern planned rail strike dates
00:01 Tuesday 13 December to 23:59 Wednesday 14 December (Aslef)
00:01 Friday 16 December to 23:59: Friday 16 December (Aslef)
00:01 Monday 19 December to 23:59 Tuesday 20 December (RMT)
00:01 Saturday 31 December to 23:59 Monday 2 January (RMT)
00:01 Monday 9 January to 23:59: Saturday 14 January (Aslef)
---
Are you a commuter who has been impacted by the disruption on Southern rail services? Or are you an employer whose staff have been struggling to get to work? Email haveyoursay@bbc.co.uk with your views and experiences.
Please include a contact number if you are willing to speak to a BBC journalist. You can also contact us in the following ways: