Damian Green says computer porn allegations are 'political smears'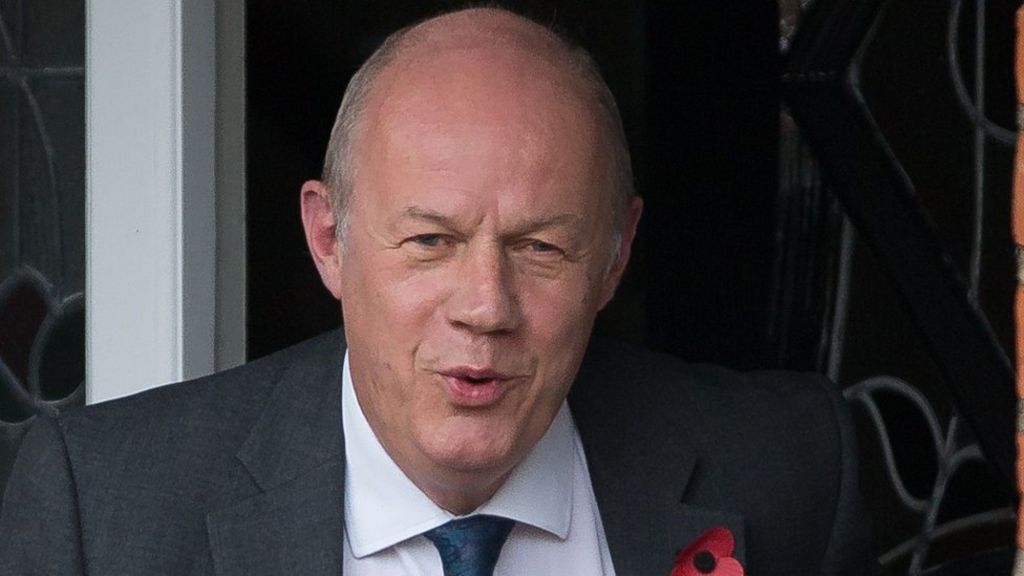 Theresa May's most senior minister has denied a claim that police found pornography on a computer in his office in Westminster during a raid in 2008.
First Secretary of State Damian Green said the ex-police chief's allegations in the Sunday Times were "completely untrue" and "political smears".
And he said police had never told him that any improper material had been found on his parliamentary computer.
It comes amid a growing sexual misconduct scandal in Westminster.
'Humiliated'
On Sunday, further details emerged about allegations against Sir Michael Fallon, who this week resigned as defence secretary over his behaviour.
The Observer reported that he quit shortly after journalist Jane Merrick told Downing Street he had lunged at her and attempted to kiss her on the lips in 2003 after they had lunch together.
Ms Merrick, who was a 29-year-old reporter at the Daily Mail at the time, told the Observer she "shrank away in horror" before returning to her office in the press gallery.
"I felt humiliated, ashamed. Was I even guilty that maybe I had led him on in some way by drinking with him?" she said.
"After years of having a drink with so many other MPs who have not acted inappropriately towards me, I now know I was not."
Friends of Sir Michael have not denied the allegation, but the BBC understands that his ministerial career ended because he could not guarantee there would be no further revelations after he admitted repeatedly touching another journalist's knee at a conference dinner 15 years ago.
The allegation regarding Mr Green, who is effectively the prime minister's deputy, relates to an inquiry into Home Office leaks which briefly led to his arrest in 2008.
The Sunday Times reports that the man who led that inquiry, former Metropolitan Police Assistant Commissioner Bob Quick, had said in a statement his officers had found pornographic material on the computer from Mr Green's office.
But Mr Green said: "The allegations about the material and computer, now nine years old, are false, disreputable political smears from a discredited police officer acting in flagrant breach of his duty to keep the details of police investigations confidential, and amount to little more than an unscrupulous character assassination."
Mr Quick has been unavailable for comment but the former anti-terror chief is set to give evidence to a Cabinet Office inquiry launched into Mr Green's behaviour.
The Cabinet Office inquiry was triggered after journalist Kate Maltby, who is three decades younger than Mr Green, told the Times he "fleetingly" touched her knee during a meeting in a pub in 2015 and a year later sent her a "suggestive" text message after she was pictured wearing a corset in the newspaper.
Mr Green said any allegation that he made sexual advances to Ms Maltby was "untrue (and) deeply hurtful".
Which other politicians are being investigated?
Conservatives
Labour
SNP