England arrive in Russia for the World Cup
England have arrived in Russia before the World Cup, with manager Gareth Southgate saying he wants his team to play with flair and entertain the nation.
They landed at St Petersburg airport and will be based in the nearby village of Repino, in north west Russia.
England's first game in Group G is against Tunisia on Monday.
"We hope we can send people to work the following day having enjoyed our matches," said Southgate.
Moments after landing, Southgate told BBC Sport that Manchester United striker Marcus Rashford picked up a "slight knock" in training and will be assessed before Wednesday's open training session.
The tournament begins on Thursday when hosts Russia face Saudi Arabia at 16:00 BST.
"To lead England as a manager is an incredibly proud moment," said Southgate, who won 57 caps for England and played at the 1998 and 2002 World Cups.
"I will take a brief moment to take it in and then prepare for the matches we have got – and the task starts from when we get to the hotel."
Reigning champions Germany have also arrived, landing at Vnukovo airport in south west Moscow. They open their campaign against Mexico on Sunday.
England also face Panama on 24 June and Belgium, one of the pre-tournament favourites, on 28 June.
Southgate's side have warmed up with wins over Nigeria and Costa Rica, with many pundits praising the effective – and sometimes stylish – football on show.
Their displays have been in contrast to England's performances in recent years, which critics say have been hallmarked by disjointed and often dull football – just 40,000 fans turned up for a friendly against Norway at Wembley in 2014, and some travelling fans booed at the end of a 4-0 win in Malta last year.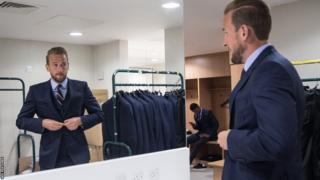 "I've talked before about there being a disconnect between the supporters and the team and I've felt that there's different ways to bridge that," Southgate said. "The most important is the way you play, and your performances and your results.
"We know we are not the finished article – in fact, we're a long way from it – but I think people see signs of progress and enjoy watching us and the manner in which we try to play.
"We are seeing a team that is enjoying each other's company, getting on well, is very proud to represent the nation.
"We ask people to pay a lot of money to watch football. In the end, we want to entertain where we possibly can.
"Ultimately, we know we'll be judged on results – but we have to focus on the processes.
"If we do all of those things and we play with a smile on our face, enjoy our football, enjoy being in a tournament, then I think we will get results."
'Boredom shouldn't be a factor'
England will be staying at the ForRest Mix Club on Repino, less than an hour's drive away from St Petersburg, with a population of 2,400.
"We like the town and we like St Petersburg," said Southgate. "Hopefully the players and family will get an opportunity to go into St Petersburg when not working.
"We have taken the hotel for ourselves which will be good for the balance of working and players being able to relax and have time for themselves. I am pleased with the base and looking forward to meeting the community."
England captain Harry Kane revealed the players would spend their spare time playing table tennis or the computer game Fortnite.
"We have a great bond together, we are similar ages and all get on," said Kane.
Former England striker Alan Shearer says the team has had a "very positive" build-up and Southgate has "selection headaches, which is good".
England's players complained of boredom at their base during their ill-fated 2010 World Cup campaign, which ended with a 4-1 defeat by Germany in the last 16.
But Shearer says boredom should not be a factor in Russia.
"It should be the best three or four weeks of your life – you don't have to do a thing," Shearer told BBC Sport. "For four weeks of your life, you shouldn't get bored.
"There seems to be a very good team spirit, an openness within the squad to speak to the press, and both press and players seem to have enjoyed it."
Analysis
by Phil McNulty, chief football writer in Moscow
England's arrival at their secluded Repino base was the very definition of low-key as the media and the traditional group of photographers easily outnumbered the locals when the bus made its way slowly through the gates. It is optimistic to suggest 100 were in attendance.
There was no large welcoming party for England but Southgate may not be unhappy about that as he tries to go about his World Cup business quietly – with some of the locals only staying to observe the scene because the police and military briefly halted all traffic to let England through.
Then it was time to acclimatise to their new surroundings before the serious business starts with their first training session at Zelenogorsk on Wednesday.