England & Germany confirm poppies tribute for Wembley friendly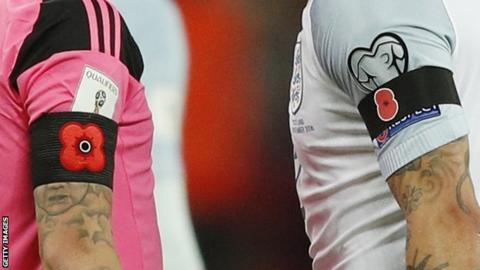 England and Germany players will wear black armbands bearing poppies for Friday's friendly at Wembley.
The tribute is in remembrance of members of the armed forces, said the Football Association (FA) and German Football Association (DFB).
FA chief executive Martin Glenn called it "a show of solidarity and unity".
It comes after rules were changed last month, allowing the home nations to wear a poppy if opposing teams and the competition organiser agree to it.
England, Scotland, Wales and Northern Ireland were all fined for displaying poppies during games in November 2016 as Fifa deemed it to be a political symbol.
But all four teams said they would request permission to wear poppies during November's international matches after the rules were revised.
DFB president Reinhard Grindel said poppy armbands were not "political propaganda".
"They're about remembering the kind of values that were kicked to the ground in two World Wars but are cherished by football: respect, tolerance, and humanity," he said.
More to follow.