Five things we learned at Later with Jools Holland's 25th birthday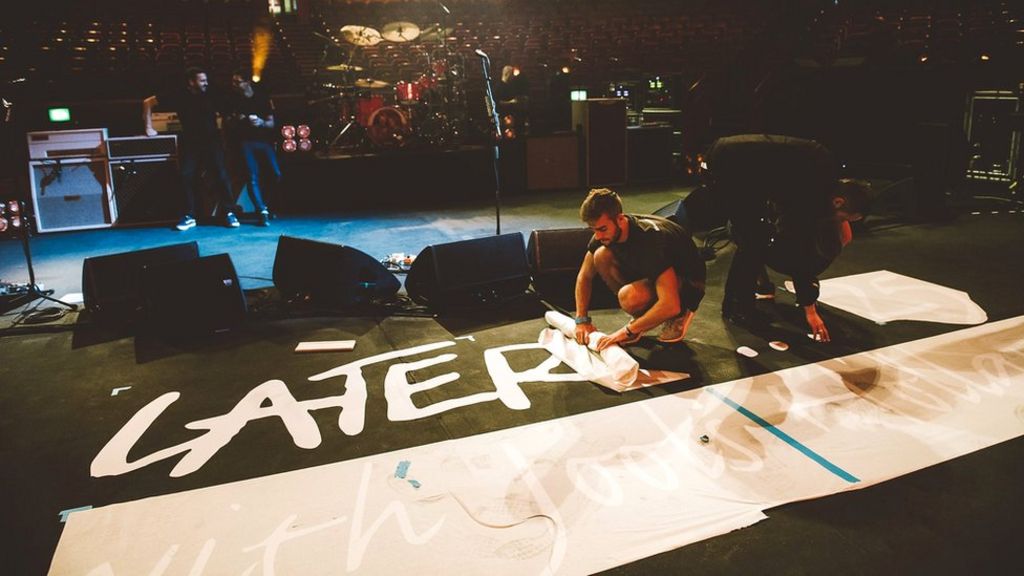 Later… with Jools Holland turns 25 this year, after more than 350 shows and over a thousand musical guests.
To celebrate, the programme abandoned its home in Maidstone for a gala concert at the Royal Albert Hall.
Among the guests were Foo Fighters, Van Morrison, Dizzee Rascal and Malian band Songhoy Blues.
The results will be screened on BBC Two on Saturday night, but here are some of the things we learned behind the scenes.
---
1. Taylor Hawkins was playing hide and seek
Foo Fighters' star Dave Grohl (pictured with Jools) sang the first verse of Best of You solo, accompanied by just his guitar, but the rest of the band needed to be ready to jump in for the second chorus.
It was easy enough for guitarist Pat Smear and bassist Nate Mendel, who just waited off stage in the wings. Drummer Taylor Hawkins had no such luck.
With his kit pressed up against the seats, he had no graceful way to enter the stage; so he lay on the floor, arms perched on his drum stool, for three uncomfortable minutes.
2. It's the show stars want to appear on
The gala concert came with a commemorative booklet, filled with tributes from the acts who've appeared on Later… over the last 25 years.
"For me it was the path to success," said Ed Sheeran. "Anyone that went on Jools Holland from my circuit went on to achieve great things."
Metallica's Lars Ulrich said the programme was "unlike any other show" he'd played.
"The format of the bands setting up basically in a big circle and facing each other, playing to each other, channels a vibe."
It's "a fine line between camaraderie and competition", he added.
Kasabian, though, had an axe to grind.
"You never let us on our first album and we were devastated. You said we were too loud."
3. A good stage manager is invaluable
The most indispensible person in Jools's team is the stage manager, who runs circles around the arena, carefully keeping out of shot, and making sure the presenter can see the handwritten cue cards with details of the next performer.
By complete coincidence, we were sitting next to the show's former camera supervisor, who told us this key crew member was none other than Roy Castle's daughter, Antonia.
4. The show is completely seamless
Sitting at home, you might imagine there are a few crafty edits to make all the musicians look good – but no: The entire show was filmed in one continuous take, from start to finish, with only one retake (we won't say who, it was a technical problem, not a vocal one!).
What that means is that the bands have to sit and watch each other – so we got to see Foo Fighters playing along to Van Morrison's Gloria, and KT Tunstall grooving with French singer Camille.
Of course, nothing will beat the time, years ago, when we saw Thom Yorke busting moves to a Mary J Blige performance – but the joy of seeing Later up close, is watching musicians when they're not "on".
Some of those moments could well make it into Saturday night's show – so keep an eye out for Dave Grohl lending his guitar to KT Tunstall. The Scottish singer is a good foot shorter than the Foos' frontman, so she ends up playing with the instrument slung around her knees.
5. Later… could only exist on the BBC
Just before the show, Jools and his producer Mark Cooper said that Later… couldn't exist on any other broadcaster,
"This show really is part of the BBC ethos," said Jools. "It educates, informs, entertains and speaks truth unto nation.
"There's no show like it on earth. A lot of the guests say that when they come on [and] only the BBC could make it."
Cooper said the BBC's biggest gift had been to stay out of their way.
"I would like to thank the BBC for supporting this programme over 25 years and doing the most wonderful thing the BBC can do for anybody, which is give us the freedom to make a show that can be brave, and make its own choices. Hopefully that's what it kept going."
Later 25 will be shown on BBC Two at 21:00 BST on Saturday, 23 September.
---
Follow us on Facebook, on Twitter @BBCNewsEnts, or on Instagram at bbcnewsents. If you have a story suggestion email entertainment.news@bbc.co.uk.