General election 2017: Conservatives pledge to end mental health 'injustice'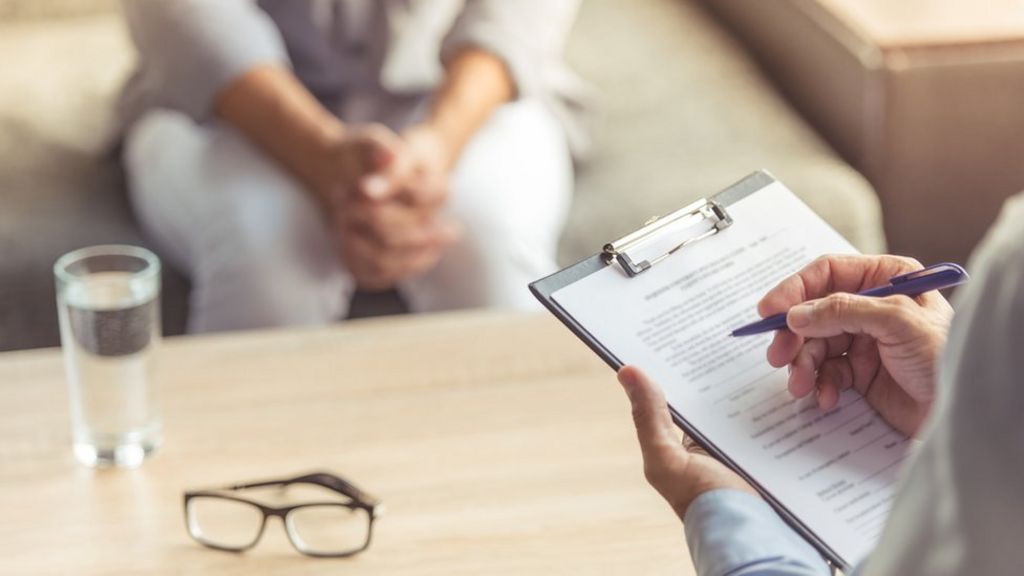 The 1983 Mental Health Act would be replaced with new laws tackling "unnecessary detention" under Tory plans for England and Wales.
The Equalities Act would also be reformed to tackle discrimination against those with mental health problems as part of their plans.
The Conservatives pledge 10,000 more NHS mental health staff by 2020.
But opponents said no more funding had been promised, without which the pledges are based on "thin air".
The Conservatives say the plans are motivated by the concern that "vulnerable people are being subject to detention, including in police cells, unnecessarily" as numbers of people detained or "sectioned" under the Mental Health Act have risen.
Conservative Health Secretary Jeremy Hunt told BBC One's Andrew Marr Show: "If you have a child that has severe mental health problems and you find that that child, instead of getting treated by the NHS ends up in a police cell, that is a terrible thing for the child… but it is also very bad for the police as well – we want to stop that."
Mr Hunt added that many people experience mental health problems, saying: "We want to stop the fact that you can lose your job for that and suffer discrimination in a way that you would not be able to suffer now if you were disabled, [or had] other conditions."
He said an extra £1bn for NHS mental health services had been announced in January: "There is a lot of new money going in … it's not just of course money, it's having the people who deliver these jobs which is why we need the 10,000 extra professionals."
'Not delivered'
But Labour's shadow mental health minister Barbara Keeley said the Conservatives had "not delivered on their promise to give mental health the same priority as physical health".
"They appear to be offering no extra funding and have consistently raided mental health budgets over the last seven years," she said.
"Warm words from the Tories will not help to tackle the injustice of unequal treatment in mental health."
Mental health still a workplace taboo
Newsbeat: Student mental health costs "should be free"
Watch: "A message to my mental illness…"
The charity Mind has previously called for a review of the 1983 Act, which allows people with mental health problems to be detained for treatment against their will in England and Wales.
People detained under section two of the Act cannot refuse hospital treatment – although some forms of treatment can be given only with a patient's consent – and can be held for up to 28 days.
The charity said a rising number of detentions under the Act could be sign of growing pressure on mental health services.
And Marjorie Wallace, chief executive of the mental health charity Sane, welcomed the PM's pledge but added there were "some dangerous cracks and fault lines in psychiatric services" and "cuts and closures mean there are few available inpatient beds in the country".
She said: "There needs to be a guarantee that alongside the measures proposed, resources are placed in frontline services."
'Thin air'
The plans would also see all primary and secondary schools in England provided with mental health first aid training for staff.
Large organisations would be required to have mental health first aid-trained staff on hand, in addition to the current requirement for physical health first aid training.
Liberal Democrat health spokesman and former health minister Norman Lamb told BBC One's Sunday Politics that the Conservative announcement was "built on thin air".
"There is no additional money behind what they have already announced for the NHS and we all know that it falls massively short of the expectation of the funding gap, which by 2020 is likely to be about £30bn," he said.
He said a previous Conservative promise to add 5,000 GPs to the workforce was not on target, adding: "They make these claims but I'm afraid they are without substance unless they are prepared to put the money behind it."
The Conservative Party said "funding for mental health services is currently at record levels – and up by £1.4 billion in real terms by 2020."
---
Are you affected by issues covered in this story? You can share your experience by emailing haveyoursay@bbc.co.uk with your stories.
Please include a contact number if you are willing to speak to a BBC journalist. You can also contact us in the following ways: