Glastonbury 2016: Wolf Alice and Madness warm up for Adele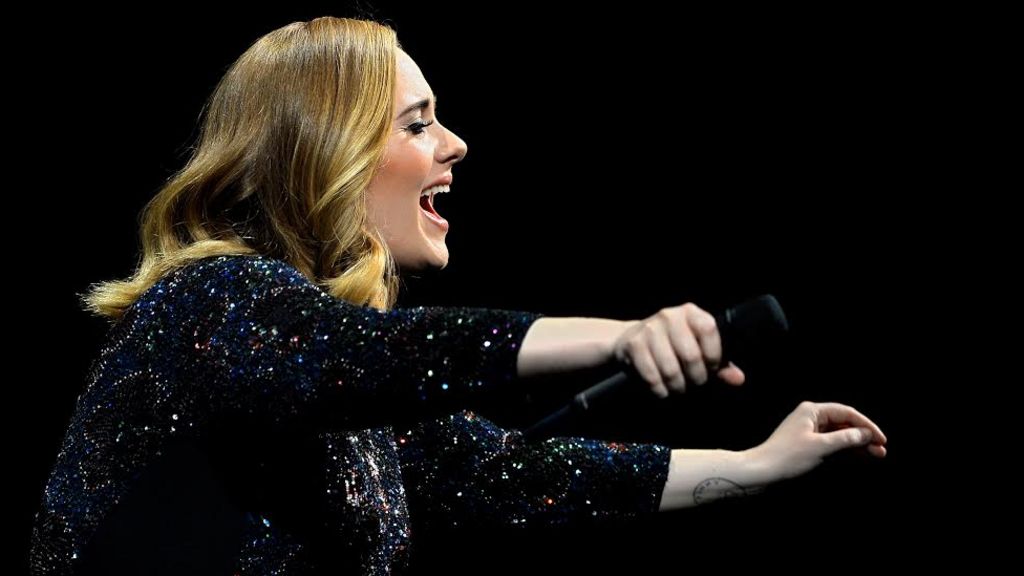 Crowds are gathered at the Pyramid Stage to ensure they have prime positions when Adele plays Glastonbury on Saturday night.
It is the star's first performance at the festival since 2007, when she played the Park Stage, and her first ever headline set.
The singer, whose album 25 has sold some 19 million copies worldwide, was nonetheless a controversial booking.
Some called her "too boring", prompting a ferocious response from the singer.
"I'm actually more excited than I was now, because all those rock and punk fans have been having a moan that I'm doing it and I'm like: 'You're going to get dragged along by your wife, so just deal with it'," she said during her show at the O2 Arena earlier this year.
"To be honest, those people moaning about it, I've probably been more times than them anyway, so shut up."
The star arrived at Worthy Farm in the early afternoon, having earlier been spotted shopping at the Glastonbury branch of Tesco.
Australian rock act Tame Impala, who play immediately before Adele on the Pyramid Stage, said they would stick around to watch her set.
"I feel like it's going to be a religious moment for me," frontman Kevin Parker told BBC News. "Even though Adele is a megastar, she's England's girl. She's royalty."
Party spirit
The Pyramid Stage opened on Saturday morning with a performance by the Lewisham and Greenwich NHS Choir, who scored last year's Christmas number one single.
They played a warm-hearted set of easy listening covers, including Bridge Over Troubled Water, Love Shine and Light and Lean On Me. Many , while many of the audience carried "We Love the NHS" placards.
They were followed by Squeeze, who kept the party spirit going with a raft of classics, including Up the Junction and Tempted.
Introducing Cool For Cats, frontman Chris Difford made a passing reference to Adele, saying: "You'll be hearing a lot of North London songs later on, but this one's a South London song."
Wolf Alice guitarist Joff Oddie powered through their punchy, raucous set with blood running down his wrist, after slicing his finger open on a guitar string.
While Madness hosted a good-natured singalong in a performance packed with pop perfection – from Our House and Baggy Trousers to their closing number My Girl.
Suggs was full of avuncular bonhomie, declaring: "Ladies and gentlemen, welcome to this special edition of Top Of The Pops," as the band took to the stage.
"When we started this band, Glastonbury was still a twinkle in its grandfather's eye," he later reminisced.
The band also threw in a couple of covers, including AC/DC's Highway To Hell (sung by guitarist Chris Foreman) and David Bowie's Kooks.
The Last Shadow Puppets also paid tribute to Bowie by performing Moonage Daydream.
Other acts on Saturday's line-up include New Order, The Shires and James Blake.
The sun has been out all afternoon, after a rain-soaked morning turned the site from a swamp into a viscous mud soup.
"There is no grass anywhere," said Martin Doherty, from Glaswegian synth-pop band Chvrches, who play The Other Stage later. "But the Glastonbury site is about as happy as I've seen a festival. Maybe it's the mud – people are losing their inhibitions."
And the night will end with Philip Glass's Symphony No 4, which is based on David Bowie's Heroes LP, performed by Army of Generals and members of the British Paraorchestra, led by conductor Charles Hazlewood.
The midnight performance, at the Park Stage, will be accompanied by an ambitious laser light show, that will be seen across Glastonbury's 900 acre site.
"I feel in my heart this is exactly the kind of thing Bowie would approve of," Hazlewood told the BBC.
"Quite clearly, by the means and the manner of his passing, he didn't want funerals, he didn't want memorials, he didn't want any of that mawkish rubbish.
"What he would have liked, I think, would be a big old celebration, a very theatrical, very out-there celebration of what it was he meant to all of us.
"And so, for me, this is a pitch perfect way of saying we're grateful David Bowie ever existed."