Grenfell Tower fire: Government staff sent in to Kensington and Chelsea Council
Government staff have been drafted in to bolster the official response to the Grenfell Tower disaster in west London.
The move follows widespread criticism of the local council's performance.
Residents condemned the relief effort as "absolute chaos" and complained that Kensington and Chelsea Council had provided little support or information.
The council said it would cooperate "in full" with the government's inquiry into the fire, in which at least 58 people are believed to have died.
Police fear that figure could increase. The BBC understands the death toll could rise to about 70 people in total.
Many more people have been left homeless by the massive fire that engulfed the 24-storey block of flats on Wednesday.
'Heartbroken'
As part of the new move by the government, a team of civil servants has been embedded into the council office.
Other measures outlined by the prime minister following a meeting with residents on Saturday, included more staff covering phone lines and ground staff wearing high-visibility clothing so they could be easily found.
Asked about his council's poor response, leader Nicholas Paget-Brown said staff were "working closely" with the government, charities, volunteer and resident groups and the emergency services to help re-house and assist those affected.
"People rightly have questions about the causes of the fire and why it spread so quickly and these will be answered," he said.
He added that he was "heartbroken by the tragic fire and the appalling loss of life" and insisted "lessons must be learned".
Meanwhile, the Home Office said it was making arrangements for the family of civil engineering Mohammed Alhajali, who died in the fire, to travel from Syria to Britain for his funeral.
Theresa May has also come in for a barrage of criticism over her own response to the disaster.
On Friday, she was jeered on a visit to the North Kensington estate, and protesters marching on Friday and Saturday called for her resignation.
First Secretary of State Damian Green defended the prime minister, saying she was as "distraught as we all are".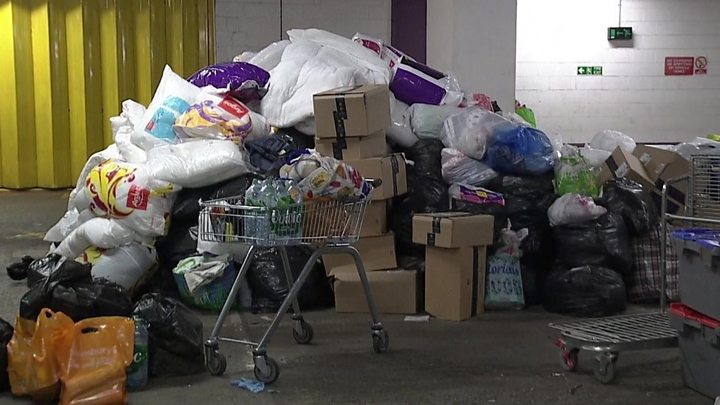 So far in the investigation:
Six victims have been provisionally identified by police
Three have been named so far, including Syrian refugee Mohammed Alhajali, 23, five-year-old Isaac Shawo, and artist Khadija Saye
Of those killed, one died in hospital
Nineteen people remain in hospital, 10 in critical care
A criminal investigation has been launched
The government has committed £5m for clothes, food and emergency supplies for the victims
UK councils are carrying out urgent reviews of their tower blocks, the Local Government Association says
A British Red Cross appeal is launched to raise money for those affected
The emergency number for people concerned about friends and family is 0800 0961 233
The fire broke out at the tower block, which contained 120 one and two-bedroom flats, shortly before 01:00 BST on Wednesday.
It tore through all floors of the building and took more than 200 firefighters 24 hours to bring under control.
Two neighbouring Tube lines are partly suspended until 14:00 BST on Sunday amid safety concerns of debris falling on to the tracks.
The Hammersmith and City Line has been suspended between Edgware Road and Hammersmith, and the Circle Line is also closed, Transport for London said.
Have you been affected by recent events at Grenfell Tower? Let us know by emailing haveyoursay@bbc.co.uk
You can also contact us in the following ways:
Get news from the BBC in your inbox, each weekday morning