Here's How 300 Years of Craftsmanship and Refinement Go Into Making Barbados' Mount Gay Rum Great
Mount Gay
Barbados is famous for sailing, beautiful beaches and Rihanna – but true connoisseurs know the real attraction is rum. Mount Gay Rum, the world's oldest rum brand, was established on the island in 1703, though in fact documents have been uncovered dating its distillation back even further. Today it's the expertise of longtime master blender Allen Smith who, rather than resting on his laurels, is using Mount Gay's terroir and heritage to add bold new chapters to the story.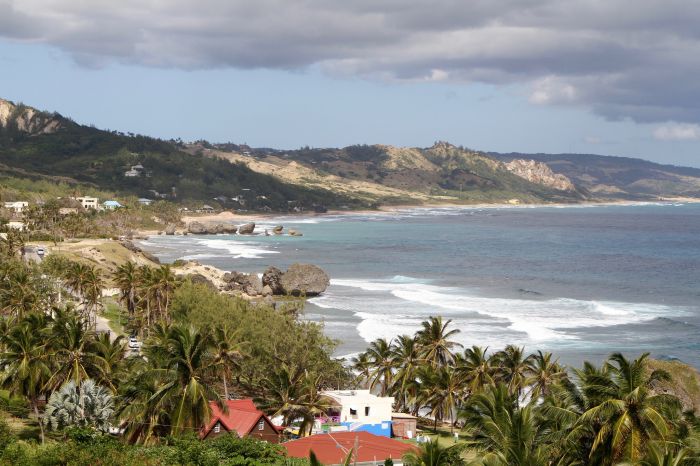 Jared Paul Stern
The distinct character and bold flavor profile of the brand's classic expression, Eclipse, are derived from the purest coral filtered water and finest Barbadian molasses, with notes of vanilla, ripe banana, mocha and sweet almond, that can found across its range of products. And Mount Gay's unique double distilling process using historic copper stills as well as its maturation in oak bourbon barrels abetted by Barbados' year-round tropical climate yield an ultra-premium rum like no other.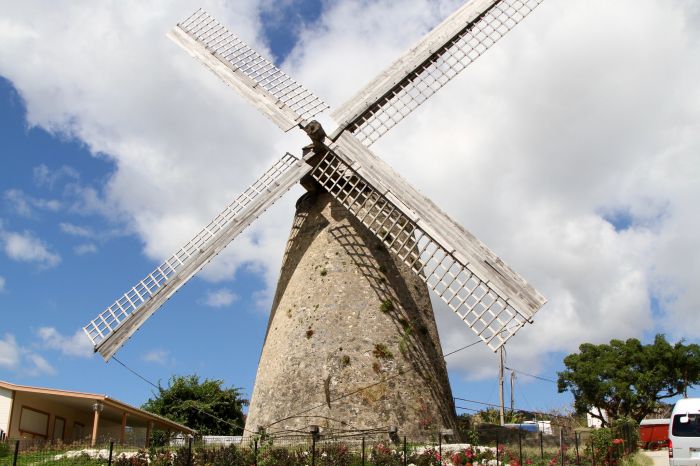 Jared Paul Stern
The coral rock formations of the island act as a natural filter for the water sources which are essential to Mount Gay's distillation process, which cannot be duplicated, although as Smith has shown there is plenty of room for innovation. The brand now creates numerous expressions using various combinations of distillation and maturation, including the delectable Black Barrel and XO expressions, as well as some rare and un-exported bottling such as Charred Cask and a Mauby Rum distilled with bark from the Mauby tree to which islanders attribute all sorts of health benefits.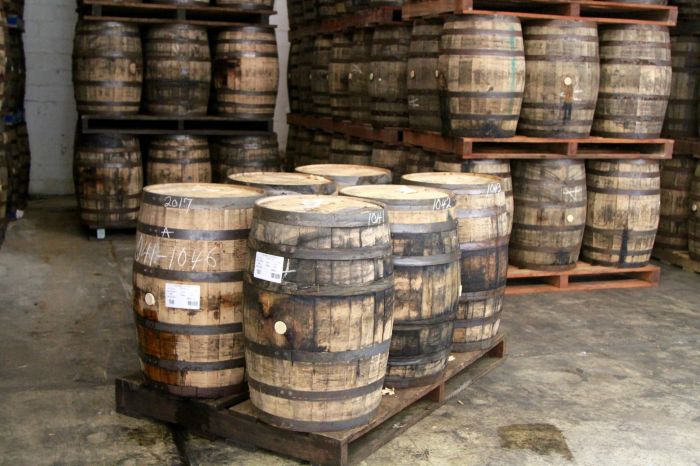 Jared Paul Stern
Mount Gay's latest and greatest, however, is XO The Peat Smoke Expression, a unique batch of only 6,120 bottles priced at $ 250 apiece. To create it Smith carefully selected and combined column and pot still rums, matured for eight to fifteen years in American oak barrels. The blend was then finished in peated whisky casks from the Isle of Islay in Scotland for an additional six months, giving it some of the Scotch's signature smokiness with a touch of salt and brine, as well as a long, opulent presence on the palate.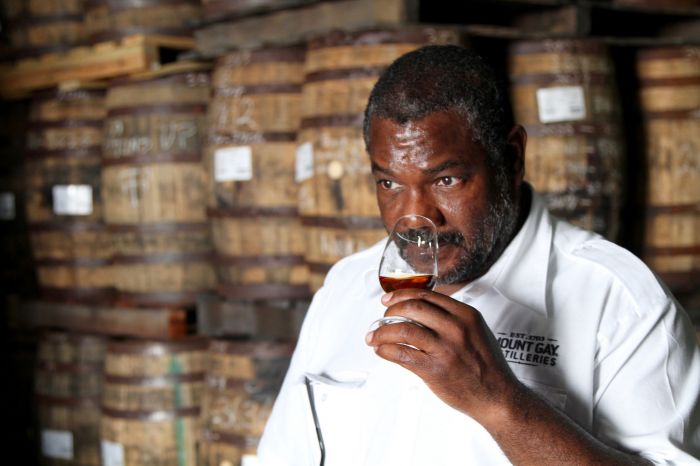 Jared Paul Stern
It's a particularly unique and delectable take on Mount Gay XO, the highest awarded rum in the world and an exceptionally full-flavored, mellow elixir. XO (for Extra Old) is a blend of the distillery's best tropically aged rums in the range of eight to fifteen years, which presents notes of ripe banana, toffee and mocha primarily by blending older barrels of predominantly double pot distilled spirits, which are renowned for their round, crisp notes and subtle balance.
Another rare rum from the Mount Gay portfolio is 1703. To create it, Smith selected the finest single and double distilled rums from Mount Gay's oldest reserves, named after the year the brand was officially established. 1703 is an exclusive blend comprised of rare and noteworthy barrels that Allen has carefully kept an eye on over the years. Forty-four blends were necessary to reach the subtle, perfectly balanced and harmonious final blend.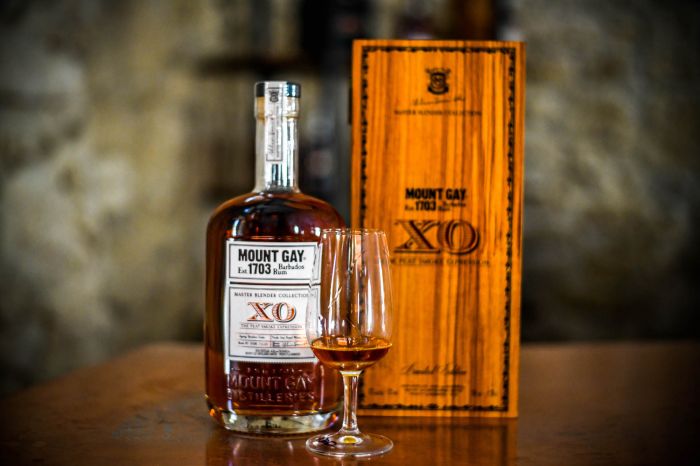 Mount Gay
We highly recommend traveling to Barbados to sample all of it in situ. One of the most appealing features of Barbados for the thirsty traveler is that the island is dotted with rum shops, sometimes not much more than simple wooden shacks but always welcoming, where the custom is to purchase a bottle of Mount Gay rum along with whatever mixers you prefer. These can be found by the side of every road, but the most alluring are those perched on one of the many picturesque beaches.
It's especially easy to while away an afternoon at one of these admirable, well-stocked establishments, with a view of the clear blue water, fishermen plying their trade, and expanses of fine white sand. They are the social hubs of the island, usually found near churches and just as important. The locals are friendly and always ready to bond over a rum and tonic or two. Calypso music is the soundtrack to these excursions, growing steadily more raucous as the evening progresses.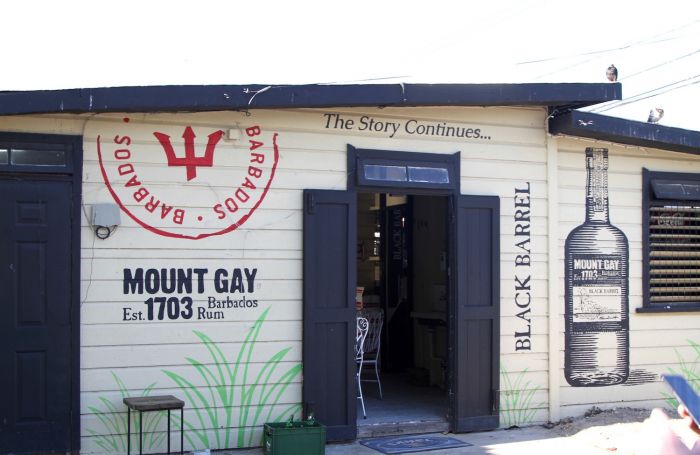 Jared Paul Stern
Barbados is small enough to explore in the course of a day or two, and the preferred method for many sightseers are the Island Safari 4×4 tours that will take you everywhere from the sugar cane fields – the raw material of rum, which is fermented and distilled from molasses or sugarcane juice – to the beaches on both coasts. And of course you'll want to sign up for the Mount Gay Visitor Experience, with five different programs to choose from, including tastings, of course. The Rum & Food Pairing Experience, for example, is not to be missed.
Boat tours and catamaran charters are a popular alternative to the safari trucks, and the best ones, of course, have bars on board. It's the best way to see the coastal attractions of the island, ranging from private beaches presided over by imposing coral stone mansions to stretches of sand that seem to be host to non-stop parties where the only requirement for entry is a laid-back attitude and a nearby rum shop with plenty of Mount Gay in stock. Weigh anchor in a tropical bay and be prepared for some snorkeling before supper.
Regardless of how you choose to do your sightseeing, you'll want to book rooms at The Sandpiper, one of the island's most iconic boutique luxury resorts opened nearly 50 years ago. The five-star property, a member of Small Luxury Hotels of the World (SLH), is set on a beautifully landscaped oceanfront plot including a stunning stretch of white sand beach and is a bastion of relaxed elegance where you can unplug from the annoyances of daily life in the digital age. It's also the perfect place to sample some Mount Gay cocktails starting with their signature rum punch.
And speaking of cocktails, we corralled some holiday recipes from Mount Gay's master mixologists so you can get a taste of Barbados wherever you are. Just procure some bottles of Black Barrel and XO and away we go:
Toasted Almond
2oz Mount Gay XO
3oz Vanilla Almond Milk
.5oz Clove Syrup
Add all ingredients to shaker, add ice and shake. Strain into chilled rocks glass, garnish with grated cinnamon.
Merry Maple Sour
2oz Mount Gay XO
1oz Fresh Lemon
.5oz Maple
.5oz Egg White
Add all ingredients into a shaker, dry shake, then shake with ice and strain into chilled coupe. Express lemon oils over the surface, garnish with a lemon peel.
Chalet Chai
2oz Mount Gay Black Barrel
3oz Coconut Milk
3oz Fresh Pineapple Juice
1oz Lime Juice
.5oz Chai Syrup
Add all ingredients to shaker, add ice and shake. Strain over ice in Collins glass, garnish with pineapple or lime zest.
Beet, Drink and be Merry
2oz Mount Gay Black Barrel
1oz Fresh Lime
1oz Beet Juice
.5oz Simple Syrup
Add all ingredients to shaker, add ice and shake. Strain into a chilled coupe, garnish with a lime wheel.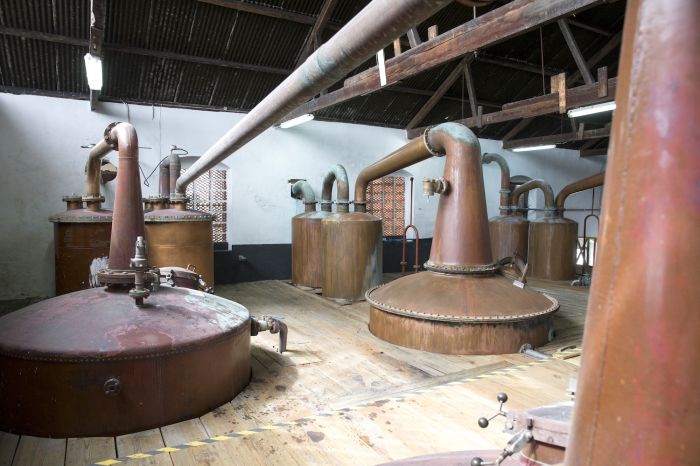 Mount Gay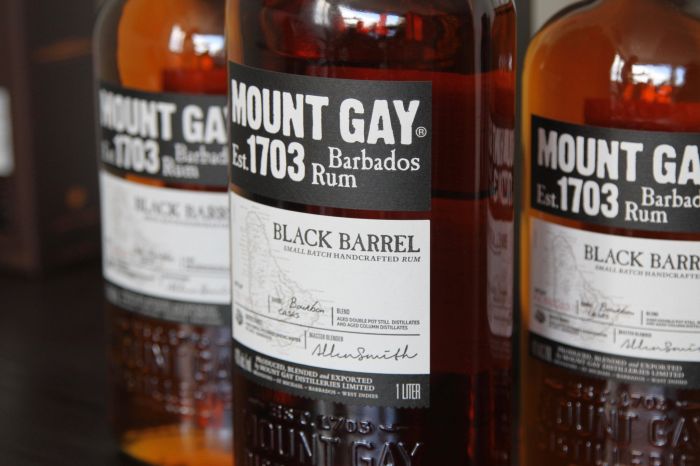 Jared Paul Stern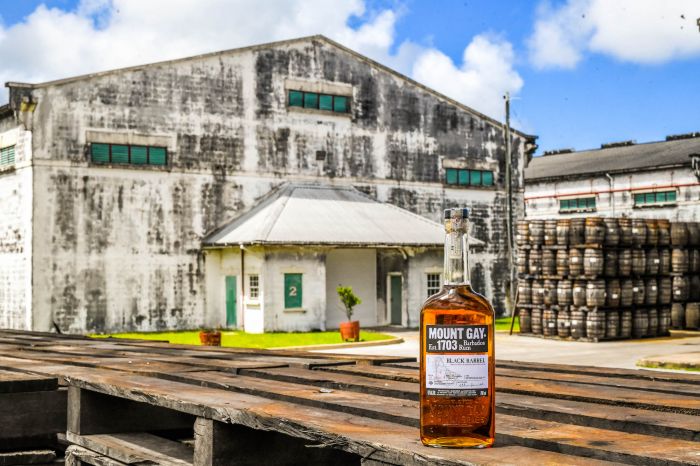 Mount Gay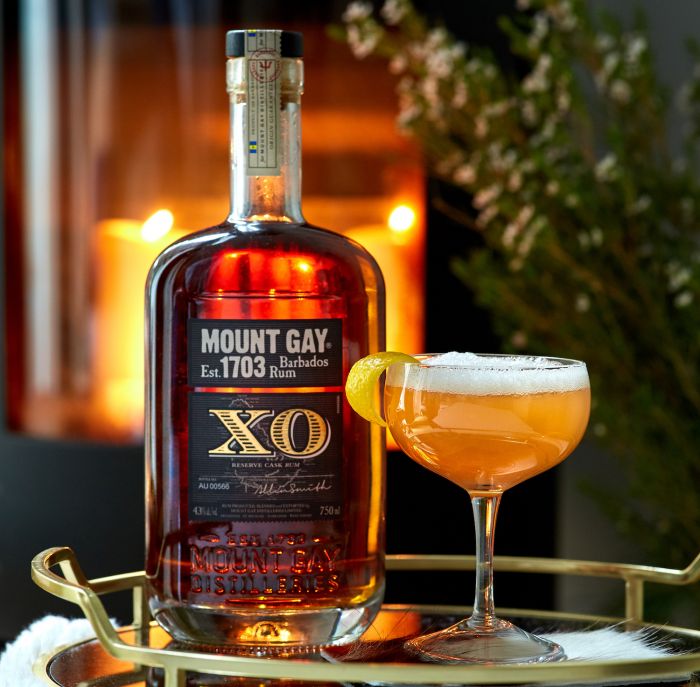 Mount Gay