Hillsborough charges against Sir Norman Bettison dropped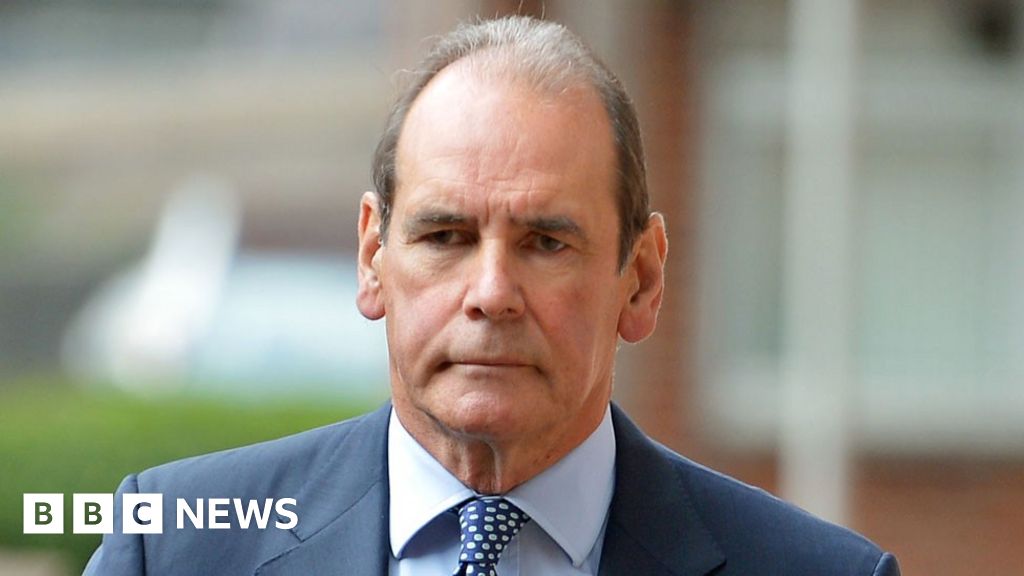 A former chief inspector accused of trying to blame Liverpool fans for the 1989 Hillsborough disaster has had all charges against him dropped.
Sir Norman Bettison, then of South Yorkshire Police, had faced four counts of misconduct in a public office.
He was accused of telling lies about the "culpability of fans" and his role in the wake of the tragedy.
Prosecutors said insufficient evidence meant there was no real prospect of securing a conviction.
The Crown Prosecution Service (CPS) said because of changes in the evidence of two witnesses, and the death of a third, it would discontinue the case.
The decision was taken following a review of the evidence and was confirmed at a hearing at Preston Crown Court.
What charges did Sir Norman face?
Sir Norman was accused of untruthfully describing his role in the South Yorkshire Police response as "peripheral" in a 1998 comment to then chief inspector of constabulary Sir David O'Dowd when applying for the job of chief constable in Merseyside.
He was also accused of lying to Merseyside Police Authority when he said he had never attempted to shift blame for the disaster "on to the shoulders of Liverpool supporters".
The 62-year-old, from Barnsley, South Yorkshire, was alleged to have lied in a statement issued on 13 September 2012 following the publication of the Hillsborough Independent Panel report, when he said he had never offered any interpretation other than that the behaviour of Liverpool fans did not cause the disaster.
He was also accused of misconduct over a statement released the following day in which he said he had never "besmirched" Liverpool fans.
Why were the charges dropped?
Prosecutor Sarah Whitehouse QC told the court that since the defendant was charged in June of last year, the "state of the evidence has changed".
She said one of the two witnesses the Crown relied on for three of the charges, relating to statements he allegedly made blaming Liverpool fans for the disaster, had since died and "significant contradictions" had come to light in the accounts given by the other witness.
Ms Whitehouse said the CPS had a duty to review the evidence and reached the decision there was no longer a realistic prospect of conviction.
She said the remaining charge related to Sir Norman's alleged use of the word, "peripheral" in describing his role in the South Yorkshire Police response when he applied for the job of Chief Constable of Merseyside Police in 1998, which had now been "partly retracted" by one witness.
The prosecutor said all four of the counts were part of a "narrative" of a "pattern of behaviour" but because the other three counts had been dropped, the "thread has been lost".
Read live updates on this story and other news on BBC Local Live
The court heard the prosecution relied on two witnesses, Mark Ellaby and a woman identified only as Mrs J.
It was alleged by Mr Ellaby that, over a pint in a pub while on an MBA course together in 1989, Sir Norman said he had been appointed to a team, the role of which was to blame the fans.
Paul Greaney QC, defending Sir Norman said it took "repeated requests" from the defence for the other students to be traced by the Independent Police Complaints Commission.
When "eventually" they were, fifteen other students and a lecturer were contacted and "not a single one" recalled Sir Norman expressing any "inappropriate view" about Hillsborough.
What does Sir Norman Bettison say?
Speaking outside the court, Sir Norman said: "The loss of loved ones who will never come home from Hillsborough is an enduring tragedy.
"Such a devastating loss is deserving of all of our sympathies and has always included mine. Nothing, over the last six years, has diminished my sympathy.
"My involvement in the events around Hillsborough has often been misrepresented, even in Parliament.
"Since then, I have been forced to deny, strenuously, that I was guilty of any wrongdoing in the aftermath of the disaster. Today's outcome vindicates that position.
"Six years ago, I was driven from the job that had been my vocation for 40 years, and some commentators, who didn't really know anything about me or the facts, rushed to judgement and predetermined my guilt.
"Something I learned, though, early in my police service, is that no injustice was ever satisfactorily resolved through being unjust."
What do supporters of the Hillsborough victims say?
The Hillsborough Family Support Group said: "We have grave concerns about the handling of this case by the CPS and can confirm that we will be exercising our right to an independent review under the Right to Review scheme.
"It is our view that the wrong charge was brought in the first place and we will be using the review process to argue this point strongly.
"We know how our supporters will feel about this decision and, of course, we all share all of those feelings."
Speaking outside court, Steve Kelly, whose brother Michael died in the disaster, said: "I'm absolutely devastated. I feel as if I've been beaten up this morning.
"I feel as though we are treading water a little bit."
What happens next?
Five others, including David Duckenfield who is accused of manslaughter by gross negligence of 95 fans, are due to face trial next year.
Mr Duckenfield was match commander at the 1989 FA Cup semi-final between Liverpool and Nottingham Forest at Sheffield Wednesday's Hillsborough stadium, when 96 Liverpool fans were fatally injured in a crush in the terrace pens.
Under the law at the time, there can be no prosecution for the death of the 96th victim, Tony Bland, because he died more than a year and a day after his injuries were caused.
Former Sheffield Wednesday club secretary Graham Mackrell is charged with health and safety, and safety at sports grounds offences.
Former solicitor Peter Metcalf and former police officers Donald Denton and Alan Foster are charged with perverting the course of justice.
The "right to review" process gives those with a "significant" interest in the case three months to seek a review of the decision to discontinue the prosecution against Sir Norman.