Hundreds of police accused of sexual exploitation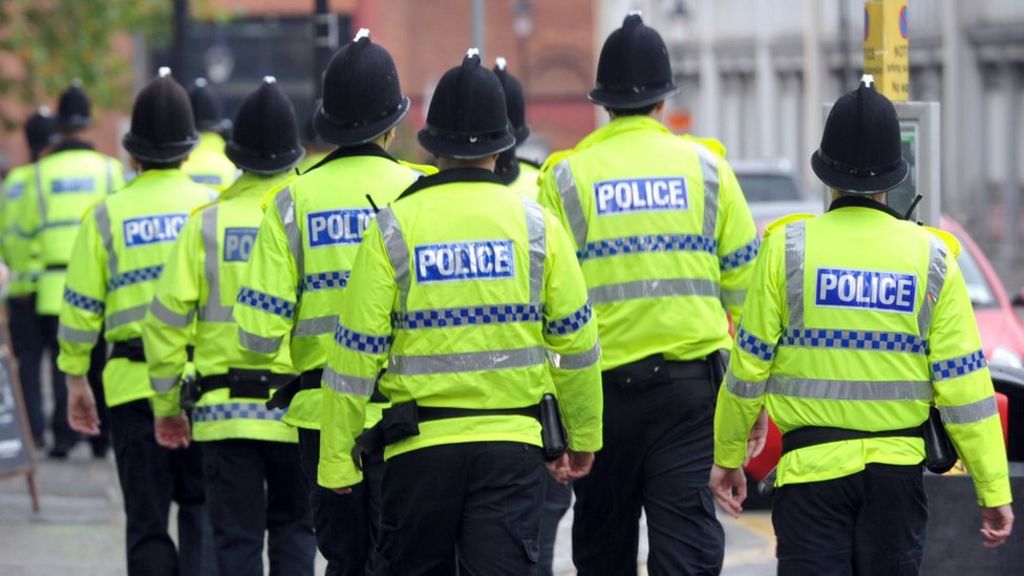 More than 300 police officers have been accused of using their position to sexually exploit people, including victims of crime, a report has said.
Her Majesty's Inspectorate of Constabulary said abuse of authority for sexual gain was now the "most serious" form of corruption facing police in England and Wales.
The watchdog's figures were gathered over two years to the end of March.
The National Police Chiefs' Council described the problem as a "disease".
It acknowledged that more needed to be done to "root it out and inoculate policing for the future".
Chief Constable Stephen Watson, the NPCC's lead for counter-corruption, said: "It is the most serious form of corruption and it can never be justified or condoned."
The HMIC was asked to investigate the extent of the problem earlier this year, by the then Home Secretary Theresa May.
It found that 306 officers, 20 PCSOs and eight police staff were involved in 436 reported allegations.
The data also showed all but one constabulary had received at least one allegation, and that almost 40% of accusations involved victims of domestic abuse.
Other people who were allegedly exploited were thought to include arrested suspects and people with drug or alcohol problems.
---
Other findings outlined in the report:
Fewer than half (48%) of the 436 reported allegations had been referred to the Independent Police Complaints Commission
There was an "apparent disconnect" between the numbers of alleged cases and any subsequent staff dismissals
Officers did not have a "sufficiently clear understanding" of boundaries around establishing or pursuing relationships with vulnerable people
Some counter-corruption units did not have the ability or capacity to seek information about potential cases
Almost half of forces inspected were unable to audit or monitor the use of all IT systems, which limited the ability to spot any staff accessing databases to identify vulnerable victims
---
HM Inspector Mike Cunningham, who led the review, said the problem could be "more serious" than the reported numbers and forces needed to become "far more proactive in rooting out" such corruption.
"What can be worse than a guardian abusing the trust and confidence of an abused person? There can be no greater violation of public trust," he said.
Home Secretary Amber Rudd described the report as "shocking".
"It undermines justice and public confidence and there is no place in the police for anyone guilty of this sort of abuse," she said.
She said she had met the College of Policing and the National Police Chiefs' Council to discuss action needed to tackle the problem.
"The vast majority of police officers do their jobs with integrity and I know they will share my determination to ensure the most vulnerable in our society are given the protection they deserve," she said.
---
Police officers jailed for sex crimes include:
West Midlands Police constable Steven Walters, 48, was jailed for four years in October for assaulting a female passenger in his patrol car and groping another woman in her own home
Metropolitan Police constable James Evans was jailed for four years in August after having sex with a 15-year-old rape victim he met on the dating app Tinder
Met Police detective constable Clifford Earl was jailed for 12 months in 2013 after he sexually assaulted two women in their homes
---
In the wake of the report, IPCC chairwoman Dame Anne Owers has written to chief constables in England and Wales urging them to ensure that all cases involving abuse of authority for sexual gain are referred to the commission.
HMIC also said it was concerned about compliance with a national policy for vetting police officers and staff.
Due to backlogs many forces were failing to conduct regular checks on individuals after their personal circumstances changed or when they moved from one job to another, it said.
However, the watchdog said its police "legitimacy" assessment was positive overall, with high satisfaction among victims at how they are treated.
Two forces were graded as outstanding, 36 as good and five as requiring improvement. No forces were graded as inadequate.