Hurricane Maria 'devastates' Dominica: PM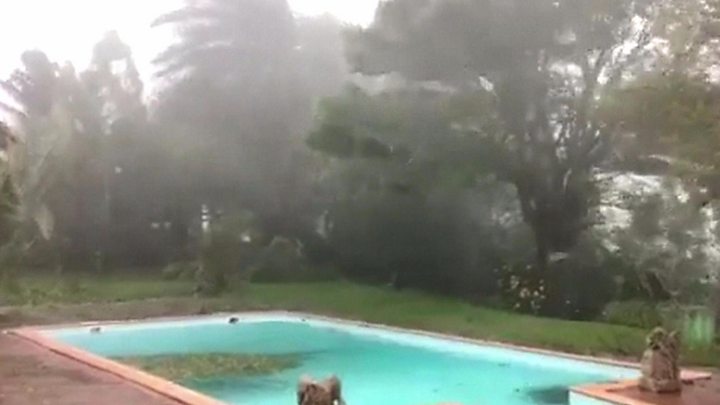 Dominica has suffered "widespread damage" from Hurricane Maria, Prime Minister Roosevelt Skerrit says.
"We have lost all that money can buy," he said in a Facebook post.
The hurricane suddenly strengthened to a "potentially catastrophic" category five storm, before making landfall on the Caribbean island.
Earlier Mr Skerrit had posted live updates as his own roof was torn off, saying he was "at the complete mercy of the hurricane".
"My greatest fear for the morning is that we will wake to news of serious physical injury and possible deaths as a result of likely landslides triggered by persistent rains," he wrote after being rescued.
Maria is moving roughly along the same track as Irma, the hurricane that devastated the region earlier this month.
Maria currently has maximum sustained winds of 250km/h (155mph) and has been downgraded to a category four hurricane after hitting Dominica.
However, it could strengthen again as it moves towards Puerto Rico and the Virgin Islands, according to forecasters.
Dominica's PM called the damage "devastating" and "mind boggling".
"My focus now is in rescuing the trapped and securing medical assistance for the injured," he said, and called on the international community for help. "We will need help, my friend, we will need help of all kinds."
Curtis Matthew, a journalist based in the capital, Roseau, told the BBC that conditions went "very bad, rapidly".
"We still don't know what the impact is going to be when this is all over. But what I can say it does not look good for Dominica as we speak," he said.
All ports and airports are closed and residents near the coast have been ordered to go to authorised shelters.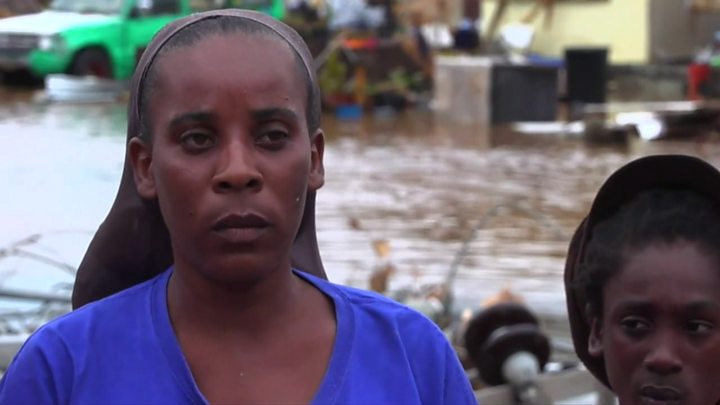 Where next?
Maria is currently heading towards the French island of Guadeloupe, where authorities have told residents to seek shelter and not go out under any circumstances.
Montserrat, a British Overseas Territory just to its north, is likely to be affected after that.
Both islands have been issued with hurricane warnings, along with St Kitts and Nevis, the US Virgin Islands, the British Virgin Islands and Puerto Rico.
Tropical storm warnings have been issued for Antigua, as well as Barbuda, St Martin and Anguilla, which are still reeling after Irma.
There is a similar warning for Dutch islands Saba and St Eustatius.
Where has it passed?
As the hurricane struck in the middle of the night it has been difficult to assess the extent of the damage so far.
In French territory Martinique, energy supplier EDF said power was cut off from 16,000 homes, according to AFP.
The news agency said there were also reports of flooding, mudslides and power outages in parts of St Lucia.
Both places had their hurricane warnings downgraded to tropical storm watch.
However, in this part of the world, the danger does not always pass when the hurricane moves on. Heavy rains mean mudslides can still be a risk.
Will Irma relief work be affected?
Some islands in Maria's path escaped the worst of Hurricane Irma and have been used as bases to distribute relief to places that were not so fortunate.
Now there are concerns that that this work could be jeopardised if they are badly hit too.
Guadeloupe has been a bridgehead for aid for Irma-hit French territories, while Puerto Rico – which is expect to be hit later on Tuesday – has also been offering crucial assistance to its neighbours.
---
Are you in an area affected by Hurricane Maria? If it's safe to do so, you can share your experience by emailing haveyoursay@bbc.co.uk.
Please include a contact number if you are willing to speak to a BBC journalist. You can also contact us in the following ways: