Jeremy Corbyn says elites want to 'hijack Brexit'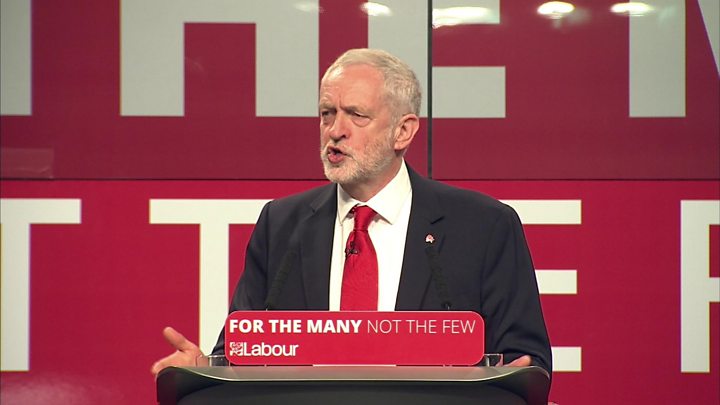 Jeremy Corbyn has said wealthy elites are trying to "hijack" Brexit as he formally launched Labour's campaign.
Speaking in Manchester, the Labour leader said the question of whether the UK would leave the EU had been "settled" and the task was to protect the national interest not show "who can be toughest with Brussels".
He promised a reckoning for "tax cheats and greedy bankers" after the election.
"We have four weeks to show what kind of country we are," he said.
But Lib Dem leader Tim Farron, who has promised a second referendum on any Brexit deal, said: "Corbyn's claim that Brexit is 'settled' is further proof of his inability to stand up to the Tories on the most important issue facing our country."
In the run-up to the speech, Mr Corbyn insisted he would stay on as Labour leader even if the party loses at the general election. He told BuzzFeed: "I was elected leader of this party and I'll stay leader of this party."
At Labour's campaign launch – where he was joined by Labour's new Greater Manchester Mayor Andy Burnham and his shadow cabinet – Mr Corbyn said the party faced a real challenge to win on 8 June but was determined to show "things don't have to remain the way they are".
Repeating his argument that the economy was "rigged" against ordinary people, he said a Labour government would take action against asset strippers, tax evaders and those who "ripped off workers and consumers".
"We have four weeks to ruin their party. We have four weeks to take our wealth back and four weeks to show what kind of country we are."
In the speech, in which he also attacked press barons hostile to Labour, he promised decent homes for all, extra funding for schools and the NHS and vowed to "draw a line under privatisation" in the health service, social care, energy market and the rail network.
On Brexit, Mr Corbyn said Labour accepted the UK would be leaving but this did not mean it would stand aside and allow the wealthy few and the eurosceptic media to determine the terms of exit.
"This election isn't about Brexit itself. That issue has been settled. The question now is what sort of Brexit do we want – and what sort of country do we want Britain to be after Brexit?
"Labour wants a jobs-first Brexit, a Brexit that safeguards the future of Britain's vital industries, a Brexit that paves the way to a genuinely fairer society, protecting human rights and an upgraded economy."
The BBC's assistant political editor Norman Smith said although there were no new policies, the speech was passionate and got a passionate response – with language that Labour leaders have tended to shy away from in the past.
Mr Corbyn, who has so far steered away from Mrs May's focus on forthcoming EU negotiations towards Tory cuts to public services and his own party's spending plans, accused the Conservatives of putting party interests above the "real national interest".
Prime Minister Theresa May has attempted to portray the 8 June general election as being about Brexit, urging voters to strengthen her negotiating hand.
This is after she claimed Brussels leaked details of a meeting she had with European Commission President Jean Claude-Juncker to try to influence the election. The pair reportedly clashed over Mrs May's desire to make Brexit "a success".
She, and various cabinet ministers, have said the election is a chance to decide whether the UK wanted her or Jeremy Corbyn lining up against the 27 other EU members.
Labour has already set out six tests, including retaining the same benefits the UK currently has from the single market.
Meanwhile, the Liberal Democrats are claiming that Brexit has put an additional five pence on the price of a litre of petrol.
Nick Clegg, the party's spokesman on Europe, said motorists were paying the price for a fall in the value of the pound.
Get news from the BBC in your inbox, each weekday morning