Jeremy Corbyn says Labour Party is ready for government
Jeremy Corbyn has described Labour as a government-in-waiting, telling supporters: "I hope we have left our divisions behind."
He said Labour was "advancing in every part of Britain" and claimed the Tories were "hanging on by their fingertips".
And he pledged to introduce controls on private rents if elected, condemning "forced gentrification and social cleansing".
His speech marks the end of Labour's annual conference in Brighton.
Mr Corbyn – who was greeted by a chorus of the football terrace-style chant of "Oh Jeremy Corbyn" when he arrived, attempted to present his party as a government-in-waiting.
"Against all predictions, in June we won the largest increase in the Labour vote since 1945 and achieved Labour's best vote for a generation," he said.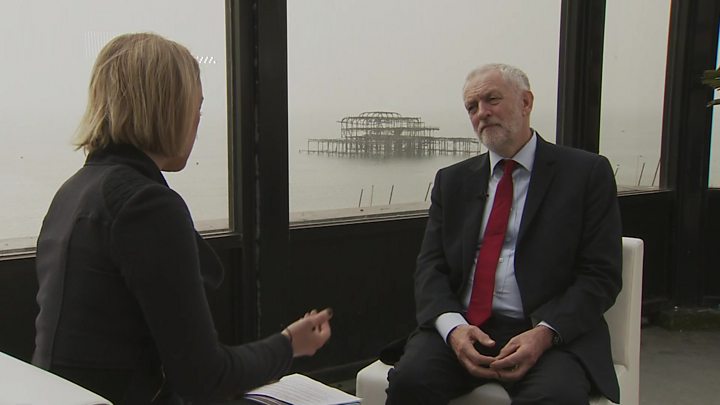 "It's a result which has put the Tories on notice and Labour on the threshold of power.
"Yes, we didn't do quite well enough and we remain in opposition for now. But we have become a government-in-waiting."
In his 75-minute conference speech – his third keynote address as party leader – Mr Corbyn also:
Said only Labour could unite EU Leave and Remain voters
Promised to "repair the damage done by austerity"
Said his principles come from his parents and the North London community he lives in
Mocked the hostile newspaper coverage of his campaign, saying: "Never have so many trees died in vain."
Urged Theresa May to call another snap election: "Take another walking holiday and make another impetuous decision."
Condemned the "intolerable" abuse aimed at Diane Abbott – and sang Happy Birthday to the shadow home secretary from the stage
Highlighting Labour's pledge to curb rents in the private sector, Mr Corbyn said young people's housing costs were three times those of their grandparents.
"Rent controls exist in many cities across the world. And I want our cities to have those powers too and tenants to have those protections."
He added: "Regeneration is a much abused word.
"Too often what it really means is forced gentrification and social cleansing, as private developers move in and tenants and leaseholders are moved out."
'Party united'
Mr Corbyn spent the summer touring marginal seats, and Labour aides said the party was currently selecting candidates in 76 Labour-Tory marginals, who would be in place by the end of the year.
Brexit has been another theme of the conference, with differences between MPs about the relationship with the EU single market Labour should pursue.
Mr Corbyn pointed the finger at divisions in Tory ranks, saying the Conservatives are "more interested in posturing for personal advantage than in getting the best deal for Britain".
"Never has the national interest been so ill-served on such a vital issue. If there were no other reason for the Tories to go, their self-interested Brexit bungling would be reason enough," he said.
"So I have a simple message to the cabinet: for Britain's sake pull yourself together or make way."
He backed Theresa May's call for a two-year transition period after Britain leaves the EU in March 2019 but claimed Labour is the only party that can "unite everyone in our country around a progressive vision of what our country could be" after Brexit.
Labour would push for "unimpeded access to the single market" and fight to protect jobs and wages, while rejecting immigration targets, he told delegates.
For much of his tenure, Mr Corbyn has faced heavy criticism from his MPs, including a no-confidence vote and a leadership challenge – but this week he has said his party is now united.
Promising in his speech to "make public services accountable to communities" and "business accountable to the public", he also said the challenge of automation must be urgently addressed.
"That is a threat in the hands of the greedy but what an opportunity if it's managed in the interests of society as a whole," he said, as he promised to focus on retraining and "management of the workforce".