Johnson to speak to Iran over jailed Zaghari-Ratcliffe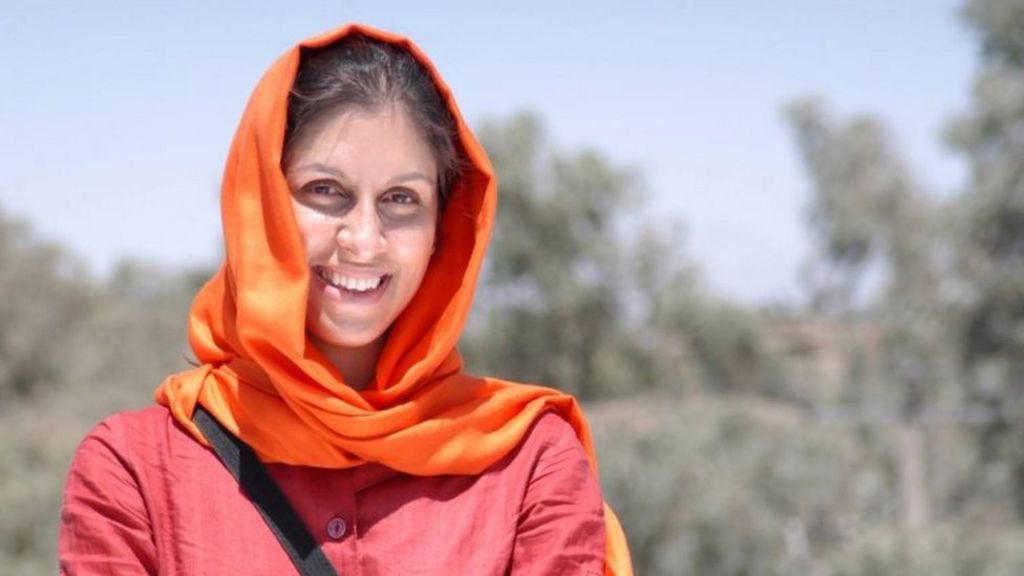 Boris Johnson is expected to phone his counterpart in Iran later, amid fears that comments he made could lead to a woman having her jail sentence doubled.
The husband of Nazanin Zaghari-Ratcliffe said the foreign secretary needed to "retract in Parliament" remarks which suggested she had been teaching journalists in Iran.
Mr Ratcliffe maintains his wife was visiting family and is innocent.
The government said Mr Johnson would call Iran to avoid misrepresentation.
Mr Johnson's remarks "provide no justifiable basis on which to bring any additional charges against Nazanin Zaghari-Ratcliffe", a Foreign Office spokesman said.
Mrs Zaghari-Ratcliffe is serving a five-year prison sentence, imposed over allegations of involvement in "propaganda against the regime".
She was summoned to court on Saturday where Mr Johnson's comment was cited as new evidence as to what she was doing in Iran at the time of her arrest, in 2016.
Richard Ratcliffe said the "worst thing" Mr Johnson could do now was "suddenly go quiet and to create this problem without making any clarifications".
"You can't make a muddle and then leave it. That would be the worst of both worlds," he said.
Mr Ratcliffe told the BBC's Today programme that Mr Johnson should make a statement in the Commons, retracting what he said.
He said he still hoped his wife and young daughter would be back home in the UK for Christmas.
Former Conservative foreign secretary Sir Malcolm Rifkind told the BBC Mr Johnson needed "to concentrate more" and "get the detail right".
International Trade Secretary Liam Fox said the Iranian regime was "acting in an absolutely appalling way" and that Mrs Zaghari-Ratcliffe was being held on "the most spurious and unacceptable grounds".
Mrs Zaghari-Ratcliffe was sentenced to jail following a court hearing into whether she was attempting to overthrow the government.
She denies all the allegations against her, but lost her final appeal in April.
She has since faced two more charges relating to an accusation of plotting to topple the regime in Tehran.
Mrs Zaghari-Ratcliffe has worked for the Thomson Reuters Foundation and the BBC, but insisted the 2016 visit was for her daughter to meet her grandparents.
However, appearing before MPs on the House of Commons Foreign Affairs Select Committee last week, Mr Johnson appeared to contradict that.
He criticised Iran over the case before saying: "When I look at what Nazanin Zaghari-Ratcliffe was doing, she was simply teaching people journalism, as I understand it.
"[Neither] Nazanin Zaghari-Ratcliffe nor her family has been informed about what crime she has actually committed. And that I find extraordinary, incredible."
Four days later, Mrs Zaghari-Ratcliffe was summoned to court where the foreign secretary's comments were cited as fresh evidence against her.
At the hearing, she was accused of engaging in "propaganda against the regime".
The Iranian judiciary's High Council for Human Rights said Mr Johnson's comments "shed new light" on the charity worker and proved Mrs Zaghari-Ratcliffe "had visited the country for anything but a holiday".
'Not enough'
Dr Rebecca Ratcliffe, Mrs Zaghari-Ratcliffe's sister-in-law, said a phone call between Boris Johnson and his counterpart in Iran was not enough.
Dr Ratcliffe, a GP in Cwmbran, south Wales, said: "Any conversations he has are never properly recorded.
"We need him to go on the record and say that (and) we also need the British ambassador to make a statement in the Iranian media."
Mrs Zaghari-Ratcliffe had been eligible for parole under the early release scheme from 23 November.
However, Mr Ratcliffe told the Press Association that she could now face a fresh trial before that date to block her chance of freedom.
"I think the one thing the foreign secretary could do to make amends would be if he went to visit her in the next few weeks before her trial," he said.
"Careless talk has a cost and there's been a lot of careless talk."
Monique Villa, chief executive of the Thomson Reuters Foundation, called on Mr Johnson to "immediately correct the serious mistake he made".
Meanwhile, Labour's shadow foreign secretary Emily Thornberry said Mr Johnson had demonstrated "a fundamental lack of interest or concern".