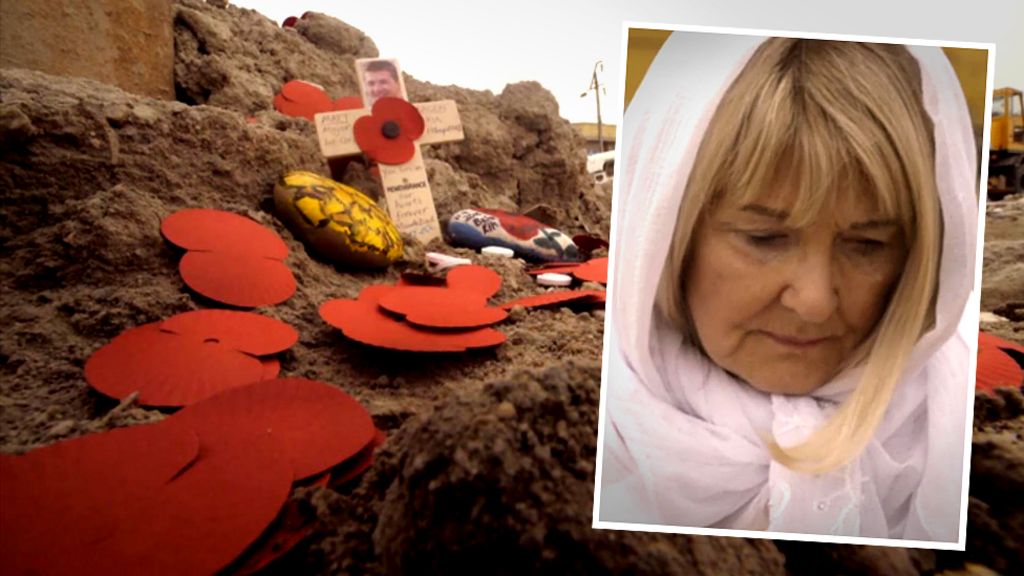 They scatter 179 poppies – one for every serviceman and woman killed in Iraq, looking so British in this alien and dangerous place.
A mother, her blonde hair covered by a white scarf, holding the hand of a father in a blue shirt and sensible shoes as they stand on a dirt road in a slum in Basra, Iraq.
"I just wanted to see where Matthew took his last breath," says Maureen Bacon, "to try and make sense of it all."
"Soldiers put their lives on the line," her husband Roger tells me. "You know that, but it doesn't lessen the grief."
Matthew, the Bacons' son, was a major in the Intelligence Corps. He was killed in this desolate spot in 2005 when his army patrol was targeted by a roadside bomb. Maureen and Roger have waited 11 years to visit the place where Matthew died, to lay a small cross and to try to understand why their son died here.
"It's a rite of passage in a way," says Roger.
They had both been against the war from the start, but knowing Matthew was a professional soldier whose life was military service his parents accepted the risks. But like many families who lost loved ones they want to know if they were told the truth about why the nation went to war here.
For me this trip is the culmination of 14 years of reporting for Panorama from Iraq – a chance to re-visit Basra to assess what went wrong ahead of Sir John Chilcot's Iraq Inquiry, which will report next week.
I was with British troops when they entered Basra in 2003, as they fought a losing battle and when they pulled out after six years of war. The inquiry is expected to tell us all why the nation went to war, who was responsible for the mistakes that were made and what lessons should be learned.
Just a few days after the British took Basra I found poor families squatting in the pink stucco mansion of the governor here – Saddam Hussein's cousin who had just fled the city. Nicknamed Chemical Ali for masterminding the killing of thousands of Iraqis with poison gas, he had become the symbol of the brutal regime. A small crowd outside the mansion burst into applause when they saw me with British troops. "We want to thank Tony Blair," a woman told me.
---
Find out more
Jane Corbin's report, Iraq: The Final Judgement, is broadcast on Panorama at 21:00 BST on BBC One, Wednesday 29 June – catch up on BBC iPlayer
---
That sense of gratitude and optimism that there would be a new and prosperous future for Iraq soon disappeared. Within a week of the invasion, on night patrol with the Irish Guards it was clear to me the British Army was in for a long haul.
Looters and criminals were terrorising householders who were arming themselves. There were never enough British troops on the ground to prevent a breakdown of law and order in southern Iraq, where five million people live, mostly Shia Muslim.
Saddam Hussein's Sunni Muslim regime had been ousted but now there was a power vacuum that would be filled quickly by Shia militias – backed by neighbouring Iran, the biggest Shia power in the region.
The brigadier who led British troops into Basra has also returned with me to the city, 13 years after we first met here.
Graham Binns and I walk beside al-Zubair road bridge, now busy with traffic, where his forces had tried to prevent Saddam Hussein loyalists mortaring their own people as the city fell to the British.
Now retired, Binns is frank about the mistakes that were made. "I don't think we had a coherent plan in the longer term. The coalition hadn't thought through how we were going to operate in the aftermath of the war fighting," he admits. "We were unprepared both physically and mentally."
Within weeks of the invasion the British government had drawn down the troops from 46,000 to just over a third of that. The liberators had quickly become occupiers, but on a visit to Basra Tony Blair assured the soldiers that the Iraqis would be grateful.
"When people look back on this conflict I honestly believe they will see this as one of the defining moments of our century," he said then.
However, I had watched British troops struggle from the beginning to provide basic services such as water. Saddam Hussein's regime had deliberately run down the infrastructure of Shia-dominated Basra.
For Mark Etherington, one of a handful of British civilian administrators sent to Iraq, it was clear there was no strategy, no real plan for the reconstruction promised by the British. "A local tribal chief told me, 'Everything is broken and needs to be fixed – now,'" says Etherington, "and there were only two of us at the time."
For the Americans it was "mission accomplished" by May 2003 although Iraq was fast descending into anarchy – ministries in Baghdad had been burned and looted as soon as Saddam Hussein was toppled. The Bush administration imposed the policy of de-Baathification, removing not just the dictator's ruling party but the whole infrastructure that had held the nation together.
"This was a centralist economy – the factories, the dams, the police – you name it, we were now responsible for it," says Etherington. "We stripped the framework of the nation by removing a regime," says Binns, "and didn't replace it with anything that promoted stability. We drew down too quickly."
Before the war Tony Blair disregarded experts who warned of the risks of removing a dictator. He told the nation the real threat was Saddam Hussein's weapons of mass destruction. In Iraq then with UN weapons inspectors, I visited many alleged WMD sites. We were guided by Blair's infamous dossier, which had been produced by British intelligence and made the case for war. The weapons were never found despite Blair's assertion in parliament that Saddam Hussein had existing and active military plans for the use of chemical and biological weapons which could be activated in 45 minutes.
---
The Iraq (Chilcot) Inquiry
British public inquiry into the nation's role in the Iraq war, announced in 2009 by the Prime Minister Gordon Brown,
Proceedings were originally to take place in private, a decision which was reversed after criticism by MPs and the media
Former senior civil servant Sir John Chilcot (pictured) was appointed chairman of the inquiry; he defined its terms thus: "It will consider the period from the summer of 2001 to the end of July 2009, embracing the run-up to the conflict in Iraq, the military action and its aftermath."
Open sessions of the inquiry began in November 2009 and concluded in February 2011 – witnesses included senior military figures and politicians, including Tony Blair and Gordon Brown
The inquiry will publish its report on 6 July 2016
---
In New York at the time, the UN chief inspector Hans Blix told me he never knew if the Iraqis were telling the truth when they denied there were any WMDs but he was sceptical of the intelligence provided by the British. So did the prime minister put a gloss on flimsy evidence to make a false case for war, I wondered?
I've been back to see Blix, this time in Sweden. He reveals he believes Blair misrepresented the facts in Parliament, by suggesting any weapons unaccounted for from a decade before were still in existence. "I never claimed that it was in bad faith," said Blix. "Many people bring themselves to believe something that they want to believe."
Today Basra is still paying the price for the British government's decision to go to war. The city is run down, the slums have spread, and people still don't have clean water. There are frequent power cuts, as witnessed by the sagging cat's-cradle of wires overhead. Beneath them the city's famous canals are choked with stinking rubbish.
A few hundred yards away from where Matthew Bacon was killed in the notorious Shia Flats area, I find a sad reminder of what the British had tried and failed to achieve in Basra – three giant abandoned water towers. This multi-million pound project turned out to be just a white elephant instead of the showpiece it was intended to be.
According to Etherington, there was no real overall strategy for five years after the invasion. "There were countless islands of effort – people working very hard and often bravely, but they didn't seem knitted together," he says. The deteriorating security situation quickly stopped reconstruction in its tracks.
---
Tale of the water towers
The al-Hayaniya water towers (pictured) were meant to provide clean water for the 500,000 who live in the notoriously poor neighbourhood on the outskirts of Basra
In response to a FOI request by Panorama, the Department for International Development revealed that in all, the British Government spent £10.78m ($ 15m)on the project, but the water towers were never connected up
In July 2009 the water tower project was handed over to the local Basra Water Directorate, with the hope that they would be linked up eventually, but that has never happened
Local councillor, Hussein Ali, confirmed the project has never worked and there is still no water in the water tanks: "The British company came to work on the project here. It was meant to supply water for this area. We didn't have drinking water – it was salty, full of dirt and bacteria. But then later the project was abandoned."
---
There is one place in southern Iraq I really want to visit again this time – the fiercely independent tribal province of Maysan. But our film crew is held at the border checkpoint and it is made clear we will not be safe if we go any further – we risk being ambushed. It brings back terrible memories of the last time I flew in to the provincial capital of al-Amarah, with British troops in February 2006. A Shia militia leader had warned the British to leave and everyone was on high alert.
I had joined a patrol led by Captain Richard Holmes of the Parachute Regiment working with local police in al-Amarah to clear old landmines. They were being used by the militias to make roadside bombs to attack the British and they killed many Iraqis too.
It seemed calm in the town and Captain Holmes assured me that local people had been friendly. But things quickly changed and my escort was suddenly anxious for us all to leave. We set off in a patrol of Snatch Land Rovers, lightly armoured vehicles, making for the British base. But as I headed out of town I sensed something was wrong – tanks were racing back into town and a helicopter clattered overhead. Captain Holmes and another soldier, Private Lee Ellis, had been killed when a roadside bomb blasted their Land Rover.
Twenty-seven British soldiers died in bomb attacks on Snatch Land Rovers in Iraq. Matthew Bacon was one of them.
"We saw the Land Rover on the television news and it was horrific, absolutely horrific," Maureen said. "With Snatch it was like a knife going through butter."
"They were the best vehicles available at the time, but they didn't have adequate levels of protection," Graham Binns tells me. "We were slow to replace them and provide adequate levels of protection to our people."
By 2007 I was hunkered down with British troops at Basra airbase under daily attack from the militias with mortars and rockets. Graham Binns and I wander around the old airbase – now a forlorn corner of Basra's civilian airport that is still littered with concrete "T" walls – massive blocks that helped protect the troops from incoming fire.
Poignant reminders of the British are still here in the faded regimental murals painted on the walls. "I lived at the bottom of that control tower and I believed it was an aiming mark – there could be up to 30 rocket attacks a day," remembers Binns, who came back as a major general to command again, four years on from the invasion. I, too, will never forget sheltering under a flimsy table in terror as mortars landed on the base – and sleeping in a sandbagged bunker with a sheet of metal over my head.
The British were under severe pressure by now from the militias who were determined to drive them from the city. But the army was doing a secret deal with the very people killing its soldiers. Panorama broke that story when I witnessed the release of militia prisoners in a cavalcade of pick-up trucks amid celebratory shooting on the airbase.
Binns, who was doing the deal, would not confirm it to me at the time, but he now tells me he agreed with the militia leadership to release their prisoners if attacks against the British stopped. I ask if that had been difficult, given they were killing British soldiers?
"If we hadn't been at war with them then we would not have had any currency to negotiate with," says Binns. "It's just one of the awkward facts we brush under the table that sometimes you have to talk to the opposition to resolve the conflict."
The British finally left Basra in 2009 but no-one can forget the terrible toll of the war that sparked chaos and sectarian violence. At least a quarter of a million Iraqis are dead and two million displaced and homeless. It has left a legacy of Islamist extremism which began here when al-Qaeda gained a foothold in the aftermath and it continues today with the jihadists of the so-called Islamic State.
One of the most moving times of my trip back with the Bacons is when we visit an Iraqi family who had also suffered in the war. Nebras Gergis, a 22-year-old policeman was killed by a suicide bomber after the British left Iraq.
"It's a real tragedy, our sons are the victims of an unjust war," Roger tells Nebras's father. Maureen shows his mother a picture of Matthew saying, "From one mother to another I am very sorry – I understand your pain, we live it every day." Nebras's mother kisses the picture as she cries. "We are very sorry we left Basra in the state we did," Roger tells the Gergis family. "We wish it was a better place."
Security is still the key to everything as Basra's police chief confirms as he takes me round the city in his armoured jeep. Our escort truck is bristling with armed men. Abdel Karim al-Ameri tells me that despite the British spending millions on training the police before they left, they had concentrated on quantity – not quality. So today Basra has an incredible 29,000 policemen. "People applied who weren't fit to work in the police, some were thieves, murderers, wanted men," says the police chief, "and now in most of the gangs we catch, we find policemen."
Al-Ameri takes me on a road that used to be kidnap central. Only now, after creating a ring of checkpoints around Basra manned by more professional forces, has kidnap dropped substantially. So did the time and money spent by the British on police training do any good? "No just the opposite – if the British had built a police force using a more scientific approach we would not have had these problems," says the police chief.
There are signs that some things are improving slowly in Basra five years after the British left. Markets are busy, there are many new cars on the roads and the city is a bustling trading hub again.
Binns is optimistic and argues that the British army did not cause overwhelming damage when they took the city. "I don't think we did much harm here, but we were simply not prepared for supporting the reconstruction of a city this size, and we probably over-promised and under-delivered in that regard."
However, no-one can underestimate the human cost of this war, and I first came face to face with it at a house on a quiet Basra street 13 years ago. I had arrived in the city to find three women, shrouded in black, weeping in that house. Ten members of the Hamoodi family had been killed while sheltering there from the war. A coalition bomb targeted the house behind where it was mistakenly thought Chemical Ali was hiding – but the blast hit the Hamoodis' house, too.
Now I go back to find the house shuttered and dark as I climb the stairs past family photographs to the bedroom where so many had died.
The Hamoodis fled from Basra and now live in Manchester, where I visit them on my return on the 13th anniversary of the bombing. "I still look at their pictures every day and I cry," says the patriarch of the family, Abed Hassan Hamoodi. "I don't think the family will ever recover," says Dina, his daughter, who lost her young son.
Once, this family was a pillar of the community in Basra – only Dr Akram Hamoodi, Abed Hassan's eldest son, goes back to help in Basra hospital when he can. "People in Basra have now started to say they were better off in those days under Saddam," Hamoodi tells me. So who should bear responsibility for the suffering of all Iraqis? "Bush and Blair," he replies without hesitation. "They are responsible for everything that has happened to the Iraqi and British people and they should be taken to court and judged."
For Roger and Maureen Bacon the trip to Basra has been a relief in a way – to finally see where Matthew died. "I would like to think he lost his life in a worthwhile cause but I can't do that," said Roger. "We were carried into it [this war] and I can't emphasise how much I feel this was entirely wrong – this was a complete deception."
"Matthew did lose his life for Queen and country and that's what we have to live with for the rest of our lives," says Maureen. "We should never have invaded Iraq – never. No life lost was worth it – none at all."
During my final days in Basra I take a boat trip on the Shatt al-Arab waterway where, during the invasion, I saw Saddam Hussein's yacht battered by coalition strikes but still upright. Now it is almost submerged – on its side in the water with fishermen casting lines off its rusting skeleton.
I reflect that there is virtually no trace of Saddam Hussein here any more but, ironically, the British have not left much trace behind either – seven years after the troops left. It could be the coalition's only lasting legacy – the removal of Saddam Hussein.
All images subject to copyright