Kylie and Jason dance again live in Hyde Park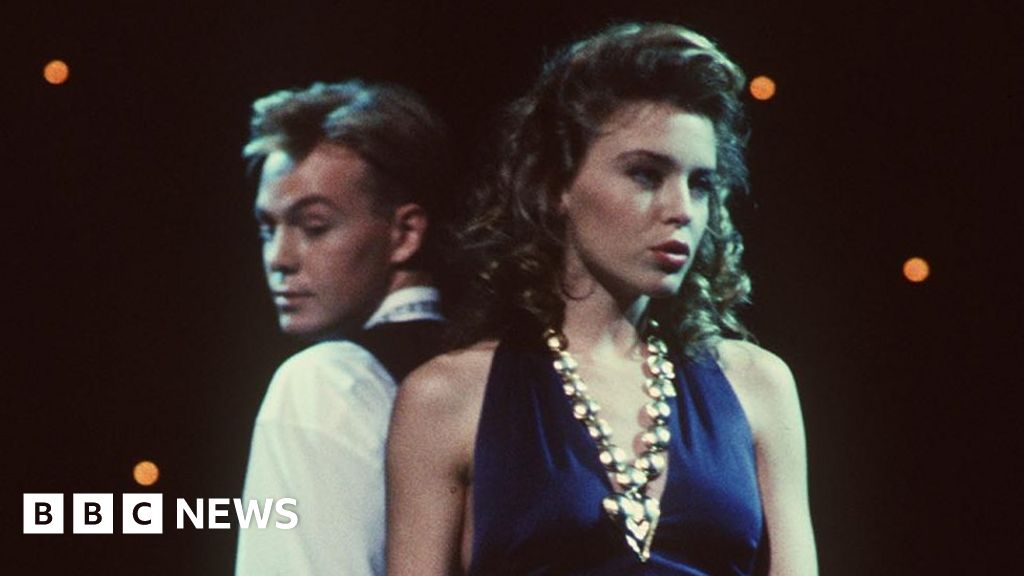 Kylie Minogue and Jason Donovan have reunited at last… performing Especially For You on stage in London.
Kylie, who was headlining Radio 2 Live in Hyde Park, teased the audience by starting the duet on her own, with a gospel choir singing Donovan's lines.
"I need a dance partner," she sighed after the second chorus, at which point Donovan emerged from the wings.
He picked the star up and spun her around the stage before joining her to sing the song's finale.
Donovan then stood, wrapping his arms around her waist and swaying back and forth, in an affectionate callback to their 1988 Top of the Pops appearance.
"He didn't know that was going to happen," laughed Kylie as the song ended.
It later transpired that her former Neighbours co-star had cycled to the venue to take part.
But that wasn't the only surprise Kylie had in store for her fans. She later introduced Rick Astley on stage and duetted with him on a version of his 1987 debut single, Never Gonna Give You Up.
He'd previously serenaded the star with the song at her 50th birthday party this May.
"I don't want to give you up or let you go," she told the star, inviting him to stick around for a version of Kids, her 2000 hit single with Robbie Williams.
"You are a beautiful, strong, wonderful woman," said Astley as the song ended. "You've just made my night. You've made my year!"
Kylie responded by singing the chorus of Gabrielle's dreams – "Dreams can come true".
Both Kylie and Astley emerged from – then outgrew – the Stock, Aitken, Waterman hit factory in the 80s.
At one point it was even rumoured that Kylie's hits were actually the sound of her label-mate's voice, sped up to sound more feminine.
She's disproved the theory several times since.
A perfect opportunity arose two songs into her set on Sunday night, when technical snafu forced her to fill time in front of 50,000 people.
"Since we're having an issue: Any requests?" she asked the 50,000-strong audience, before delivering impromptu, a capella versions of Got To Be Certain, Step Back In Time and Je Ne Sais Pas Pourqouis.
"I know I've got enough hits to keep filling," she laughed, finally getting back on track with a mellow version of In Your Eyes, just one of her 34 Top 10 singles.
The set also included a lively flamenco take on Can't Get You Out Of My Head and an acoustic take on her UK debut single, I Should Be So Lucky.
It was a moment that illustrated how comfortable Kylie has become with her storied musical legacy – maturing with her audience and embracing the cheesier moments of her past. Madonna should take note.
Kylie headlined a bill that included Lenny Kravitz, Rita Ora, Manic Street Preachers, Boyzone and All Saints.
All of the performances are available on the Radio 2 website; while Kylie's set will be broadcast on BBC One from 2230 BST on Sunday night
Later this month, she'll be announcing trains at stations around the UK as part of a stunt for BBC Music Day.
She also launches her 15th tour, the Golden Tour, in Newcastle on 18 September.
Follow us on Facebook, on Twitter @BBCNewsEnts, or on Instagram at bbcnewsents. If you have a story suggestion email entertainment.news@bbc.co.uk.