Labour revolt puts pressure on Corbyn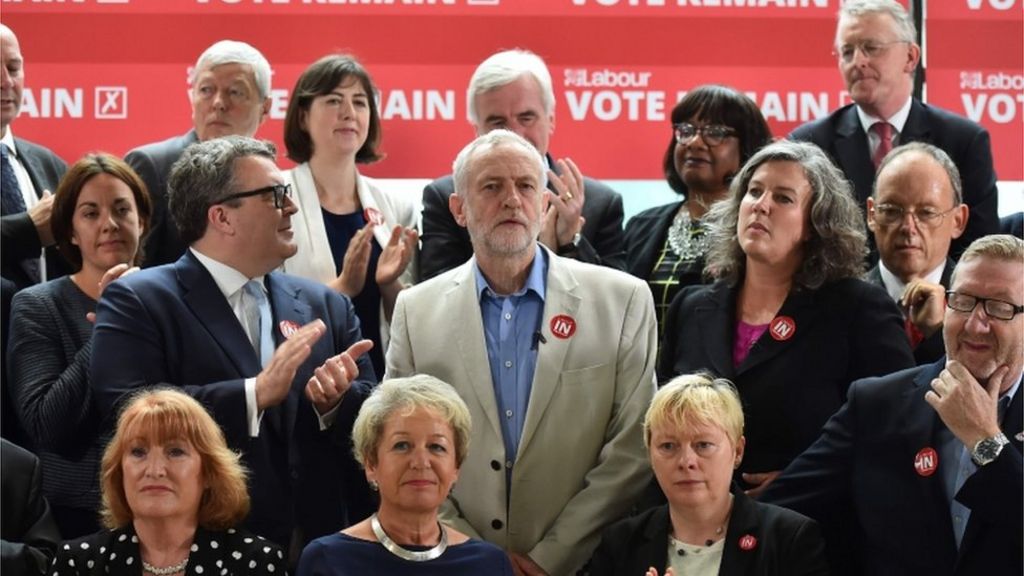 A string of Labour shadow cabinet members have quit, with more walkouts expected, in protest at Jeremy Corbyn's leadership over the EU referendum.
Lord Falconer, Heidi Alexander, Lucy Powell and Ian Murray are among those to have quit the party's top team.
It comes after shadow foreign secretary Hilary Benn was sacked after he told Mr Corbyn he had lost confidence in him.
Mr Corbyn, who faces a no confidence vote over a "lacklustre" EU campaign, "won't be resigning", a spokesman said.
The spokesman said Mr Corbyn "is the democratically elected leader of the Labour Party".
Shadow chancellor John McDonnell and shadow cabinet members Andy Burnham, Diane Abbott and Emily Thornberry have given Mr Corbyn their support despite the resignations.
Deputy Labour leader Tom Watson has said he is "deeply disappointed" that Mr Benn had been sacked and "equally saddened" by the shadow cabinet resignations.
He said his focus was to "hold the Labour Party together in very turbulent times" and that he would meet Mr Corbyn on Monday to discuss the "way forward".
Secret ballot
The series of shadow cabinet walkouts began on Sunday morning, hours after Mr Benn was sacked by the Labour leader.
Those resigning include:
Lord Falconer, shadow justice secretary
Heidi Alexander, shadow health secretary
Lucy Powell, shadow education secretary
Vernon Coaker, shadow Northern Ireland secretary
Ian Murray, shadow Scottish secretary – and Labour's only MP in Scotland
Kerry McCarthy, shadow environment secretary
Seema Malhotra, shadow chief secretary to the Treasury
Lillian Greenwood, shadow transport secretary
Gloria de Piero, shadow minister for young people and voter registration
Karl Turner, the shadow attorney general, also resigned. His is not a shadow cabinet post, but he attends meetings.
The Labour Party campaigned for Remain during the referendum, which saw the UK voting to leave the EU by 52% to 48% on Thursday.
But Mr Corbyn – who has been a long-standing critic of the EU and who is regarded as the most Eurosceptic Labour leader in years – has been accused by some in his party of not making the case for the EU forcefully enough.
As a result, a motion of no confidence against Mr Corbyn has been submitted by Labour MPs Dame Margaret Hodge and Ann Coffey – and it is expected to be considered at the next meeting of Labour MPs on Monday. A secret ballot could be held the following day.
'Not a leader'
Meanwhile, a number of senior trade unionists on Labour's ruling national executive committee rallied in support of Mr Corbyn – including Unite leader Len McCluskey and Dave Ward of the Communication Workers Union.
Sources close to Mr Corbyn said he would stand again in the event of any leadership election – while Mr McDonnell said he would chair his campaign again.
And about 180,000 people have signed an online petition backing the Labour leader, who was elected last September in a landslide victory.
Speaking on Sunday's Andrew Marr Show, Mr Benn – who has ruled out any Labour leadership bid – said Mr Corbyn was "a good and decent man but he is not a leader".
"At this absolutely critical time for our country following the EU referendum result, the Labour Party needs strong and effective leadership to hold the government to account.
"We don't currently have that and there is also no confidence we would be able to win a general election as long as Jeremy remains leader. And I felt it was important to say that," he added.
In other developments following Thursday's vote:
Analysis
By Laura Kuenssberg, BBC political editor
The prime minister's resigned. No one knows who the next occupant of Number 10 will be. And today, some of the most senior figures in the Labour Party are trying to push their leader out, too.
There have been concerns about Jeremy Corbyn's performance for months and months. But it was his role, or lack of role, in the campaign to keep the UK in the EU, and his sacking of Hilary Benn in the middle of the night, that has given members of the shadow cabinet the final reasons to quit.
Several have already gone, as many as half will be gone by the end of the day, I understand.
And documents passed to the BBC suggest how Jeremy Corbyn's office sought to delay and water down the Labour Remain campaign. Sources suggest that they are evidence of "deliberate sabotage".
Hours after Mr Benn's sacking, Ms Alexander, who joined Mr Corbyn's shadow cabinet last year, tweeted that she had resigned "with a heavy heart".
In a letter to the Labour leader, she said she respected him "as a man of principle" but said "I do not believe you have the capacity to shape the answers our country is demanding and I believe that if we are to form the next government, a change of leadership is essential".
Elsewhere, Ms Powell said in her resignation letter to Mr Corbyn: "It is increasingly clear that your position is untenable and that you are unable to command the support of the shadow cabinet, the Parliamentary Labour Party and, most importantly, the country."
But Mr McDonnell, speaking on Radio 5 live's Pienaar's Politics, was defiant, saying: "Jeremy is not going anywhere and will continue on."
He said the party members were "sovereign" and added: "It's the members who elected Jeremy and he'll remain."
The shadow chancellor said he was "disappointed" at the turn of events but he insisted the party would "come together".
Shadow international development secretary Diane Abbott also gave Mr Corbyn her backing and played down the prospect of a no confidence vote – saying it was being pursued by a group of MPs who had never accepted Mr Corbyn's election.
"If they want a new leader of the opposition, we must either have a proper leadership election – and this vote of confidence has no status in the (Labour Party) rule book – or they set up a new party," she told the BBC's Sunday Politics.
Andy Burnham, who is running to be the Labour candidate for Greater Manchester mayor, also said he would remain in Mr Corbyn's top team, saying now was not the time for the party to plunge itself into "civil war".
"I have never taken part in a coup against any leader of the Labour Party and I am not going to start now," he added.
And shadow defence secretary Emily Thornberry said it was a time for Labour to "show some leadership" and be a "centre of calm", adding: "We should be thinking about the nation first."
Meanwhile, Unite union general secretary Len McCluskey said a Labour leadership election would be "divisive and unnecessary".
Writing in the Guardian, he said: "Those Labour MPs plunging their party into an unwanted crisis are betraying not only the party itself but also our national interest at one of the most critical moments any of us can recall."
And he warned that the party would split if Jeremy Corbyn was kept off any leadership ballot.
Labour Party key players – who's gone?
---
Did you vote for Labour leader Jeremy Corbyn? How do you feel now? Do you still support him or do you want to see a change in leadership? Let us know.
Email us haveyoursay@bbc.co.uk
Please include a contact number if you are willing to speak to a BBC journalist. You can also contact us in the following ways: