London fire: Tower victims 'may never be identified'
Police have warned they may never be able to identify all of the people who died in the fire that engulfed a west London block of flats.
Emergency services are to spend a third day searching for bodies in the burnt-out Grenfell Tower in North Kensington.
Seventeen people are known to have died but that figure is set to rise, with fears the death toll could exceed 60.
Fire chiefs say they do not expect to find more survivors, while PM Theresa May has ordered a full public inquiry.
Police said on Thursday that they had launched a criminal investigation into the fire.
The prime minister – who faced criticism for not meeting survivors of the tragedy on a visit to the scene on Thursday – said the victims "deserve answers".
Emergency services were called to the 24-storey residential tower block shortly before 01:00 BST on Wednesday.
Six victims of the blaze have been provisionally identified.
However, Metropolitan Police Commander Stuart Cundy said there was "a risk that sadly we may not be able to identify everybody".
Asked about the number of dead, he said he hoped the death toll would not reach "triple figures".
He added: "We as the police, we investigate criminal offences – I am not sitting here and saying there are criminal offences that have been committed, that's why you do an investigation, to establish it."
The leader of Kensington and Chelsea Council – the authority that owns the tower block – told BBC Two's Newsnight it would not use the type of cladding fitted to Grenfell Tower in other buildings in the borough.
The cladding – installed on the tower in a recent renovation – has come under scrutiny, with experts saying a more fire resistant type could have been used.
Councillor Nicholas Paget-Brown also said there had not been a "collective view" among residents in favour of installing sprinklers during the renovations.
He said it would have "delayed and made the refurbishment of the block more disruptive".
Meanwhile, Conservative MP Chris Philp told the programme the public inquiry should produce interim findings to ensure swift action can be taken if residents in other tower blocks are at risk.
"If there are other buildings which have that dangerous cladding then immediate action needs to be taken in a matter of weeks, or months – not in a couple of years," he added.
On Thursday, the first victim of the fire was named as Syrian refugee Mohammed Alhajali, 23.
In a statement, the Syria Solidarity Campaign said Mr Alhajali, a civil engineering student, had been in a flat on the 14th floor when the fire broke out, and had spent two hours on the phone to a friend in Syria.
He had been trying to get through to his family while he was waiting to be rescued.
"Mohammed came to this country for safety and the UK failed to protect him," the group said.
His older brother, Omar, told the BBC he had lost Mohammed on the way out of the building.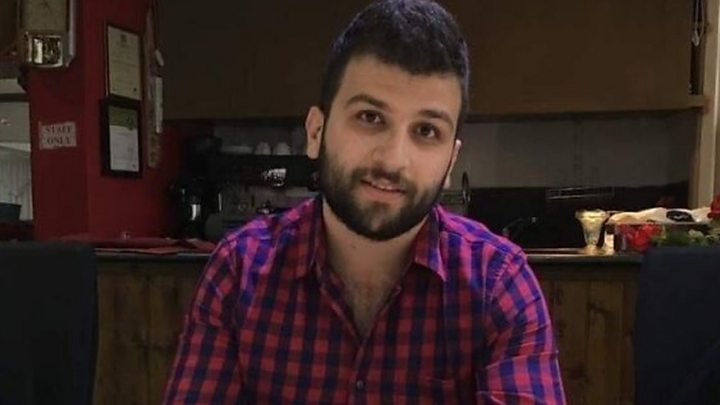 Stories of how people managed to escape have also emerged.
Christos Fairbairn, 41, a resident who lived on the 15th floor, described how he collapsed while fleeing the building, only to be rescued by a firefighter.
"I shouldn't be here today but I am, and for that I am thankful," he said.
Meanwhile, it has emerged that Elpidio Bonifacio, a partially blind man in his 70s, was rescued from his 11th-floor flat.
He was seen at the window waving a white jumper.
His eldest son Gordon, 41, posted a message on Facebook, saying his father was now in intensive care.
"Words cannot describe the bravery of the fire teams that risked their lives to get him out. He's not out of the woods yet due to serious smoke inhalation," he added.
A political row also erupted, after the prime minister made a private visit to the scene, where she spoke to London Fire Commissioner Dany Cotton and members of the emergency services.
However, unlike Labour leader Jeremy Corbyn and London Mayor Sadiq Khan, Mrs May was not seen to speak to families and residents.
Downing Street said the purpose of her visit was to get a briefing from emergency services and to ensure that they had the resources they needed.
PM's 'humanity'
She later appeared on TV to announce a public inquiry.
But former cabinet minister Michael Portillo said the prime minister "didn't use her humanity".
Labour MP Harriet Harman also criticised Mrs May for not meeting residents, writing on Twitter: "She should have been prepared to listen to them."
Conservative MP Chris Philp later told Newsnight the prime minister was "keen not to intrude and cause disruption".
Defence minister Tobias Ellwood said on BBC One's Question Time that "security concerns" had also stopped Mrs May visiting survivors.
---
Challenge for fragile government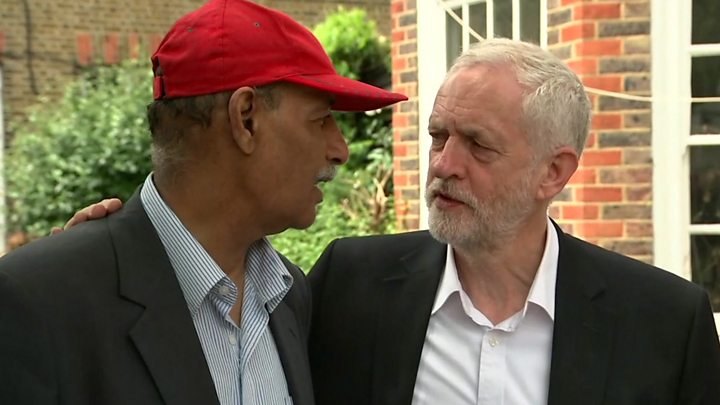 By Laura Kuenssberg, BBC political editor
Any government trying to deal with a terrible event like the Grenfell Tower disaster needs sensitivity and nimbleness.
Ministers have a complicated "to do" list – make sure help gets to where it is required, turn on the taps for emergency cash and show that it is willing and brave enough to work out how it could have happened, in order to give any credible answer to the common cry of "something must be done".
But this government is already so fragile, facing pressure on many fronts, the PM still reeling from the election result only a week ago.
---
Rydon, the company that carried out the £8.6m refurbishment of Grenfell Tower, said it welcomed Mrs May's announcement of the public inquiry.
It said its refurbishment "met all required building regulations as well as fire regulation and health and safety standards".
The tower is managed by the Kensington and Chelsea Tenant Management Organisation on behalf of the council.
In its latest statement, it offered its "sincere and heartfelt condolences" to those affected and said its immediate concern and focus was working with the council to assist the residents of the tower block.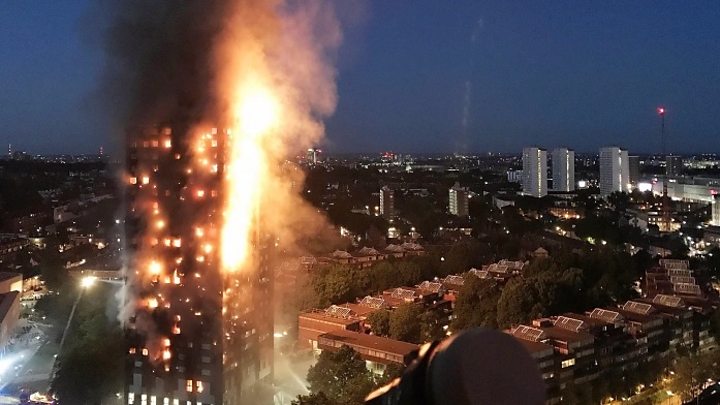 Housing minister Alok Sharma said the government was working with the local authority to ensure that "every single family will be rehoused in the local area".
On Thursday, officials said 35 people remained in hospital – 15 of whom were in a critical condition.
An emergency number – 0800 0961 233 – has been set up for anyone concerned about friends or family.
Get news from the BBC in your inbox, each weekday morning