Michael Cohen: Trump ex-lawyer 'happy' to aid Russia probe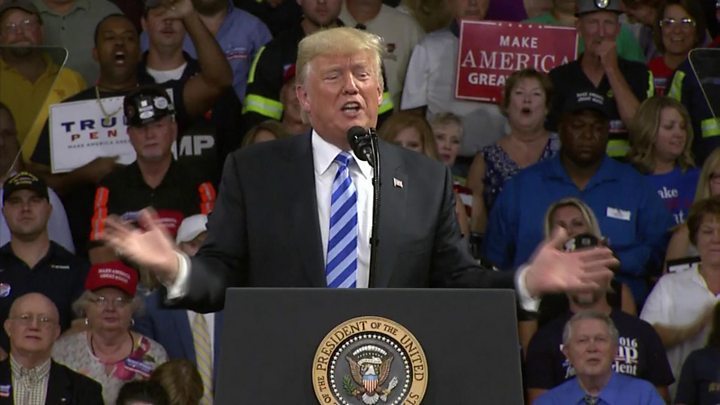 US President Donald Trump's ex-lawyer, Michael Cohen, is said to be "more than happy" to speak to the inquiry into alleged collusion with Russia.
Cohen pleaded guilty on Tuesday to violating finance laws during the 2016 presidential election by handling hush money for Mr Trump's alleged lovers.
His plea bargain does not oblige him to testify over the Russia allegations.
But Cohen's personal lawyer said his client was ready to "tell everything about Donald Trump that he knows".
According to the lawyer, Lanny Davis, Cohen has knowledge of whether Donald Trump knew in advance about the computer hacking which undermined his opponent, Hillary Clinton.
Cohen also has knowledge, Mr Davis said, of a meeting at Trump Tower in New York in June 2016 between Trump campaign aides and a Russian delegation which was promising political "dirt".
The lawyer also asked why the US president, who was not named in Cohen's plea of guilt, should not be prosecuted for the crimes Cohen had confessed to committing on his behalf.
Cohen's guilty plea came on the same day that a jury convicted former Trump campaign chairman Paul Manafort of bank and tax fraud charges.
At a rally on Tuesday, Mr Trump attacked the suggestion that his campaign had colluded with Russia, telling his audience in West Virginia: "Where is the collusion? They are still looking for collusion, where is the collusion? Find some collusion. We want to find the collusion."
Will Cohen talk to Mueller?
There is no confirmation that he will speak to the Russia inquiry which, under former FBI director Robert Mueller, is tasked with establishing whether the Trump campaign conspired with Russia to swing the election in Mr Trump's favour.
The well-documented meeting at Trump Tower between Mr Trump's son, Donald Trump Jr, and a Russian lawyer is a focus of the Mueller inquiry.
Mr Trump Jr went into the meeting in the belief that he would be offered "official documents and information that would incriminate" Mrs Clinton.
Later that summer, embarrassing emails and documents hacked from the Democratic National Committee (DNC) server were made public, through Wikileaks and similar channels.
Donald Trump Sr has denied knowing in advance about the meeting, which he nonetheless defended as a "meeting to get information on an opponent, totally legal and done all the time in politics".
This contradicts what Cohen said last month, according to US media. Cohen was reportedly willing to state to the Russian inquiry that Mr Trump had known about the meeting beforehand.
Russian intelligence officers have since been charged in absentia by the US authorities with hacking the DNC using malicious software.
Interviewed by MSNBC on Tuesday evening, Mr Davis said he did not know if Cohen had been approached by the Mueller inquiry but that his client had been "liberated" by admitting guilt.
"From this point on, you are going to see a liberated Michael Cohen speaking truth to power," he said.
Why was hush money paid?
Porn star Stormy Daniels said she had been paid $ 130,000 (£101,000) by Cohen just days before the 2016 election to keep quiet about an affair she says she had a decade earlier with Mr Trump.
Cohen also recorded a conversation with Mr Trump two months before the election in which they discussed buying the rights to a kiss-and-tell story by former Playboy model Karen McDougal who says she had an affair with Mr Trump.
Undisclosed payments to bury embarrassing stories about a political candidate can be treated as a violation of US campaign finance laws.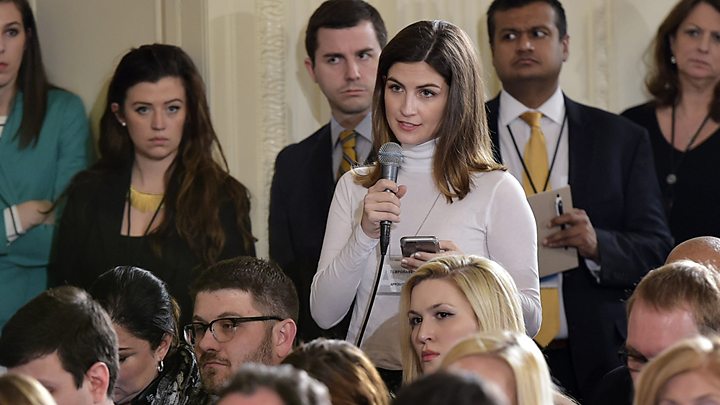 Clearly referring to Mr Trump, Cohen told the court in New York that he had been directed by "a candidate for federal office" to break federal election laws.
He also admitted to tax and bank fraud in his plea deal with prosecutors, which may see his prison sentence reduced from 65 years to five years and three months.
Could Trump be tried?
Mr Trump has admitted reimbursing Cohen for paying one of the women, having earlier denied any knowledge of it.
But Rudy Giuliani, a lawyer for Mr Trump, told reporters there had been "no allegation of any wrongdoing against the president" in the charges against Cohen.
In any case, Mr Trump is unlikely to face criminal charges as long as he remains president, legal experts say.
What is conceivable is that he could be sacked by Congress under the US constitution's provision for impeaching a president over "high crimes and misdemeanours".
For that to happen, Mr Trump's opponents in the Democratic Party would have to win control of both houses.
Even if they did well in the mid-term elections in November, they would almost certainly need to persuade members of Mr Trump's Republicans to change sides over the issue.
No US president has ever been removed from office on the basis of impeachment.