MPs to vote on Trident nuclear weapons system renewal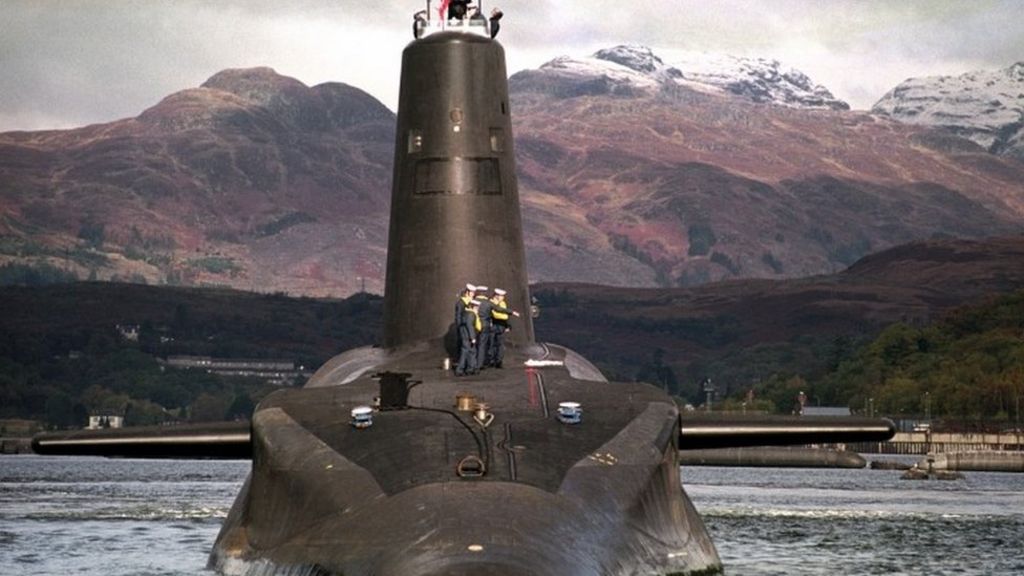 MPs are set to decide on whether to renew Britain's nuclear weapons programme in a Commons vote later.
In her first statement to parliament as prime minister, Theresa May will say it would be a "gross irresponsibility" for the UK to abandon its nuclear weapons.
Labour is split, with Jeremy Corbyn opposing renewal, but the party's MPs will get a free vote on the issue.
The SNP – which will oppose Trident renewal – had called for the vote to be delayed to allow "proper scrutiny".
The vote will decide whether to press ahead with the manufacture of the next generation of nuclear submarines.
Mrs May will emphasise her strong commitment to the plan, saying: "We cannot abandon our ultimate safeguard out of misplaced idealism. That would be a reckless gamble."
"The nuclear threat has not gone away. If anything, it has increased," she will add.
During the race to become the next Conservative leader, she pledged to make a "strong defence an important priority".
"In the face of such strong evidence, it would be sheer madness to contemplate even for a moment giving up Britain's independent nuclear deterrent," she said.
She added that it would show Britain was "committed" to working with Nato allies after voting for Brexit.
BBC political correspondent Chris Mason said the government was "expected to comfortably win the vote". He said it was not technically necessary to authorise the replacement but the government believed "giving parliament a say is important".
---
What is Trident for?
Since 1969, according to government documents, a British submarine carrying nuclear weapons has always been on patrol, gliding silently beneath the waves, somewhere in the world's oceans.
The logic is to deter a nuclear attack on the UK because, even if the nation's conventional defence capabilities were destroyed, the silent submarine would still be able to launch a catastrophic retaliatory strike on the aggressor, a concept known as mutually assured destruction.
The submarines, based at Faslane on the River Clyde, carry up to eight Trident missiles; each can be fitted with a number of warheads.
Read more about the history of the UK's nuclear weapons system
---
Labour is split on the issue of Trident, particularly following the election of leader Jeremy Corbyn, a life-long opponent of nuclear weapons.
He is at odds with many of his MPs over the future of the UK nuclear weapons system – which the government has estimated will cost £31bn to renew – and has commissioned a review led by shadow foreign secretary Emily Thornberry to look at its future.
Labour deputy leader Tom Watson told the BBC he would vote in favour of renewal, saying he thought it was "unacceptable" for MPs to abstain.
"Now the government have made us take another vote on this, you cannot absolve yourself of responsibility for making a decision," he said.
"Some people say Labour should abstain on this vote. I think that is unacceptable. You have to be responsible. You have to take a position. You either agree with Trident or you don't."
He also warned that to oppose Trident would threaten security and cost jobs.
'Immoral and obscene'
But Ms Thornberry told BBC Radio 4's Today programme that she will abstain from the vote "because frankly the Tory government is playing games with us".
"It will make no difference to what the government does, the government is proceeding with it in any event," she said.
"This vote, in the last week of Parliament, is all about playing games with the Labour Party and trying to embarrass us."
Writing in The Guardian with Ms Thornberry, shadow defence secretary Clive Lewis also said he will abstain from a vote that amounts to "shameful game playing".
And Shadow Welsh Secretary Paul Flynn called the vote a "stunt designed to expose divisions in the Labour party".
Labour leadership hopeful Owen Smith, a former member of the Campaign for Nuclear Disarmament (CND), said he would back renewal, saying he believed the world had become "more volatile, more insecure over the last few years".
Meanwhile, SNP Westminster leader Angus Robertson said Trident "was an immoral, obscene and redundant weapons system".
"The vote on Trident is one of the most important this parliament will ever take," he said. "For the Tories to commit to spend hundreds of billions of pounds on weapons of mass destruction – particularly at a time when they are making significant cuts to public services – would be both morally and economically indefensible."