North Korea 'has missile-ready nuclear weapon'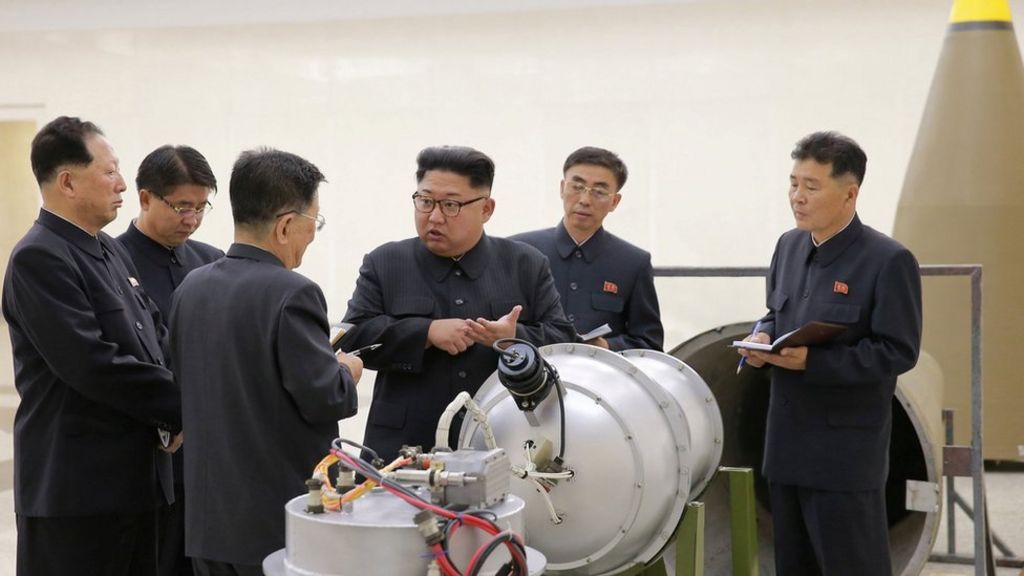 North Korea says it has developed a more advanced nuclear weapon that can be loaded on to a ballistic missile.
The state news agency released pictures of leader Kim Jong-un inspecting what it said was a new hydrogen bomb.
There has been no independent verification of the claims.
International experts say the North has made advances in its nuclear weapons capabilities but it is unclear if it has successfully miniaturised a nuclear weapon it can load on to a missile.
State news agency KCNA said Kim Jong-un had visited scientists at the nuclear weapons institute and "guided the work for nuclear weaponisation".
"The institute recently succeeded in making a more developed nuke," the report said, adding: "He (Kim Jong-un) watched an H-bomb to be loaded into a new ICBM (intercontinental ballistic missile)."
The report carried pictures of the leader inspecting the device. It described the weapon as "a multi-functional thermonuclear nuke with great destructive power which can be detonated even at high altitudes".
North Korea has carried out a series of missile tests in recent months, including weapons that put the mainland US in range.
Last week it fired a missile over Japan in a move Prime Minister Shinzo Abe called an "unprecedented" threat to his country.
North Korea has also threatened to fire missiles towards the US Pacific territory of Guam.
In August, US President Donald Trump warned Pyongyang it would face "fire and fury" if it continued to threaten the US.
The North has previously claimed to have miniaturised a nuclear weapon but experts have cast doubt on this. There is also scepticism about the North's claims to have developed a hydrogen bomb, which is more powerful than an atomic bomb.
Hydrogen bombs use fusion – the merging of atoms – to unleash huge amounts of energy, whereas atomic bombs use nuclear fission, or the splitting of atoms.
North Korea has conducted five nuclear tests. Its most recent, and most powerful, came in September last year.
North Korea's missile programme:
North Korea has been working on its missile programme for decades, with weapons based on the Soviet-developed Scud
It has conducted short- and medium-range tests on many occasions, sometimes to mark domestic events or at times of regional tension
In recent months the pace of testing has increased; experts say North Korea appears to be making significant advances towards its goal of building a reliable long-range nuclear-capable weapon
In July, North Korea launched two missiles which it said were Inter-Continental Ballistic Missiles (ICBMs) capable of hitting the US; experts believe they put parts of the US in range
There is no consensus on how close North Korea is to miniaturising a nuclear warhead to put on a missile