Plan Your Summer Party Like the Professionals Do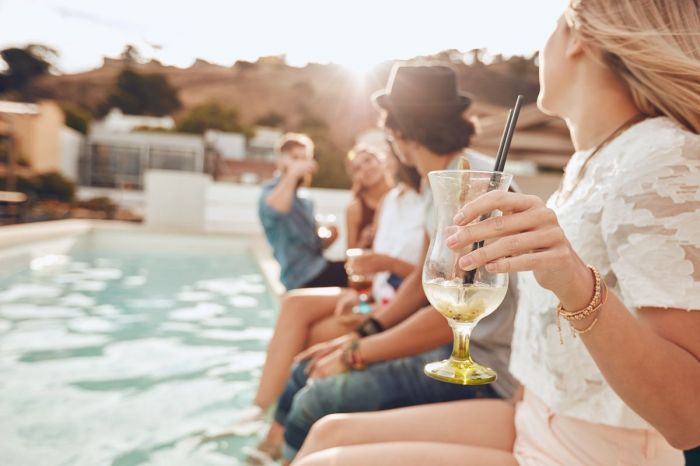 Photo Credit: Shutterstock
Pool parties, barbecues, and picnics are approaching, and fast.  Summer is the time of year that our social calendars start getting packed with round-the-clock activities and events. There are drinks to brew, foods to prepare, decorations to purchase—how does anyone do it without professional help? Luckily, we received advice from some grade-A party experts just in time for the summer season. Trust us, they definitely know best when it comes to planning a shindig that will make you the talk of the town.
Photo Credit: Kate Campbell
Details, details, details. Planning an event is no laughing matter, especially when it comes to dealing with the details of getting your home party-ready. We asked Trex Company's newest Trexpert, Kate Campbell of HGTV's Decked Out about the best plan of action for prepping our outdoor spaces this summer. If you're a serial party planner, one of the best ways to make your home stand out to guests is to consider, "adding an exterior kitchen to your home. Incorporate elements like a grilling station, cooking range, sink, compact refrigerator or even a built-in rotisserie or pizza oven. You'll be able to prepare and serve food while outside conversing with guests rather than being stuck inside behind the stove." For the party itself, Kate suggests setting up indoor-made-outdoor "zones" that clearly indicate different areas for cooking, socializing, or lounging. To establish the zones in a festive way, she recommends that you include "…structures like Trex pergolas, weather-proof draperies, trellises, or even tall potted plants, [that] can help separate and define different settings." Anticipating your needs in the outdoor space ahead of time can really upgrade a shindig for both you and your guests.
Photo Credit: Andrea Correale
As you get closer to the date of your function, there's going to be one thing on your guests' brains: food. Andrea Correale, President of Elegant Affairs Caterers, gave us the scoop on how to make the edible fare at your event shine. Andrea emphasizes the importance of "including an element of surprise for guests that could be the highlight of conversation throughout the evening." When considering your buffet, Andrea recommends contacting your local party rental company so that you can access interesting table linens, silverware, china, and more. "Your buffet presentation should be just as visually appealing to your palette as the food itself is," she adds. These little details can give your tables a visual intrigue that separates your party from the typical backyard bash. On the tables themselves, variety is the name of the game. "Have a burger bar with tons of different options for toppings," says Andrea, "and place them on slabs of blackboard that you can get from Home Depot. This makes it easy to create signage for each portion and adds an element of interaction for guests." Foodie-friendly and visually appealing? You're a shoe-in for party of the year.
Photo Credit: Clinton Kelly
Make your party personal by including some flair that really reflects your style. Clinton Kelly, style expert of What Not to Wear infamy, says that he considers "Lighting and music are two of the most important things for creating an ideal party setting…line the perimeter of your space with TIKI torches to create an intimate area, then arrange seating, lighting, food and drinks within that area and use table torches to highlight areas of interest, like beverage stations and the dessert table."  While you're lighting up the night, with your expert entertaining skills, having appropriate background music" sets the mood. Try kicking off the party with some jazz and then as the night progresses, turn to your favorite pop hits to keep things fun." Preparing a playlist ahead of time ensures that you'll never have to be guest DJ while entertaining and will keep the good vibes going all evening long.
Photo Credit: LG Studio
While all of the little things are important to consider, your guests are the most important piece of the puzzle to take into account. Nate Berkus, Artistic Advisor for LG Studio (the high-end appliance line from LG, with his latest collection out in stores nationwide now!) explains that above all, "the most important thing is to anticipate your guest's comfort." Keeping items that your guests could potentially need on hand is critical because it keeps you free to mingle while everyone else is enjoying the event. If your party is kicking off poolside, Nate suggests lining the area with beach blankets and pool pillows for guests to lounge around on, as well as "SPF out in woven baskets and straw hats in stacks for [guests], just in case they need a little extra sun protection." As the day rolls into night, provisions will start to run low. "Keep a bar cart full of extras on it, like pre-rolled napkins, drink stirrers, and other necessities in woven baskets as back-ups" says Nate. Planning the perfect party is a cinch if you prep all of the details in advance. Including party elements that both surprise your guests and remind them of your eye for detail is a surefire way to ramp up your events this season. Happy planning!