Queen's Speech: Brexit bills dominate government agenda
A host of proposed new laws designed to prepare the UK for a "smooth and orderly" departure from the EU have been announced in the Queen's Speech.
Of 24 bills, eight relate to Brexit and its implications for key industries.
As well as a bill to convert EU rules into UK law, there are measures on trade, customs, immigration, fisheries, agriculture, nuclear and sanctions.
But other key manifesto plans have either been axed or delayed after the Conservatives lost their majority.
The main non-Brexit proposals include:
a Civil Liability Bill, designed to address the "compensation culture" around motoring insurance claims
a Domestic Violence and Abuse Bill, establishing a Domestic Violence and Abuse Commissioner to stand up for victims and survivors and monitor the response of the authorities
a Tenant's Fees Bill, banning landlords from charging "letting fees"
a High-Speed Two Bill to authorise the second leg of the rail link from Birmingham to Crewe
A Data Protection Bill to strengthen individuals' rights and introduce a "right to be forgotten".
An Armed Forces Bill allowing people to serve on a part-time and flexible basis
There was no mention of US President Donald Trump's proposed state visit to the UK later this year, appearing to confirm suggestions it has been delayed.
Prime Minister Theresa May has promised to work with "humility and resolve" after failing to win the general election outright while senior ministers have said they are "getting on with the job" amid continuing discussions with the DUP about a deal to enable the Tories to govern.
The Queen announced the government's legislative programme for the next two years at the State Opening of Parliament.
She was accompanied by the Prince of Wales, rather than the Duke of Edinburgh, after Prince Philip was admitted to hospital on Tuesday night.
Buckingham Palace said it was a "precautionary measure" for treatment of an infection arising from a pre-existing condition.
---
A dressed-down Queen's Speech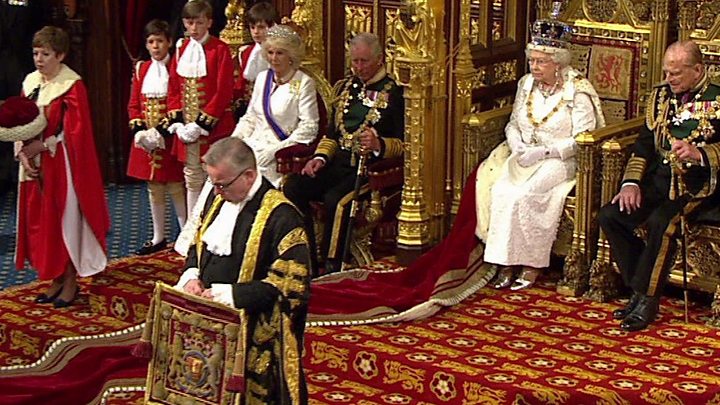 The Queen arrived at Parliament in a car, rather than horse-drawn carriage
There was no royal procession into the House of Lords chamber and the Queen wore "day dress" rather than robes
Her crown was driven to the Lords in its own car
It was the first state opening with "reduced ceremonial elements" since 1974
This was agreed because of timing issues caused by the snap election – rehearsals clashed with Saturday's Trooping the Colour event.
---
With Brexit talks now under way, the government has set out the laws needed to leave the EU – irrespective of the final deal agreed with Brussels.
At the heart of this is the so-called Repeal Bill – which will repeal the 1972 European Communities Act and end the jurisdiction of the European Court of Justice. It will also copy over all EU laws into UK law, with Parliament then deciding which bits to retain.
The government says "wherever practical the same rules and laws will apply after exit, therefore maximising certainty for individuals and businesses".
The bill would give the UK Parliament temporary authority to amend laws that do not "operate appropriately" after Brexit while existing decision-making powers devolved to Scotland, Wales and Northern Ireland will be maintained pending further discussion on "lasting common frameworks".
As an indication of the scale of change which Brexit will bring, seven separate pieces of legislation are proposed to anticipate the end of EU jurisdiction and introduce national policies in key sectors.
On immigration, a bill will legislate for the end of free movement from the EU and make the status of EU nationals and family members subject to UK law. Although there are no specific details about a new system, ministers say they will be able to "control" numbers while attracting the "brightest and the best".
A Fisheries bill will allow the UK to take on responsibility for "access to fisheries and management of its waters" while an Agriculture Bill will "provide stability" for farmers and ensure an "effective system" of support to replace the Common Agricultural Policy.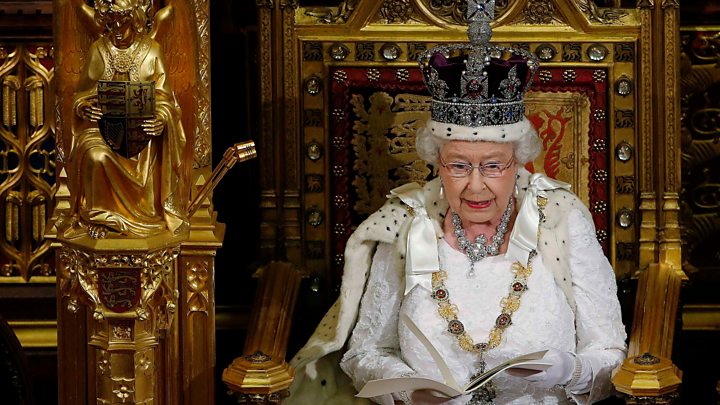 A new nuclear safeguards regime will be required after the UK leaves the EU and its nuclear agency Euratom, with new powers for the Office for Nuclear regulation.
Other measures will allow for a standalone domestic customs regime, giving the UK the scope to make changes to VAT and excise rates currently determined by the EU, to pave the way for an "independent trade policy" and to enable the UK to implement non-UN sanctions on its own or in conjunction with allies.
The government has cancelled next year's Queen's Speech, so this one will cover a two-year period to give MPs more time to debate all the Brexit legislation.
In the preface to the Queen's Speech, Mrs May said the programme was all about "grasping the opportunities that lie ahead for the UK as we leave the EU". While pledging to consult and listen to ensure the final deal had the "maximum support possible", she said she was determined to "see Brexit through".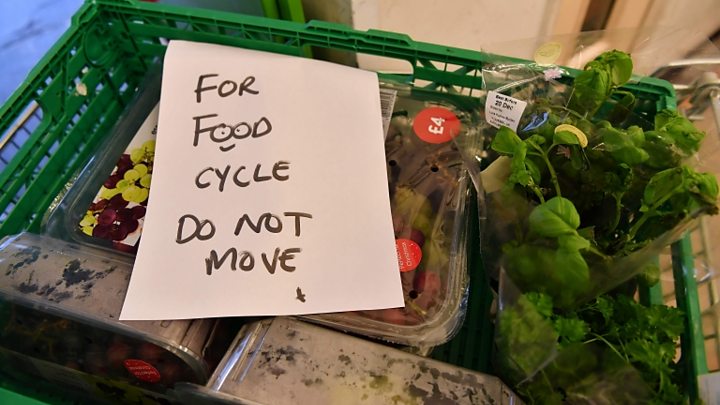 The remaining 16 bills in the Queen's Speech are a mixture of new proposals and legislation which has been carried over from the last Parliament, which was cut short by the snap election.
Among proposals that will not require immediate legislation, the government is to review its counter-terrorism strategy in the wake of recent attacks in London and Manchester and establish a new Commission for Countering Extremism to "stamp out ideology in all its forms".
In response to the Grenfell fire, a new role of independent public advocate will be created to represent bereaved families in the aftermath of disasters while a Civil Disaster Reaction Taskforce could be created to increase national resilience.
While there are no proposed new laws on health and education, a review of mental health laws is planned while a "digital charter" will seek to boost online safety and digital commerce.
Ministers have denied that, Brexit apart, it is a "thin" programme although large parts of the Tory manifesto have been "pruned" following the election result.
Controversial plans to axe the winter fuel allowance for well-off pensioners, scrap the triple lock on pensions and expand grammar schools have been dropped while other proposals, such as a cap on energy bills and reforms to social care funding, will be put out to consultation.
On social care, ministers will explore options to "put the social care system on a more secure financial footing", including a potential cap on overall care costs.
Labour and the Liberal Democrats are putting forward alternative versions of the Queen's Speech, suggesting the Conservatives have no mandate to govern after failing to win an overall majority.
Get news from the BBC in your inbox, each weekday morning