Russian athletes to remain banned from international competition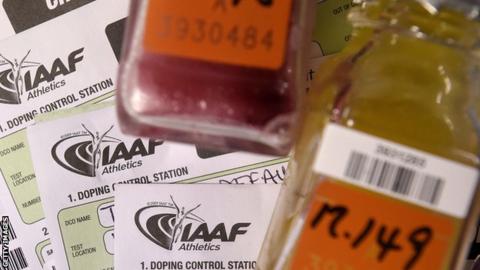 Russian athletes remain banned from international competition including the Olympics, BBC Sport understands.
Athletics chiefs have decided not to lift the suspension, which was imposed in November following accusations of state-sponsored doping.
The World Anti-Doping Agency (Wada) this week said officials in Russia were being stopped from testing athletes and threatened by security services.
Russia said in November it was "fully committed" to reforms.
The country was suspended by the International Association of Athletics Federations (IAAF) after an independent Wada report depicted a culture of widespread doping, with even the secret services involved.
Russian sports minister Vitaly Mutko has since said he is "very sorry" cheating athletes were not caught by the country's anti-doping systems, but stopped short of admitting the scandal had been state-sponsored.
A taskforce has been studying the Russian reforms but a fresh Wada report, issued on Wednesday, made more damaging claims.
International Olympic Committee (IOC) vice-president John Coates said Russia's athletes should remain banned and not be allowed to take part in the Rio Games this summer.
He also said Russia's anti-doping agency and athletics body were "rotten to the core".
However, the IOC could still allow Russian athletes to compete at the Olympics, which begin on 5 August.
IOC officials gather in Lausanne on Tuesday to discuss the matter, with some concerned a suspension would punish innocent athletes.
What reforms has Russia implemented?
According to Mutko, Russia has been reforming its anti-doping programme since it was banned in November.
He says it has:
Introduced independent testing
Introduced additional testing
Overhauled the Russian Anti-Doping Agency
Overhauled the Russian Athletics Federation
Introduced stricter rules for doping
Introduced lessons on anti-doping in schools
Mutko insists Russia "has done everything the IAAF" has asked it to do in order to be "reinstated to athletic competition" and has hinted his country could take legal action if its athletics federation is not reinstated.
Russia says it is being unfairly victimised, claiming other countries have fallen foul of the Wada code, such as Kenya and Ethiopia, but are free to compete.