Ryanair plans to make pilots change holidays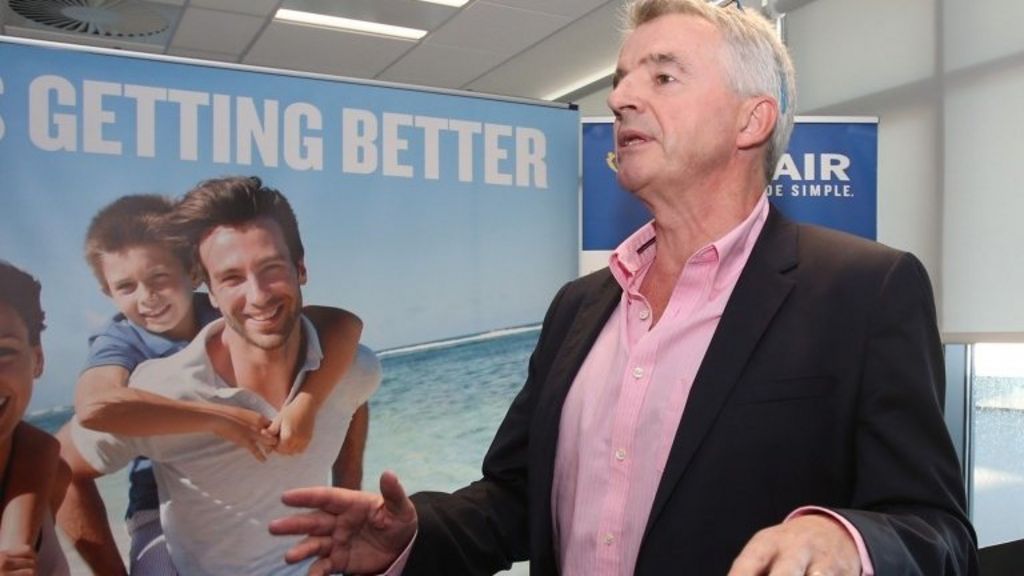 Ryanair boss Michael O'Leary has said the firm is planning to make pilots delay a week's holiday as it wrestles with massive flight cancellations.
His comments came at the airline's annual general meeting, which is being held in Dublin.
Ryanair is cancelling 40-50 flights every day for the next six weeks, after it admitted it had "messed up" the planning of pilot holidays.
A group of Ryanair pilots has rejected a cash bonus to work extra days.
Ryanair had offered captains a one-off payment of £12,000 or 12,000 euros, and first officers £6,000 or 6,000 euros, but they said they wanted new contracts and better working conditions instead.
'Bloody nose'
Mr O'Leary told the AGM that Ryanair was facing a "significant management failure".
He said pilots who had a four-week block of holidays coming up in the next few months because of rota changes would be told to take three weeks instead and have the other week in January.
He said the firm did not need pilots' agreement for the change.
Mr O'Leary said the cancellations had cost Ryanair about 25 million euros (£22m).
He accused unions of trying to give the company "a bloody nose" and said staff did not want union representation.
---
Analysis: Richard Westcott, transport correspondent
The Ryanair pilots I've spoken to say they've never known anything like it.
Across Europe, I'm told, staff reps from more than 30 bases are talking on Whatsapp, co-ordinating a plan to get a better deal from their employer.
Until now, they say, they've been scattered and isolated, making them much less powerful.
Over the past few days, several have said to me how unhappy and disrespected they feel at work, yet they've never had a unified voice to bargain for a better deal.
They seem to have found that voice. One used the word "revolt".
It's hard to say where this might end up, but Ryanair really needs these people on side right now, to help it through a messy few weeks of cancelled flights.
If these pilots refuse to work extra days, more cancellations could be on the way.
Ryanair says it'll deal with it all at today's AGM. We'll see what happens.
What should I do if my flight is cancelled?
---
'Greener pastures'
In a letter seen by the BBC, pilot representatives from 30 of the company's 80 or so European bases turned down the cash bonus offer.
They wrote: "The pilot market is changing, and Ryanair will need to change the ways which the pilots and management work together to ensure a stable and common future for everyone."
New contracts, the letter said, should help stop the large number of colleagues who are leaving for "greener pastures".
Separately, some Ryanair pilots have spoken to the BBC about a "toxic" atmosphere and how they felt "undervalued".
At the AGM, Mr O'Leary declined to discuss the pilots' letter.
Ryanair has said it expects to have re-accommodated more than 95% of customers affected by cancellations by end of this week.