Ryder Cup 2018: European underdogs out to tame US superstars at Le Golf National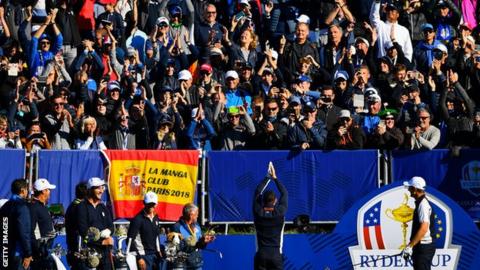 2018 Ryder Cup
Venue: Le Golf National, Paris Dates: 28-30 September
Coverage: Live commentary on BBC Radio 5 live and live text updates on BBC Sport website from 06:30 BST on Friday and Saturday, 10:00 on Sunday; daily highlights on BBC Two and online from 20:30.
You look at the comparative strengths of the two teams here on this sun-kissed south-west corner of Paris for the Ryder Cup and you see a clear underdog story. The US has the superstars, the young guns, the majors and the money. Europe has the outside chance.
But the Ryder Cup is always an underdog story. The Ryder Cup seldom follows easy logic. It transforms some into champions and turns others weak-kneed. It draws in so much hype and then usually surpasses it.
And so statistics which should cause palpitations for the hosts can be turned on their head. The American team has 31 majors between them to Europe's eight, but the man who has by far the most, Tiger Woods, has been part of only one victory in seven appearances.
The US has six of the last eight major winners in its line-up, but in only two of the last eight Ryder Cups has the team with the most major winners emerged victorious.
Jim Furyk's team contains 11 of the top 20 players in the world rankings; Thomas Bjorn's Europe has just six. Yet in 2004 Europe had only one player in the world top 10, and humiliated Hal Sutton's men by nine points in their own backyard. In 2002 the US had five of the world's top 10 and still lost at the Belfry.
In the warm autumnal days at Le Golf National this week, Bjorn has been taking comfort and more from these contradictory precedents.
These last few hours before the competition begins are strange ones. It is part Christmas Eve and part purgatory, a wait that can feel endless for one of the finest days in the sporting year.
Just as the hyper-colour and birdsong of the Masters calls in the start of the northern hemisphere spring, so the Ryder Cup always seems to draw the last of the summer heat into autumn: clear dewy mornings giving way to pale blue skies and golden leaves.
Speculation fills the warm air, because there is little else to do but speculate. The Ryder Cup crams so much drama into its three days that it sucks the life out of those that precede it. You walk the course and you wait. You watch the practice groups going out and you guess.
It is 25 years since the US last won away from home. Their last three visits to Europe have brought a mutiny (Gleneagles), a soaking (Celtic Manor) and a mangling (the K Club).
Recent results
Year
Venue
Result
2016
Hazeltine, Minnesota
US won 17-11
2014
Gleneagles, Scotland
Europe won 16½-11½
2012
Medinah, Illinois
Europe won 14½-13½
2010
Celtic Manor, Wales
Europe won 14½-13½
2008
Valhalla, Kentucky
US won 16½-11½
2006
K Club, Ireland
Europe won 18½-9½
Furyk will believe his men can put that sorry record right both because he has pairings this time around that feel natural and look dangerous: the tried and tested Jordan Spieth and Patrick Reed, the near-neighbours Justin Thomas and Rickie Fowler; the youth and experience of Bryson DeChambeau and Tiger Woods, the twin bombers of Dustin Johnson and Brooks Koepka.
It may be harder for Bjorn. Justin Rose and Henrik Stenson are his old reliables, but Stenson's form is not the given it once was. Jon Rahm is unlikely to form a Spanish dream-team with Sergio Garcia because the two are not close; more likely is that Rahm is paired with his fellow Arizona State alumnus Paul Casey. Do you put Open winner and Tiger tamer Francesco Molinari with Rory McIlroy, or do you throw in the heartbeat of Ian Poulter?
Even without Woods' extraordinary come-back win at the Tour Championship in Atlanta last weekend, this was an American team that looked as strong as any since the iteration of 1981, when only one player, Bruce Lietzke, was not a major winner.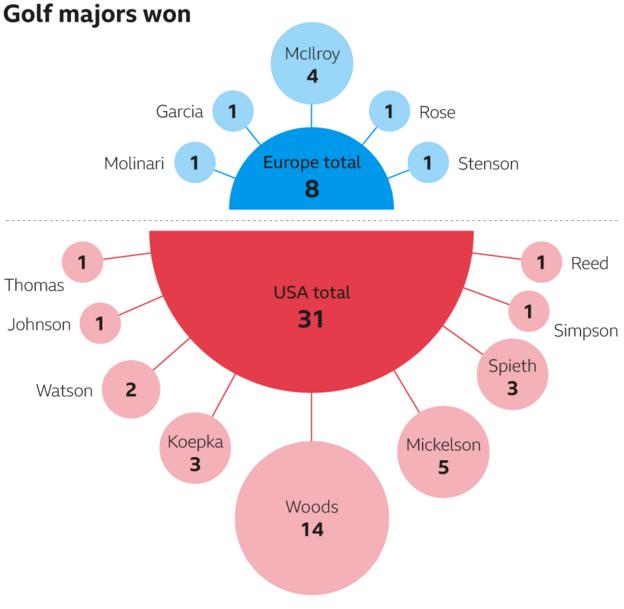 What will concern the home support is that some of the cracks that have traditionally weakened seemingly impregnable US teams are not yet visible this time around.
There are friendships, most noticeably between the young firebrands Spieth, Thomas and Fowler. There is buy-in from those who previously have been left cold by the competition, Woods and Watson. There is a captain who has seen both sides of the Cup and is unlikely to crack under the strain as poor old Tom Watson did four years ago.
There is a familiarity too with the course that was not evident on the only previous occasion the Ryder Cup has come to mainland Europe, at Valderrama in 1997. Spieth, Watson, Phil Mickelson and Tony Finau all played Le Golf National this summer; Thomas tested himself on its undulations during the French Open, Koepka earlier in his career.
The European team is heavy with rookies. There are five of them, including several who could walk the streets of Paris safe from public recognition: Thorbjorn Olesen, Tyrrell Hatton, Alex Noren.
But then Noren has won on this course before, and another of the rookies, Tommy Fleetwood, feels nothing like a rookie at all. And the leading points scorer for Europe last time around was debutant Thomas Pieters, with four points from a possible five in an otherwise one-sided defeat at Hazeltine.
Bjorn will trust in those paradoxes of old. He also understands how important momentum will be. He watched on as a vice-captain two years ago as the US took a stranglehold they would never lose with a 4-0 lead at lunchtime on the Friday; he was vice-captain again in 2012 when the fourball pairings of Garcia and Luke Donald and then McIlroy and Poulter nicked the last two points on the Saturday evening at Medinah to make it 6-10 going into Sunday's singles rather than 4-12, and set up the miracle to follow.
And so you favour the US to retain their trophy, even as you understand the case for another unlikely European triumph. The only guarantee is that it will not disappoint.
McIlroy against Reed last time out touched heights that strokeplay can only occasionally match. Garcia's scrap behind them with Mickelson may have been even better. The waiting is bearable because it is always worthwhile.