Saddleworth Moor fire: Homes evacuated in 'major incident'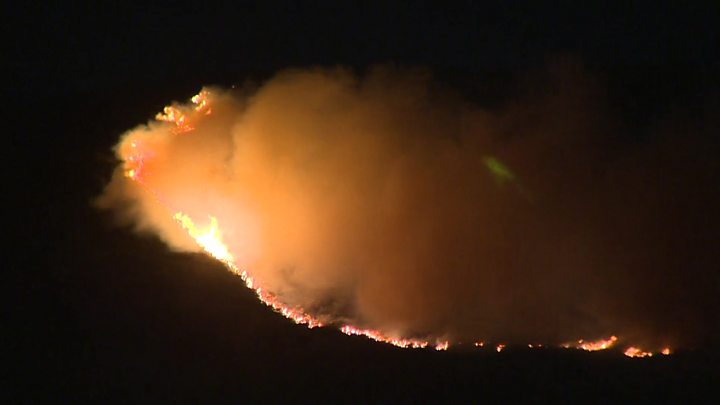 More than 50 homes have been evacuated as firefighters battle a huge moorland fire which is continuing to spread.
The blaze on Saddleworth Moor has been declared a "major incident" and the Army is on standby to step in.
The fire began on Sunday night, reignited on Monday during the hot weather and then spread throughout Tuesday, fanned by evening winds.
The homes in Carrbrook, near Stalybridge, were evacuated but there are no reported injuries.
Resident Anthony Leach said the smell of smoke is "in every room".
"It's like you could almost smoke mackerel in there," he added.
The fire, which measures 3.7 miles (6km) across the tinder-dry hills, has been raging for days despite efforts to halt it.
Great Manchester Fire and Recue Service (GMFRS) confirmed the blaze was spreading and said crews have recommenced "offensive firefighting" at first light.
Tameside Borough Council leader Brenda Warrington said: "I've just been told that over 50 homes have been evacuated with about 150 people involved."
She said "the winds are a major factor" and paid tribute to the fire service, police and council staff who dealt "very quickly" with "the changing situation up on the moors."
Assistant Chief Fire Officer Leon Parkes said there are 10 fire engines and 50 firefighters at the scene facing "enormous" challenges against the blaze which has "pockets" occurring in different areas.
Smoke and flames can still be seen for miles but Mr Parkes said crews had "quelled the risk" to homes at risk from the flames.
He said it had not been established what might have caused the fire.
Fire crews used a helicopter to drop water on the fire on Tuesday, and Mr Parkes said the blaze had "presented some real challenges to the fire and rescue service in terms of access".
Firefighter Ricky Case, who has been out on the hills, said: "It's just the sheer vastness of it. It's one of the biggest ones I've been on in a long time. The logistics of it all, trying to get water to the locations where we need it."
---
At the scene: Inzy Rashid, BBC Radio Manchester
Ash was falling from the sky on worried residents as they quickly packed their bags to flee the fire that blazed on the moors behind their homes in Carrbrook last night.
One resident took me through the smoke-filled streets to his farm where his cattle and sheep were huddled together, with black billowing plumes towering over them.
And this morning, the fire rages on. In the last hour more engines have arrived and there at least 50 firefighters here.
Families with children are coming back to pick up more supplies and power has been turned back on.
But residents are clearly concerned that the hot weather may lead to pockets of fire rekindling, even as the smoke blocks the sun from view.
---
On Tuesday night, GMP said more than 30 homes in Carr Rise, Carr Lane and Calico Crescent were being evacuated due to the proximity of the flames.
Calico Crescent resident Dee stayed at home through the night to help save animals and pets on the street, including cats and hedgehogs.
"We went outside and there was just this fire crackling literally on the hill behind the house. The smoke was acrid and thick. We could hardly see," she said.
Reverend Chris Finney, who has opened his church, St James' in Millbrook, said: "I've lived in this area all my life and I think I can say that within my memory – and I'm in my 60s – I've not seen fires on the moors to the extent that we're looking at them at the moment."
You may also be interested in:
Tameside councillor Clive Patrick added: "It's terrifying. I've never seen it as bad as this. I've been here now 30 years and this is the worst I've seen."
The Mayor of Greater Manchester, Andy Burnham, thanked fire crews after firefighters from across Greater Manchester, Lancashire and Derbyshire spent much of Tuesday tackling the fire.
People as far as 20 miles away reported being able to smell the smoke on Tuesday evening, although GMFRS stressed the smoke was not toxic.
Huge amounts of smoke drifted westwards, with large parts of Greater Manchester experiencing poor visibility.
Public Health England offered advice to those affected by smoke. It tweeted: "Smoke is an irritant and can make people's eyes and throat sore. Wash your face with soap and water and keep hydrated by drinking water."
Two schools in the Tameside area have been closed on Wednesday and others may close later, Ms Warrington said.
---
Do you live in the area? Have you been affected by the fire? If it's safe to share your experiences then please email haveyoursay@bbc.co.uk with your stories.
Please include a contact number if you are willing to speak to a BBC journalist. You can also contact us in the following ways: