Smith knocks out fellow Briton Groves to take world title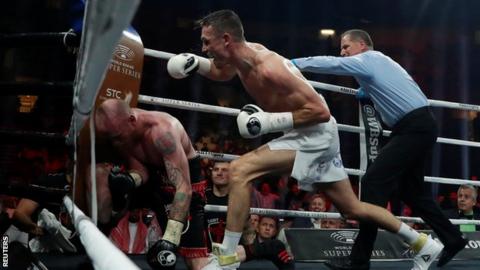 Callum Smith ended fellow Briton George Groves' 16-month reign as WBA world super-middleweight champion and won the World Boxing Super Series with a stunning seventh-round knockout.
The Liverpudlian, 28, landed a left hook to hurt Groves, who hung on until a body shot finally floored him.
As 30-year-old Groves shook his head, the new champion dropped to his knees in Jeddah, Saudi Arabia.
Smith follows his sibling Liam in becoming a world champion.
A second world title for Smiths
The Smith brothers
Callum Smith: WBA, WBC (Diamond) and Ring Magazine super-middleweight champion
Liam Smith: Former WBO light-middleweight champion lost to Saul 'Canelo' Alvarez in 2016
Stephen Smith: Two-time world title challenger at super-featherweight
Paul Smith: Three-time world title challenger at super-middleweight
All four Smith brothers – including former British champions Paul and Stephen – embraced in the ring after the fight.
Callum, the youngest of the four, entered the inaugural World Boxing Super Series to give himself a chance of winning a world title, as the more traditional routes had proven fruitless.
And he remained poised during the biggest test of his career.
As the taller fighter, he maintained enough distance to force Groves into committing forward but struck the right balance in being close enough to pick off attacks from his opponent with well-timed right hands.
Despite appearing to hurt Groves in the third round, when the Londoner's legs buckled after a right hand, Smith was only ahead on one of the four cards when the stoppage came, with his opposite number up on two and a fourth judge marking the fight level.
But those scores mattered for nothing when Smith caught Groves with a left hook, forcing the champion to backpedal into the corner. There, he was swamped, with a right hand to the body – one of countless shots in the attack – forcing Groves to wilt.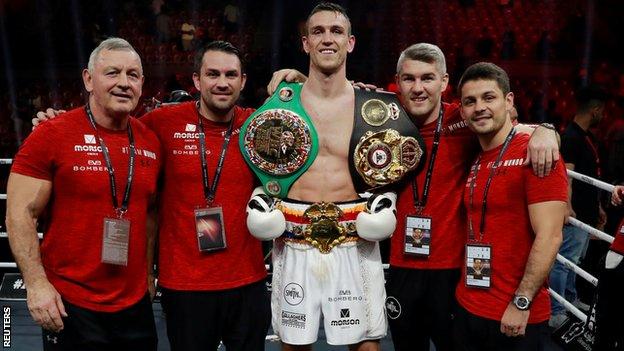 The Middle East had never hosted this level of boxing before, but the crowd at the 10,000-seat King Abdullah Sports City Arena seemed to appreciate the clinical nature of the finish.
Some fans on social media argued that a bout so intriguing and well balanced should have been held on British soil, but organisers insisted their tournament is global and Saudi Arabia's new desire to stage big events ultimately told.
Those present got to see Smith, at 6ft 3in – about four inches taller than Groves, appear classy and decisive throughout against an opponent with far more big-fight experience.
Groves said the dislocated shoulder he sustained in beating Chris Eubank Jr last time out played no part in his defeat. He instead praised his opponent, who boxed with discipline to maximise his physical attributes.
Smith, for his part, is the first man to win the World Boxing Super Series at super-middleweight. He picks up the biggest share of the estimated £6.1m in prize money on offer and is now likely to target a title defence in his home city before turning to potential unification encounters.
'It means everything, Liverpool next'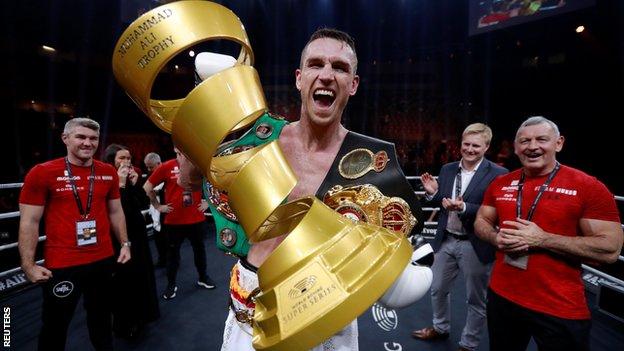 Callum Smith told ITV Box Office: "I know how good I am and knew I had the ability. I had a slow couple of years and people forgot about me. I think tonight I reminded people.
"I felt I was ahead at the time of the stoppage. I feel like I was beating him at his own game, it was a boxing match at range. I got my big shots off first and he couldn't take it.
"It just means everything. I am not a man who shows a lot of emotion, you never see me ecstatic, but you can see tonight it is a lifetime of work all gone into one.
"I'd like to think we are not finished but I'd love to defend my titles back in Liverpool and give a great fighting city a great night of boxing".
George Groves: "It was not meant to be. Full credit to Callum. Boxed well, heavy-handed. He got me with a body shot at the end, which is embarrassing for me, because I've never been dropped with a body shot in my life, but he got the decisive shot in the end.
"I'm not going to make excuses. The shoulder worked and Callum was the better man on the night. That's tough for me to say but I have to be honest.
"I'm going to have a long rest because it's been a dogged year. I won the world title just over a year ago, but I want to go home because I miss my wife and kids."
Plaudits for Smith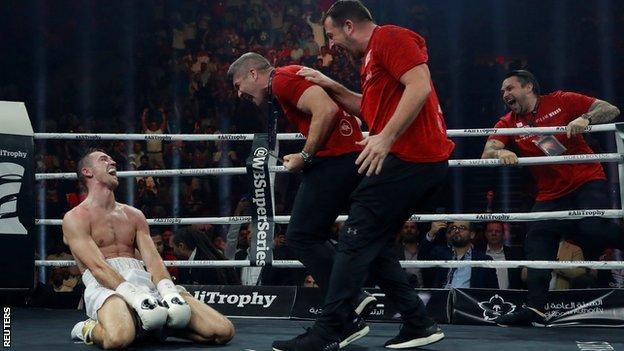 Former cruiserweight world champion Tony Bellew: Ruthless! Brilliant finish from Callum Smith. So people told me he had no chance and I told you he would win it! Catch and counter left hook and the right hook the body took the fight right out of GG.
Former England captain Wayne Rooney: Brilliant performance from Callum Smith. Congratulations on becoming world champion.
Ex-Liverpool and England defender Jamie Carragher: Get in! Callum Smith what a performance!
Former world super-bantamweight champion Scott Quigg: Callum Smith, absolute class performance. Patience & destructive.
Mayor of Liverpool Joe Anderson: Amazing Callum Smith wins having dominated the fight from the start, relentless punishment a ruthless. Real class performance and a worthy champion of the world.