Syria suspends Aleppo evacuations, blaming rebels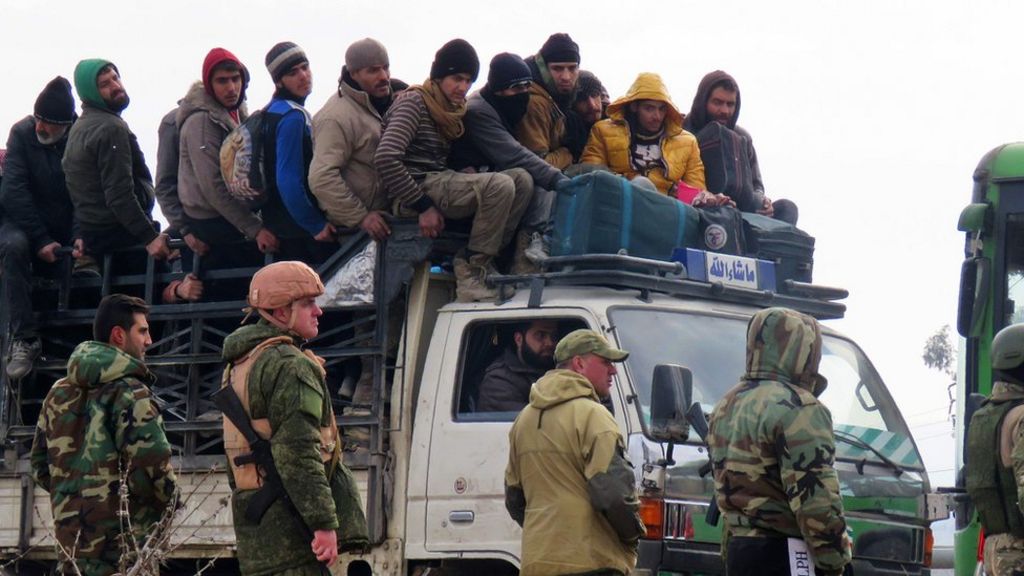 The Syrian government has suspended the evacuation of civilians and fighters from eastern Aleppo, accusing rebels of breaking terms of the ceasefire.
Government sources said rebels had blocked the evacuation of civilians from two pro-government towns elsewhere in Syria, agreed under the deal.
Meanwhile buses carrying people from eastern Aleppo were fired upon.
At least 6,000 people have left the city since Thursday, but the UN says at least 50,000 are still trapped.
Syria's army, backed by Russia, has taken nearly all rebel-held districts in eastern Aleppo.
Why have evacuations stopped?
The operation to move thousands of people from the areas of eastern Aleppo under attack from the government is extremely delicate.
World Health Organisation official Elizabeth Hoff said the planned evacuation of the sick and wounded had been halted on Friday on orders from Russian forces, and that no reason had been given.
However, Syrian state media said the mission was suspended after rebels tried to smuggle heavy weapons and captives out with them as they left the besieged enclaves.
Blasts were also heard at a crossing at Ramouseh, where a convoy of buses was carrying civilians and fighters from eastern Aleppo to rebel-held areas in Idlib. Both sides have accused each other of firing on the buses.
A military news outlet affiliated with the Syrian government said protesters had blocked the road to demand people be allowed to leave the mainly Shia towns of Foua and Kefraya in Idlib province – an area in the north-west controlled by rebels opposed to President Bashar al-Assad.
Syria's government and its ally Iran had insisted the evacuation from eastern Aleppo could only happen with the simultaneous evacuation of these two towns, which have been cut off by a rebel siege since September 2015.
The International Committee of the Red Cross (ICRC) estimates that a total of 20,000 people live in Foua and Kefraya. Pro-government fighters evacuated at the end of 2015 reported that starving residents had resorted to eating grass and had to undergo surgery without anaesthesia.
What about the people still trapped in eastern Aleppo?
"There are still high numbers of women and infants – children under five – that need to get out," WHO official Ms Hoff told the UN on Friday in a phone call from western Aleppo.
"They have been collecting themselves on the points where the buses and the ambulances were waiting for them.
"But now with the operation aborted they had to go back to their houses and this a great concern to us because we know that they are desperate to get out."
On Thursday, the UN envoy to Syria, Staffan de Mistura, said there were "50,000 people, including 40,000 civilians, unfortunate enough to live in" eastern Aleppo, where food supplies are exhausted and there are no functioning hospitals.
How Srebrenica's survivors view Aleppo
Russia hails Aleppo recapture as a victory over terrorism
Is there any sign of peace in Syria?
Government forces have captured almost all of the rebel-held territory in eastern Aleppo, with the help of Russian airstrikes. But the conflict in Syria is far from over.
US Secretary of State John Kerry has accused the Syrian government of carrying out "nothing short of a massacre" in Aleppo. And he called on the regime and its Russian ally to make a strategic decision for peace in the country.
Syria and Russia have repeatedly denied targeting civilians in eastern Aleppo.
Russian President Vladimir Putin called for all sides to agree to a complete nationwide ceasefire on Friday.
Speaking during a visit to Japan, he said that Russia and Turkey were working to launch a new round of peace talks between the Syrian government and the opposition in Kazakhstan.
This would be in addition to the UN-run efforts in Geneva.