Syria war: Trump condemns Syria for 'chemical attack' on Douma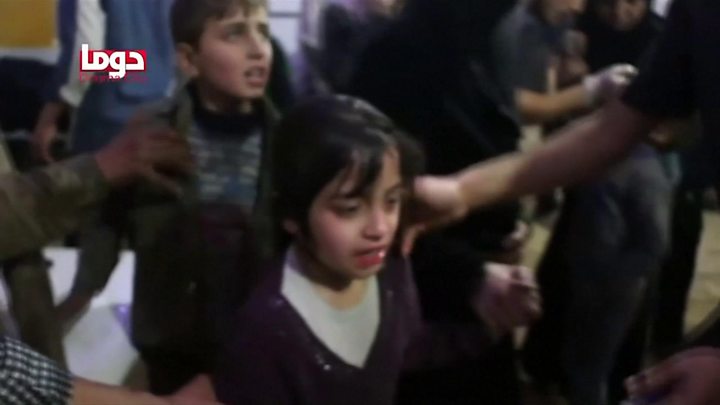 US President Donald Trump has lashed out at Syrian President Bashar al-Assad and his allies Russia and Iran over a suspected chemical attack, saying there will be a "big price to pay".
Scores of people are said to have been killed in an attack on the rebel-held town of Douma on Saturday.
The UK called for an urgent inquiry while Pope Francis said nothing could justify using chemical weapons.
Both Syria and Russia deny a chemical attack took place.
In a series of tweets, Mr Trump described President Assad as an "animal".
Russian talks with the rebels, the Jaish al-Islam group, broke down last week and fighting resumed.
However, according to Syrian state media, a deal was struck with Jaish al-Islam on Sunday to allow them to leave Douma within 48 hours in return for them freeing prisoners. The rebel group has not commented.
Douma is the last rebel bastion in the Eastern Ghouta region outside the capital, Damascus, following a government offensive and other evacuation deals brokered by Russia.
What do we know about the attack?
One video, recorded by rescue workers known as the White Helmets, shows a number of men, women and children lying lifeless inside a house, many with foam at their mouths.
Other unverified footage shows young children crying as they are treated in a makeshift medical unit.
However, it has not been possible to verify independently what actually happened, or the actual number of dead.
The Union of Medical Relief Organizations, a US-based charity that works with Syrian hospitals, told the BBC 70 deaths had been confirmed by the Damascus Rural Specialty Hospital.
A spokeswoman said there were reports of people being treated for symptoms including convulsions and foaming of the mouth, consistent with nerve or mixed nerve and chlorine gas exposure.
However, the UK-based Syrian Observatory for Human Rights said 11 people, including four children, had died of suffocation, adding that it could not say if chemical weapons had been used.
A further 31 people were killed in the Eastern Ghouta region on the same day, it added.
"Some of the casualties and wounded", it continued, had "suffocated as a result of the demolition of home basements due to the heavy and intense shelling on Douma city".
A test of resolve
Analysis by James Landale, BBC diplomatic correspondent
The reported chemical weapons attack on the rebel-held enclave of Douma poses some hard questions.
For the civilians, the families and children there, can they continue to bear the terror, bloodshed and inhumanity being rained upon them?
For the militant rebel fighters, do they believe their struggle and continued resistance is still worth the price they and the civilians are being forced to pay by the Syrian government?
For Russia, how far is it prepared to defend its allies' apparent use of chemical weapons when its own apparent use of a nerve agent in the UK is subject to so much global condemnation?
And for the international community, how will it respond to what is clearly a test of its resolve one year on from the Khan Sheikhoun chemical attack?
Will the ritual condemnations be backed by military action in an attempt to deter President Assad's further use of chemical weapons? Or will the West believe that any escalation would simply prolong a conflict that many just want to end?
Could the US take military action?
In April 2017, more than 80 people died in a Sarin attack on the opposition-held town of Khan Sheikhoun, and a joint inquiry by the UN and the Organization for the Prohibition of Chemical Weapons found the Syrian government responsible.
President Trump ordered a cruise missile attack on a Syrian air base in response and the US has since warned the Assad government against carrying out further chemical attacks.
Asked if America might strike again after Saturday's reported attack, White House homeland security adviser Tom Bossert told ABC television: "I wouldn't take anything off the table."
French President Emmanuel Macron has also threatened to strike Syria if the government uses chemical weapons against civilians.
Before Mr Trump tweeted, the US state department said the attack, if confirmed, called for an "immediate response by the international community".
UK Foreign Secretary Boris Johnson said on Sunday that the suspected chemical attack must be investigated urgently.
"We are in close touch with our allies following these latest reports," he said. "Those responsible for the use of chemical weapons have lost all moral integrity and must be held to account."
What do Syria and Russia say?
Syrian state media accused "terrorist" media of fabricating reports about a chemical attack in order to hinder the advance of government forces through the Eastern Ghouta.
Russia's foreign ministry said reports of a chemical attack by Syrian forces on Douma had been "planted" in order to create a pretext for a possible military intervention in Syria.
"The purpose of these mendacious conjectures, which are without any basis, is to shield the terrorists and the irreconcilable radical opposition, which rejects a political settlement, while at the same time trying to justify possible external use of force," it said.
Russia launched its military operation in Syria in September 2015, saying it had been asked to intervene in the civil war by the Syrian government.