Traversing Two Colorado Peaks With the 2017 Porsche Macan GTS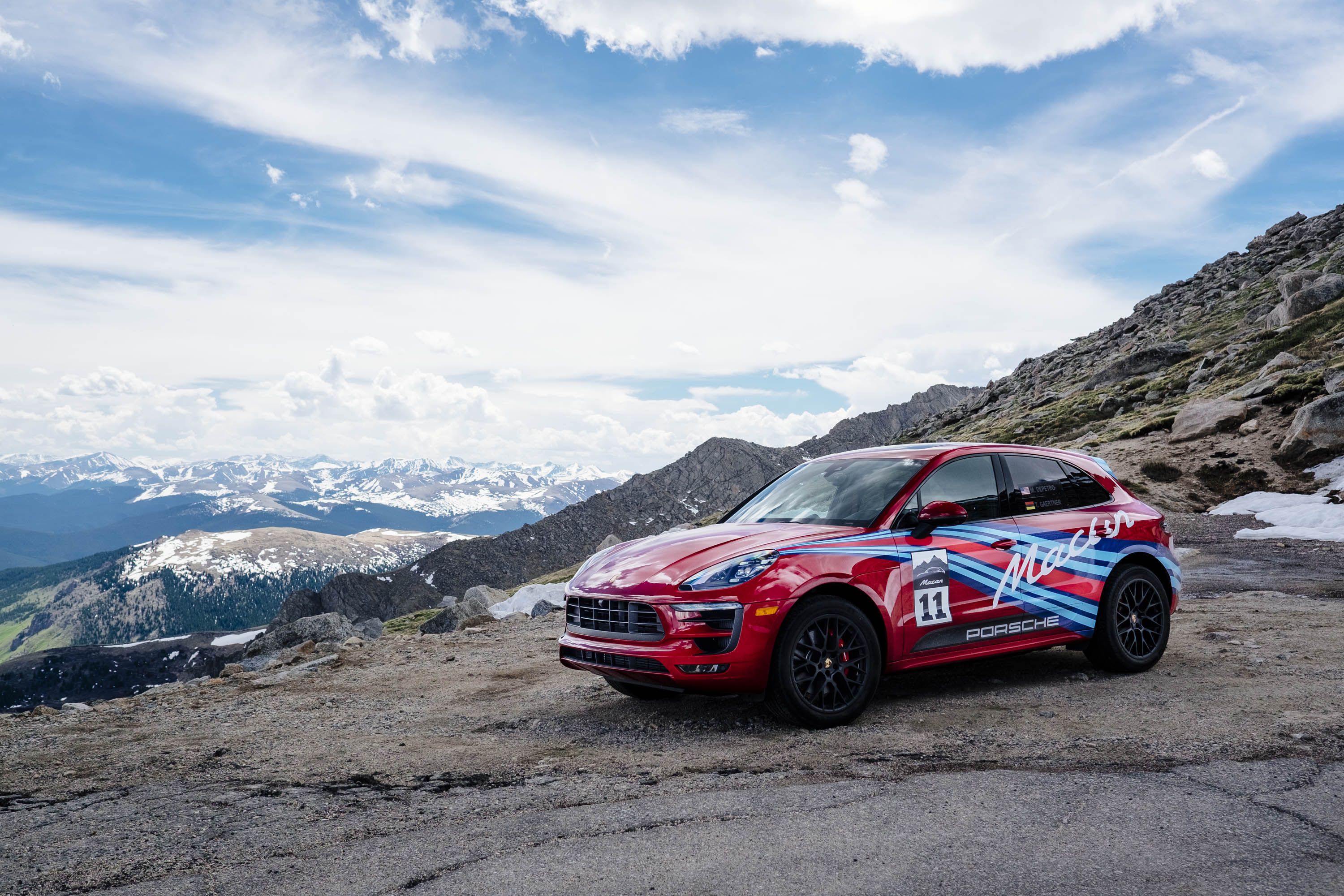 Photos Credit: Michael Crenshaw
Shutting down Pikes Peak—one of the highest paved roads in the world, and a historic road-racing venue now celebrating its 100th anniversary—is next to impossible. Even causal conversation about shutting down the 12.42-mile long road up to its 14,114-foot peak is brought on with consternation when speaking with the Porsche personnel who made it happen. A bureaucratic nightmare of logistics and leveraging local power, it was a select group of journalists who not only got the privilege to climb it unencumbered by traffic, but also push Porsche's new 2017 Macan GTS close to the literal edge of no return.
A mayor here, a local sheriff there, and a few holdouts who would have to give the nod to drive the brand new Macan GTS ($ 67,200 for the base model) up the fabled road, were needed before you factored in the 20 other journalists who were trusted to keep lives intact and the new Porsche on the road; not careening some thousands of feet to certain death in these production cars. These aren't roll cage-clad race cars, mind you.
Luckily for all involved, Jeff Zwart—noted cinematographer, and most importantly for this mission, racecar driver who has won the Pikes Peak race—guided us up the mountain at near race speeds in his 2002 Porsche GT2 racecar, allowing the new Macan GTS to safely conquered the stage with precise pace notes. With massive performance potential that follows a long pedigree of great Porsches who have made the Pikes Peak International Hill Climb in record time, the Macan GTS proved itself not just another SUV.
Based on the Macan S—an already dynamic, capable, and svelte SUV—the GTS comes equipped with new calibrations to its motor, honed exterior and interior treatments, as well as a newly offered suspension, which we'll get into in a minute. While the motor's spec won't blow you over with leaps and bounds in horsepower over the S model, it's the way that the GTS delivers power that makes it more sports-oriented. At 20 more horsepower than the S, the GTS has a reworked algorithm allowing it to deliver horsepower in a more provocative way when you power through the gears. Granted, at 14k feet, we're not only losing oxygen, we're also losing some engine power, though the 3.0-liter twin-turbocharged V6—thanks to cramming more air into the motor—is more efficient than any naturally aspirated engine would be at this altitude.
With four passes of the climb—two up and two down—the 275 miles we would cover in total would include a large swath of land heading to the highest paved road in North America, Mt. Evans at 14,265-feet. The Macan GTS comes standard with air suspension utilizing the latest software with Porsche Active Suspension Management System (PASM) lowering the GTS by 10mm, while at the same time stiffening up the suspension allowing more grip around the various guardrail-less turns. It's a compromise in road hugging prowess, and damping on less than ideal roads that the Macan GTS's engineers seem to have nailed. Bigger brakes also accompany the GTS should stopping being a bigger concern than going.
Porsche interiors—and the interfaces inside them—continue to evolve and get better with each generation. Whereas some manufacturers believe in touch screen only, Porsche's newest PCM 2 (Porsche Communication Management), which has nothing in common with the outgoing PCM 1, offers a pleasant mix of physical buttons and touchscreen navigation that will be very familiar to smartphone users. You can pinch, swipe, and rotate while at the same time memorize areas of the console for fast access to navigation, phone, media, car, and more. It's this mix of tactile controls and modern technology that makes it much more user friendly on a daily basis. Exterior enhancements separate the GTS from the other Macan models with blacked out trim, bigger 20-inch 'RS Spyder Design' wheels finished in satin black, and a revised fascia easily separated the models. 
There are things that an SUV probably shouldn't be capable of, such as scaling a mountain at close to triple digits speeds while staying reasonably comfortable. Any of the Macans in the lineup would give Pikes Peak a run for its money, but the Macan GTS is the purist's choice, adept at defeating the mountain with greater precision and composure. The Macan is a wonderful, kinetic SUV at heart. In base format it's extremely capable; in GTS guise it can conquer the world. Tossing the GTS around the mountains, valleys and back roads of Colorado showcased its capabilities as not only an AWD crossover with the soul of a sports car, but also a proper sibling to the heralded 911.