We must get our house in order on racism before pointing finger at Russia – Southgate
England must not just point the finger at Russia for having a racism problem – because their own under-17 team were subjected to "disgusting" online abuse, says Three Lions boss Gareth Southgate.
Southgate was addressing fears racism could overshadow this summer's World Cup in Russia.
He said England "must get our own house in order" on racism before making accusations about other countries.
"I don't think we should just talk about racism in Russia," said Southgate
He offered a specific example of the treatment of England's Under-17 World Cup-winning squad to illustrate the problem.
Southgate said he had spent a "really interesting couple of hours" with Troy Townsend, education and development manager at anti-discrimination body Kick It Out.
"He showed a picture of our under-17s on social media," said Southgate. "The comments about that team were disgusting. They're part of our England family.
"We have a club environment at St George's Park. It is our training ground. Our teams mix and the youngsters look up to the senior team. I know most of those young players really closely and I've seen them come through.
"To see them abused in that way is absolutely disgusting. When we speak about other countries, I find it difficult to deflect what we've seen there."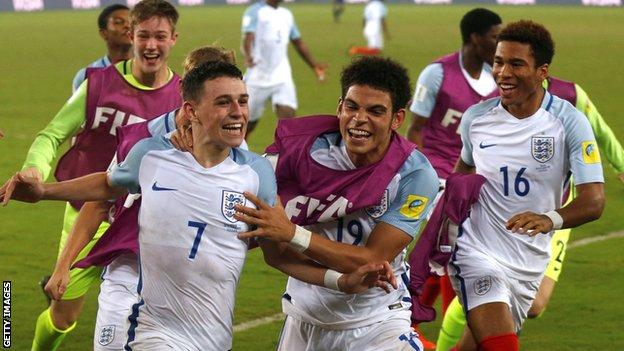 There have been a series of incidents of racism in Russian football this season.
European football's governing body Uefa charged Spartak Moscow for racist chanting during a Uefa Youth League fixture against Liverpool, while Spartak were also criticised for a "racist" tweet about their own players.
Spartak defender Leonid Mironov was charged with racially abusing Liverpool striker Rhian Brewster, though that was later dropped.
Southgate said all Fifa guidelines on reporting, and dealing with, racist incidents would be observed but insisted allegations about potential racism is Russia must stop while the problem still exists in England.
"I don't think we should just talk about racism in Russia," said Southgate. "We have got to get our own house in order. There are still things going on in our own country around racism that aren't correct.
"We keep pointing the finger at Russia, where we are going to be guests in the next couple of months, but we haven't resolved the issue in our own country and until we do I think we should stop firing those things off elsewhere."
Southgate said he shared the Football Association's desire to promote black, Asian and minority ethnic coaches within its set-up – but at present there are no plans to make further additions within the senior coaching team.
"The pathway of coaches will follow in a similar way to that of players. It took a while for black players to be prevalent on the field, but we have to give it time for coaches," he said.
Southgate's side are preparing to face the Netherlands in a friendly in Amsterdam on Friday (19:45 GMT) before hosting Italy at Wembley on Tuesday (20:00 BST).
'No concerns' over security at the World Cup
Southgate says he has "no concerns" about security and safety at the World Cup in Russia.
UK government ministers and members of the Royal Family will not attend the tournament, which begins on 14 June.
That came after former Russian spy Sergei Skripal and his daughter Yulia were poisoned with a Russian nerve agent in Salisbury on 4 March.
"If I were a fan, I would [go to Russia]," Southgate said.
"I have spent some time in Russia and felt incredibly comfortable there. But, for every individual, it is up to them what they want to do."
'Little interest what the foreign secretary thinks'
Foreign secretary Boris Johnson said on Wednesday he would have an "urgent conversation" with Russia about the safety of fans travelling to the World Cup.
Johnson also likened the way President Putin is promoting the World Cup in Russia to Hitler's notorious use of the 1936 Berlin Olympics.
Asked if the World Cup could still be a "festival of football", Southgate said: "I think the rest of the world are viewing it that way.
"It's of little interest to me what the foreign secretary thinks about it. I was in Russia last year for the Confederations Cup and there were about 15,000 fans from Chile.
"There was an incredible atmosphere in the stadiums. It felt like the other World Cups I'd been to."
The Foreign Office advises those travelling to Russia to "remain vigilant, avoid any protests or demonstrations and avoid commenting publicly on political development".
Southgate, a former England international, added: "The situation is developing so we don't know what it will be like in June, but on the situation currently, it wouldn't stop me from going."
England begin their World Cup campaign on 18 June against Tunisia, before taking on Panama on 24 June and Belgium four days later.