Woman shot in Willesden anti-terror operation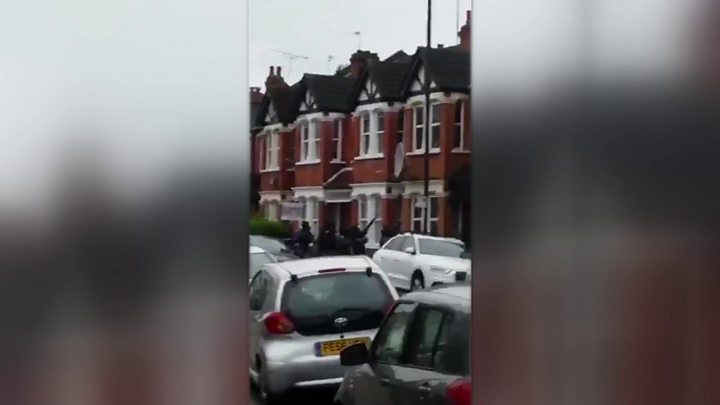 A woman in her 20s has been shot by police in an anti-terror operation in north-west London, Scotland Yard says.
Raids also took place in Kent, with four people arrested in total.
The woman in her 20s was one of the subjects of the investigation and is in a serious but stable condition.
Officers say the operation was not connected to an arrest near Parliament on Thursday, when a man – who was carrying knives – was detained on suspicion on terror offences.
The woman was shot after armed officers entered an address in Harlesden Road, Willesden, shortly before 19:00 BST on Thursday.
Two men, 20 and 16, and a woman, 20, were held after the Willesden operation. A woman, 43, was arrested in Kent.
The Metropolitan Police said they were arrested on suspicion of the commission, preparation and instigation of terrorist acts.
They are in custody at a south London police station.
Hospital guard
A police spokesman said the woman who was shot was taken to hospital by ambulance.
"Due to her condition, she has not been arrested at this time and remains under police guard at hospital," he said.
"The address and persons connected with it had been under observation by counter-terrorism officers as part of an ongoing intelligence-led operation."
Police said searches took place at "linked addresses", as well as where the arrests took place.
The incident has been referred to the Independent Police Complaints Commission and the Met's Directorate of Professional Standards, as is procedure.
A video been taken at the moment of shooting has been posted on social media.
It shows armed police surrounding a terraced house as five shots rang out.
On Thursday, police arrested a 27-year-old man at the junction of Parliament Street and Parliament Square as part of an intelligence-led operation.
The Met said he was detained on suspicion of terrorism offences and that knives were recovered from the scene.
Get news from the BBC in your inbox, each weekday morning