World Cup 2018: Why Jesse Lingard can make the difference for England – Rio Ferdinand column

If you watch Jesse Lingard closely in training like I have done, you quickly understand that while he is not a player who will ever be a YouTube sensation, he brings something to the team few others can.
What I mean by that is Jesse is not a freestyle footballer with all the skills who does step overs and loads of dribbling – but there is substance to his play and always a reason or meaning behind what he does.
What makes him so good are the things he has always had, since I first saw him play as a young boy: game intelligence, speed of movement as well as speed of thought, the ability to play one or two-touch football and an eye for goal.
He has shown all of those qualities during this World Cup and I think he is going to be especially important for England in our quarter-final against Sweden.
Sweden are going to offer us a stiffer defensive test on Saturday than any side we have faced so far, and we are going to need Jesse's kind of clever imagination within the team.
The way Gareth Southgate's team play, they need people high up the pitch to be constantly on the move.
It is no good our three midfielders being in static positions, with one on the left, one central and one right – we need fluidity in there and Jesse gives us that in abundance.
England's system definitely plays to his strengths, because its flexibility means he does not have to play in a rigid position – he is allowed to move, which is great for him.
It is great to see Jesse flourishing at international level and I know from speaking to Gareth before the tournament started how highly he rates him.
But you have to remember that Jesse is not a young player any more, he is 25. He has had to wait to make his breakthrough for club and for country, and the perseverance he has shown is another really good trait.
He was small and skinny but that didn't matter
I first saw Jesse play when he was 11. He was clearly very talented then, but he really stood out when he used to train with the United first team at the age of about 16.
He would come over sometimes and we would play a game of one or two-touch football – and he would hardly ever give the ball away.
Jesse was smaller and skinnier than everyone else then but, to me, that did not matter for the way he played. He did not need to be super strong because he did not let anyone get close enough to knock him off the ball.
He had worked out that he could not fight battles physically, but he could play one or two touches around people and was quick enough to get away from them, so he beat players that way.
If you are a midfielder playing against him, you might look at him and think he has not got much about him – but if you faced him in a game, you would find out it was a different story straight away.
Most midfielders these days like to get on the ball and take loads of touches, but Jesse hurts you in different ways.
He is so dynamic and he is always thinking about how to get a shot off, or how he can get into the box.
I've seen people get up close to him and get in his face to put him under pressure, but he has got a picture of the game in his head so he knows where his team-mates are as well as the opposition. He just pops the ball off and he is gone.
He is quick too, so he is already running behind you by the time you realise what has happened.
Sir Alex saw something in him, and has been proven right
I knew from that early age that Jesse was always going to be good enough, it was just a question of when. Would he get the time and would the club have the patience?
He was lucky he was at a club like United, who had a vision for him – they saw his pathway and trusted in that.
Sir Alex Ferguson saw something in him and he has been proved right, but it took time for that to happen because, physically, Jesse was always behind.
If you look at his career path, he has done things the hard way. He had to gain trust from his managers, but also earn respect from his team-mates.
He has always made those forward runs of his, but even earlier this season – before he started scoring a burst of goals – none of the United players were finding him.
I saw him around that time and I was asking him: 'Why aren't they giving you the ball?'
I told him I'd been watching him play and he was getting between the opposition lines but his team-mates were turning away and playing to someone else.
That has changed, probably as a result of Jesse producing moments in games that earns that trust, but I am sure it is also down to him saying: 'Oi – give me the ball.'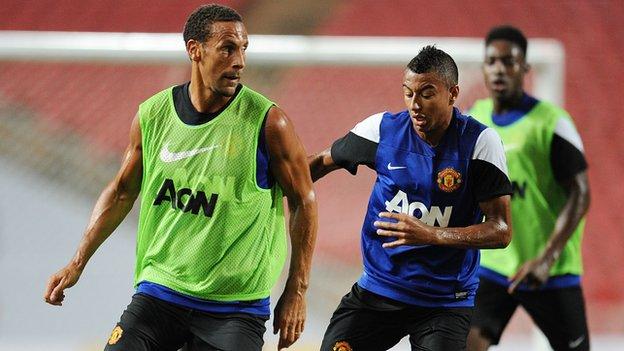 Around the training ground and dressing room he was always lively – but on the pitch he could be quiet when he was young.
Scholesy [Paul Scholes] was quiet too but you would hear him say "yeah" when he wanted the ball in a game, which was a little trigger that would let you know he was on.
As you get older, you need to add little things like that to your game. As a kid you don't understand why or when you need to do it, but when you are in a men's environment you have got to tell the men when to pass the ball.
You have got to scream for it and then, when you get it, you have got to show them what you are capable of.
Jesse has been doing the latter regularly for United and England, and in some big games too.
He is usually very cold and clinical in front of goal and, with the chances he has had, he will probably be thinking he could have scored more than once at this World Cup, especially against Tunisia.
But what he will always get is opportunities, including against a team as well-drilled as Sweden.
Even if those opportunities are not in front of goal, his quick one-twos on the edge of the box will draw fouls – and that could be crucial because set-pieces are going to play a huge part in deciding whether we make it to the semi-finals or head home.
Rio Ferdinand was speaking to BBC Sport's Chris Bevan in Moscow.
2018 Fifa World Cup quarter-final: Sweden v England
Venue: Samara Arena Date: Saturday, 7 July Kick-off: 15:00 BST
Coverage: Watch live on BBC TV, Red Button and iPlayer, BBC Sport website and app; listen on Radio 5 live; follow text updates online